Homemade tzatziki sauce is an fresh Greek dip that is incredibly simple to make from scratch.
Greek Tzatziki Sauce
Tzatziki (pronounced tsa-TSEE-kee) is a creamy Greek sauce that is commonly served with grilled meats or as a dip for vegetables and bread. It is made with a base of thick, strained yogurt (traditionally goat or sheep's milk yogurt) which is mixed with cucumbers, garlic, salt, and olive oil.
You may notice that tzatziki is incredibly similar to another cucumber and yogurt dish that we have shared called Cacik.
Cacik is the Turkish version of tzatziki, made with the same ingredients with the addition of mint. In Turkey, this sauce is served as an accompaniment to main dishes or watered down to create a soup-like side dish.
Making Homemade Tzatziki Sauce
We start this sauce off with thick, strained yogurt. Plain Greek yogurt is traditionally used because of its thick and creamy texture. However, since the main difference between Greek yogurt and 'regular' yogurt is that Greek yogurt has gone through an extra straining, you can use plain, 'regular' yogurt or even homemade yogurt to make tzatziki.
If starting with a yogurt that is not as thick as Greek yogurt (think about a sour cream consistency), you will need to strain your yogurt. We like to do this by lining a fine sieve with cheesecloth and placing the yogurt in the cheesecloth. Then, we place the sieve with the cheesecloth and yogurt over a bowl and forget about it for a couple of hours.
When you come back to it, you will be surprised at how much moisture (whey) has drained out!
You can choose any fat content that you like for your yogurt, but keep in mind that the lower the fat content, the longer you will need to strain your yogurt to achieve that thick consistency.
Cucumber in Tzatziki Sauce
To flavor the yogurt we start with cucumber.
Hand grating the cucumber helps it to retain some structure and release less water than if you were to chop it using a food processor. You also want to be sure that you are squeezing as much moisture out of the grated cucumber as you can before adding it to the yogurt.
We like to toss the grated cucumber with a little salt and let it drain for 30 minutes or so to really pull the moisture from it.
After all, you just strained all the moisture out of your yogurt. You don't want to go adding it all back in again!
Other Key Tzatziki Flavors
Garlic is another must for flavoring tzatziki. We like to mince our garlic fine and then crush it to a paste using the side of a large butcher's knife. That way no one bites into small chunks of garlic in their dip.
The garlic flavor will intensify as the dip sets, so if you like a garlicky tzatziki, consider making it ahead so the garlic has time to infuse.
The final essential ingredient for traditional tzatziki is olive oil. Using olive oil is important to achieve that luscious, creamy texture, even with the strained yogurt. Don't be tempted to omit it; it really does add a whole new dimension to the dip.
Just remember, olive oil provides your body with those good monounsaturated fatty acids!
Regional Variations of Tzatziki Sauce
After these ingredients, you start to get into a bit of a tzatziki debate.
Regional variations will call for dill or mint to be added as well as the use of lemon juice or white wine vinegar for an added tang.
For our tzatziki, we decided to go with the bright, fresh flavors of lemon and dill. However, feel free to swap the dill for mint and/or the lemon juice for white wine vinegar to see which flavors you like best.
Serving Tzatziki Sauce
Tzatziki is commonly served as an appetizer with raw vegetables for dipping or as a first course with a light bread.
In the States, you will commonly find it served with wedges of pita.
In some parts of Greece you will find tzatziki served as an accompaniment to grilled meats, like in a gyro or with grilled pork skewers.
Tzatziki (Greek Cucumber Yogurt Dip)
Homemade Tzatziki sauce is best if made an hour or two before serving.
Yield: 1 1/2 c
Ingredients
½

seedless cucumber,

finely grated

½

tsp

salt

1

c

plain yogurt,

strained (or Greek)

1

tsp

lemon juice

1

Tbsp

olive oil

1

garlic clove,

crushed to a paste

1

Tbsp

fresh dill,

chopped, or 1 tsp dry
Instructions
Mix the grated cucumber with the salt and place it in a fine mesh sieve or cheesecloth over a bowl to let the moisture drain from it, 15-30 minutes.

While the cucumber is draining, mix together strained yogurt, lemon juice, olive oil, crushed garlic, and dill.

Squeeze any remaining moisture from the cucumber to get it nice and dry, then mix it into the yogurt mixture.

The tzatziki can be served immediately, but the flavors are best if it is allowed to set for 1-2 hours in the refrigerator. The sauce will last 1-2 days in the fridge.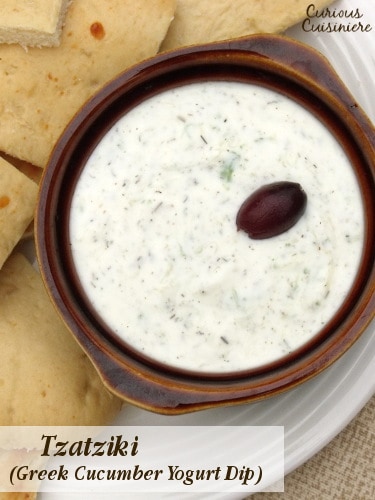 If you liked this recipe, here are some similar dishes you may enjoy!