Flavorful zucchini fritters with feta and fresh herbs are served with Cacik, a traditional Turkish cucumber and yogurt sauce.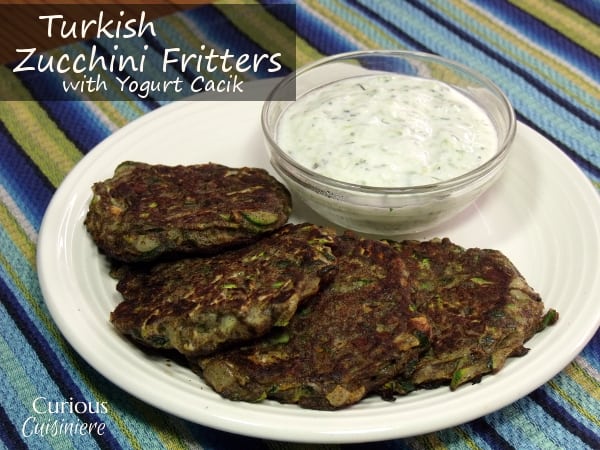 This month we stumbled upon the blog Turnips2Tangerines. We were excited to find another Wisconsin blogger who knows how to use mulberries! And, we will be making Lynn's Mulberry Syrup when this year's harvest comes in!
When we saw her Culinary Adventures: Recipes from Around the World series, we knew that we needed to try out one of those dishes. And, that was when we found the Buckwheat Zucchini Mücver she created for her culinary adventures in Turkey.
Mücver: Turkish Zucchini Fritters
Mücver (pronounced MOOSH-vair) are zucchini fritters, and a classic Turkish dish. Zucchini are one of the most widely available summer squash in Turkey, which is probably why Turkish Stuffed Zucchini is common fare. These fritters are a great way to use up the zucchini innards you have leftover after making stuffed zucchini. What a tasty way to make sure nothing goes to waste!
We didn't make stuffed zucchini first, but these fritters are so tasty, I don't think anyone would blame you for making use of a whole zucchini so that you can serve Mücver.
With fresh herbs and pockets of feta cheese, these fritters make for a delicious warm appetizer (meze) or as a side dish for a main meal. They are also surprisingly tasty cold, and make a fun picnic food.
Lynn makes her fritters using buckwheat flour, so we did too. The buckwheat flour adds a dark color to the batter and a deep nuttiness to the fritters. If you don't have buckwheat flour, regular, whole wheat flour will work just fine.
Turkish Yogurt Cacik
We served our fritters with Cacık (pronounced JAH-Jeek), which is a thick yogurt mixed with cucumbers and herbs. It is served as a condiment with many Turkish dishes, but can also be watered down to create a refreshing, cold summer soup. If you are familiar with Greek Tzaziki, then you are already familiar enough with Cacık, because they are incredibly similar and can be used interchangeably.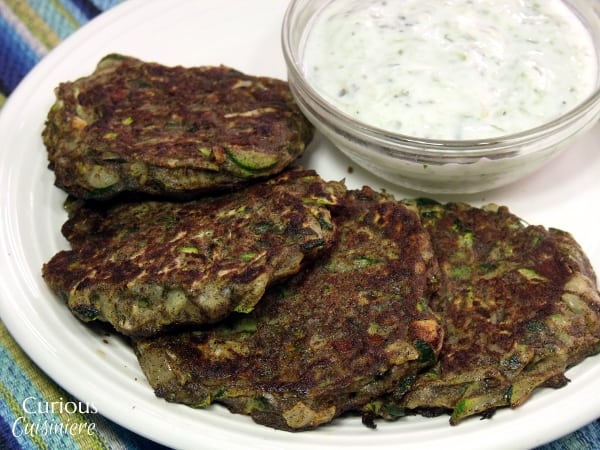 Turkish Zucchini Fritters
Flavorful zucchini fritters with feta and fresh herbs.
Yield: 10 (3 inch) fritters
Ingredients
1

medium

zucchini,

, coarsely grated (about 2 c grated)

½

tsp

salt

1

shallot,

minced

1

egg,

lightly beaten

2

oz

feta cheese,

crumbled

1/3

c

buckwheat flour*

1

Tbsp

fresh dill,

chopped, or 1 tsp dry

1

Tbsp

fresh parsley,

chopped, or 1 tsp dry

1

Tbsp

fresh mint,

chopped, or 1 tsp dry

1

tsp

paprika

½

tsp

dried red chili flakes

Vegetable oil

(for frying)
Instructions
Mix grated zucchini and salt together in a strainer. Place over a bowl and let the zucchini drain for 20-30 minutes. Once the zucchini has drained, rinse it and pat it dry with a clean towel.

In a medium bowl mix grated zucchini together with the remaining ingredients (except the vegetable oil).

Pour vegetable oil into a cast iron skillet (or other heavy-bottomed frying pan), so that the bottom of the pan is just barely coated with an even layer. Heat the oil over medium high heat.

Reduce the heat to medium and scoop ¼ cup of the zucchini mixture into the pan. Press the patty flat. Continue until the pan is full of fritters, but none are touching. Cook the fritters for 2-3 minutes on each side, until golden. (You may need to reduce the heat to medium low as the pan continues to heat.)

Remove the fritters from the pan and place onto a paper towel lined plate. Keep the cooked fritters warm in a low oven while you continue cooking the rest of the batter.

Serve the fritters warm with yogurt or cacik as a dipping sauce. (See recipe below.)
Notes
*Buckwheat flour adds a dark color and a deep, nutty flavor to these fritters. Whole wheat flour can be substituted if you like, but you will notice a slight change in color and a lighter flavor.
Cacik
A Turkish cucumber yogurt sauce very similar to Greek Tzatziki.
Yield: 1 1/2 c cacik
Ingredients
1

small

cucumber,

finely grated, (about ½ c grated)

¼

tsp

salt

1

c

plain yogurt

(regular or Greek)

1

garlic clove,

minced

1 ½

tsp

fresh mint,

chopped, or 1/2 tsp dry

1 ½

tsp

fresh oregano,

chopped, or 1/2 tsp dry

1

tsp

fresh dill,

chopped, or 1/3 tsp dry
Instructions
Mix the salt and grated cucumber. Place in a fine sieve over a bowl and let drain for 20-30 minutes. When you are ready to make your dip, mix yogurt, garlic and seasonings together.

Press out any excess moisture from for grated cucumber and pat it dry with a clean towel. Add the cucumber to the yogurt mixture and mix to combine.

Refrigerate the mixture for 1-3 hours to let the flavors come together.

Dip can be stored in the refrigerator for up to 1 week. It will separate slightly the longer it sets, just stir the moisture back into the yogurt before serving.
If you liked this recipe, here are some similar dishes you may enjoy!