This soft, chewy Focaccia bread is flavored with rosemary and sea salt. It is perfect for serving as an appetizer or along side a pasta dinner!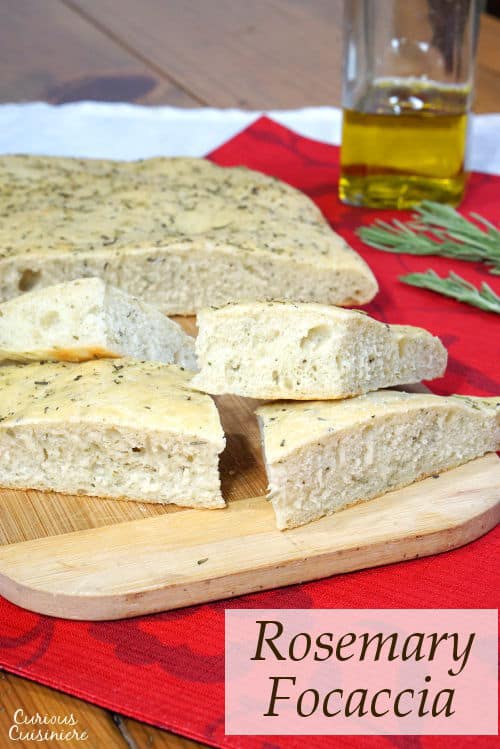 Focaccia is a flat, Italian bread that is very similar in texture and concept to a thick and chewy pizza crust. Traditionally, it is seasoned with olive oil, salt, and herbs, but it can become the base for a number of other toppings as well.
Back to the Romans
In Ancient Rome, panis focacius was the term for a flat, hearth-baked bread. As the tradition of these flat breads spread throughout Italy, the recipes were adapted by each home cook. If you travel to Italy, you will find many variations on focaccia. As you travel from region to region, you will find different toppings used, different thicknesses, and even different textures in the focaccias, reflecting the regional specialties.
A Basic Dough
The dough that we use to make our focaccia is a basic lean bread dough. That means that the dough doesn't have any (or has very little) fat or sugar in it. Some focaccia recipes will have you add oil to your dough, but, for us, the essential quality of focaccia is the flavor and texture that comes from coating the shaped dough in olive oil before baking.
The dough is soft and easy to work with, which is perfect because after rising, it is pressed, by hand, into its flat shape in the pan. To get that classic focaccia look, you will want to dimple the top of the dough with your fingers after you shape it.
Spreading the shaped dough with olive oil, not only adds to the flavor and texture of the crust, it also helps to lock moisture into the dough. That moisture then turns to steam in the oven, creating the beautiful interior texture of the bread.
How Will You Serve It?
We love serving our focaccia as a side dish with pasta, as an appetizer, or even as an easy snack. It can also make a great pizza base if you have a serious love for thick crust pizza. We have also been known to slice through the middle of that chewy bread center and make a sandwich out of the two halves.
If you love focaccia, give the French version a try too! Fougasse is a French flat-bread that isn't quite as thick as focaccia, but still makes just as tasty of an appetizer bread!
Rosemary Focaccia
This soft, chewy Focaccia bread is flavored with rosemary and sea salt. It is perfect for serving as an appetizer or along side a pasta dinner!
Yield: 1 (7x9 inch) flatbread
Ingredients
¾

c warm

water,

80F

1

tsp

active dry yeast

1 ½

tsp

dry rosemary

or 1 Tbsp fresh, chopped (plus additional for topping)

¾

tsp

sea salt

(plus additional for topping)

2-3

tsp

olive oil
Instructions
Place the warm water in a large bowl. Sprinkle the yeast over the water and let it stand a few minutes for the yeast soften.

Mix 1 cup of flour into the yeast and water mixture. Add the rosemary and salt, and mix well.

Slowly mix in the remaining 1 cup of flour, only using as much as you need for the dough to come together. Turn the dough out onto a lightly floured surface and knead for 5-8 minutes, until a soft and smooth dough forms. (Add more flour as needed to keep the dough from sticking to your hands.)

Shape the dough into a ball and place it into a large bowl that has been greased with olive oil. Turn the dough to coat it with oil. Cover the bowl loosely with a damp tea towel and let it rise in a warm, draft free place for 1 hour.

When the dough has risen, knead it gently a couple of times, then stretch it into a rectangle.

Grease a 10 x 10 inch section of your baking sheet with roughly 1 tsp of olive oil. Place the stretched dough on the greased section, turning to coat it with oil. Using your fingers, press the dough to roughly 7 x 9 inches. Once pressed to size, press your fingers into the top of the dough to cover it with dimples. (It's ok if the dough springs back. These are just to give it the classic, dimpled focaccia look.) Cover the shaped dough again and let it rise for 30 minutes.

While your dough is rising, preheat your oven to 450F.

Once the dough has risen, drizzle it with additional olive oil and sprinkle it lightly with sea salt and chopped rosemary.

Place the bread into the oven and immediately reduce the heat to 400F. Bake the bread for 15-17 minutes, until golden.

Remove the bread from the oven, wrap it in a clean tea towel to keep it soft, and let it cool on a wire rack for at least 5 minutes before slicing and eating.
Nutrition
Serving:
6
servings
|
Calories:
150
kcal
Looking for more Italian dishes? We've pulled together a collection from some of our favorite bloggers!
Appetizers:
Mains:
Dessert:
Beverages:
If you liked this recipe, here are some similar dishes you may enjoy!