Smooth and nutty, fresh homemade Tahini is simple to make. What are you waiting for?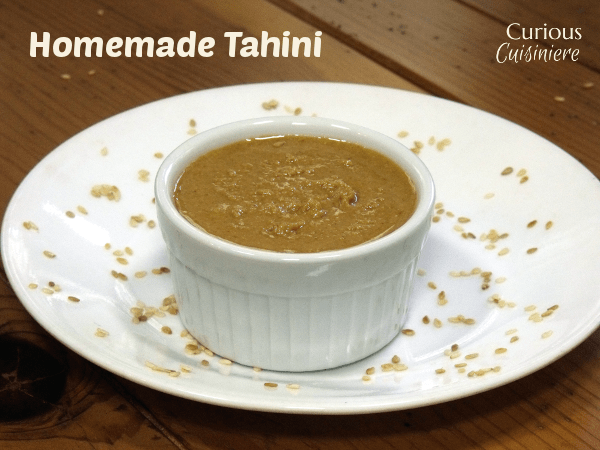 What is Tahini?
The word Tahini comes from an Arabic word meaning to grind, which is quite fitting since tahini is a paste made from ground sesame seeds.
The paste is widely used in North African, Greek, Iranian, Turkish, and other Middle Eastern cuisines. While in the States we enjoy peanut butter or almond butter on our toast, in many Middle Eastern cultures it is tahini that you will find spread on pita or as a nutty dip.
Tahini is well known for its use as a major player in hummus, and you will also find it in baba ghanoush (a cooked eggplant dip) and halva (a rich, sweet Middle Eastern dessert).
How To Make Homemade Tahini
You can make tahini from any type of sesame seed you can find. You could even use black sesame seed, although the result will be an Asian black sesame paste, rather than Middle Eastern tahini.
The sesame seeds can be ground into a paste from raw or they can be toasted or sprouted before grinding.  We prefer to toast the sesame seeds for our tahini, since we love that deep and nutty flavor. But, each type of seed and seed preparation will give your tahini a unique flavor. So, it is worth experimenting to find what version you like best.
This homemade tahini will store well in your refrigerator for at least a month, but we're giving you a recipe for a small batch for a reason. We prefer to make up just as much as we need so that our tahini can always be fresh. That way, we always get the best flavor and we don't have to worry about the oils going rancid from sitting around for too long.
Recipes Using Tahini
The most classic use for tahini (in the States) is a traditional hummus. If you love hummus, try out our Oregano Hummus as well as these other great (non-hummus) recipes using tahini.
Tahinov Hatz (Armenian Tahini Bread) from Tara's Multicultural Table
Tahini Baath (Goad Coconut Cake) from Culinary Adventures with Camilla
Black Sesame-Studded Tahini Cookies from Culinary Adventures with Camilla
Tarator Sauce (Bean-less Hummus-style Dip) from Culinary Adventures with Camilla
Manousah (Arabic Pizza) from Food Lust People Love
'Green' Quinoa Bowl with Roast Sweet Potato and Tomatoes from Caroline's Cooking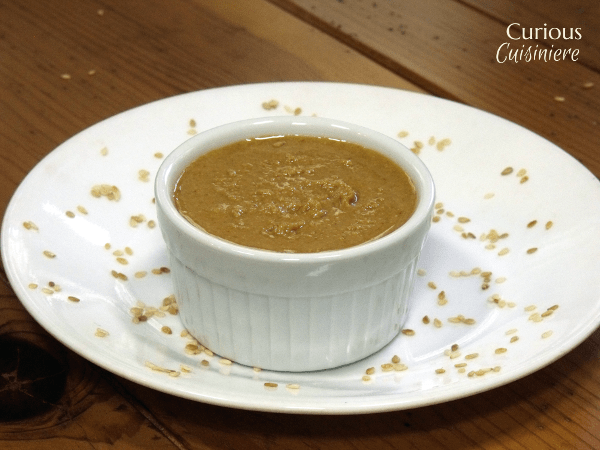 Homemade Tahini
Smooth and nutty, fresh homemade Tahini is simple to make. What are you waiting for?
Yield: 1/3 c
---
Ingredients
½

c

sesame seeds

2

Tbsp

neutral oil

(mild olive oil, sesame, or grape seed)
Instructions
Place sesame seeds in one layer in a sauté pan. Toast lightly over medium heat, stirring often until lightly brown and fragrant, 5-10 minutes.

Remove the toasted seeds from the heat and let cool slightly.

Place the cooled seeds in the bowl of your food processor and process to finely chop. Add the oil and process until a smooth paste forms (adding additional oil if necessary).

Store the tahini in a sealed container in the refrigerator for one month or longer.
---
---
DISCLOSURE: This post contains Amazon affiliate links. These links are provided to help you find some of the more specialty products we mention in the recipe. If you make any purchase clicking through our links, we receive a small commission from Amazon, at no extra cost to you. Thank you for supporting Curious Cuisiniere!
If you liked this recipe, here are some similar dishes you may enjoy!