Tender, flavor-infused pork skewers, Pinchos Morunos, are the perfect summer appetizer. We've added a spicy flair by serving them with a Spanish Mojo Picon sauce.
Pinchos Morunos: Moorish Kebabs
Pinchos Morunos (pronounced PIN-chose MOR-on-ose) technically means "Moorish little sticks," but we'll just call them "Moorish kebabs."
The Moors were a North African tribe who occupied a large part of Spain and Portugal from the 700s-1400s. The Moors, who were Muslim, would have used lamb for these skewers, but after the Moors were conquered, the Christian Spaniards took the Moorish spice blend and began using it with pork.
The Moorish spices blended with garlic to create the marinade for these pork kebabs give them a deep and robust flavor that is perfectly accented by the splash of lemon juice used to thin the marinade.
These skewers might be intended to be a tapas appetizer, but they're so good, you'll probably find yourself wanting to make a meal-sized batch very soon.
Mojo Picon: Fiery Sauce
Mojo Picon (pronounced MOH-ho PEE-con) is a fiery dip that is traditionally made from dried red chilies. The chilies are soaked and blended together to create a thick paste-like sauce that is thinned with olive oil and a bit of vinegar.
The origin of Mojo
You might be familiar with citrus mojo sauces that are common in Caribbean cuisine, but to find the origin of the sauce, we need to look deeper into the cultural roots of the Caribbean immigrants.
The word mojo is a Spanish word for "sauce". It is the name of a group of sauces originating from the Canary Islands, Spain's furthest territory, situated off of the north eastern coast of Africa. Mojos are sauces made from olive oil, garlic, spices, and local peppers of varying heat.
Making Mojo Pican at home
Since many home cooks who aren't in Spain or the Caribbean might not have easy access to the common dried chilies that are traditionally used in mojo picon, we have replaced the fiery dried cayenne and sweet Spanish nora pepper with ground cayenne powder and sweet paprika. The paprika gives the sauce a sweet smokiness and the cayenne gives the mojo picon its characteristic heat.
It is most common for mojo picon to be served cold with potatoes, but it is also a wonderful accompaniment to meat and fish. We found that the fiery mojo picon makes a perfect addition to juicy and tender pinchos morunos.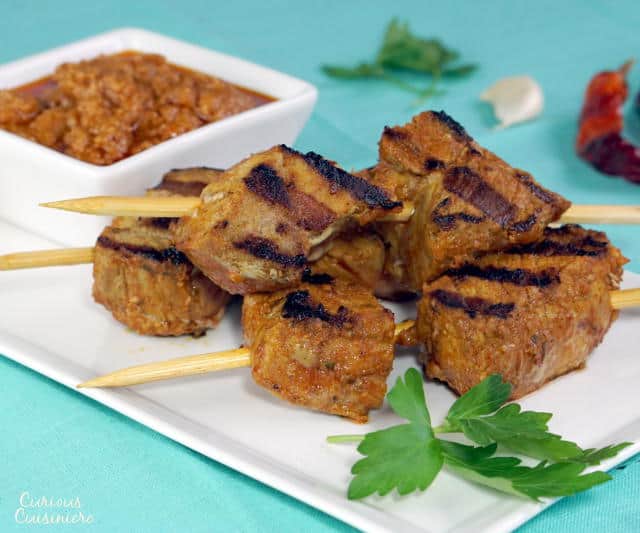 ---
---
Pinchos Morunos (Spanish Pork Skewers)
The pork needs to marinade for 1 hour (up to overnight) before grilling.
Yield: 8 (6 inch) skewers
Ingredients
2

Tbsp

olive oil

½

lemon,

juiced (1-2 Tbsp juice)

1

garlic clove,

minced

1 ½

tsp

cumin

1 ½

tsp

sweet paprika

¾

tsp

ground coriander seeds

½

tsp

oregano

½

tsp

salt

¼

tsp

turmeric

1/3

tsp

cayenne

1/3

tsp

ground black pepper

1

lb

pork loin,

cut into 1 inch cubes

8

(6 inch)

wooden skewers
Instructions
In a medium bowl, mix oil, lemon juice, garlic, and spices. Add the pork cubes and mix by hand until all the pork is coated. Cover and marinade for at least 1 hour in the refrigerator (up to overnight).

When you are ready to cook your pork, preheat your grill to a medium heat, roughly 350F. (You should be able to hold your hand 4-5 inches above the cooking grate for 5-7 seconds).

Soak the wooden skewers in water for 1 minute. Then, thread the marinated pork cubes onto the skewers.

Grill the skewers until the pork pieces are firm and cooked through, turning once, roughly 2-3 minutes per side. (The cooking time will depend on the heat of your grill.)

Serve the skewers with lemon wedge and mojo picon as a hot or cold appetizer.
---
---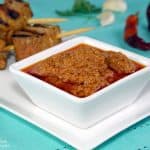 Print Recipe
Mojo Picon (Spanish Spicy Sauce)
Mojo Picon is a fiery dip that is traditionally made from dried red chilies.
Ingredients
4

Tbsp + 1 tsp

olive oil,

divided

1

slice

white bread

2

Tbsp

sherry vinegar

or red wine vinegar

1

garlic clove,

chopped

1 ½ -2

tsp

cayenne powder

1

tsp

sweet paprika

½

tsp

salt

¼

tsp

cumin

1

Tbsp

water

(if necessary)
Instructions
Heat 1 tsp oil in a small sauté pan. Add the bread and toast over medium heat until golden, 2-3 minutes. Flip the bread and continue to toast 2-3 minutes, until the second side is golden. Remove the bread from the skillet and set aside to cool slightly.

Crumble the toasted bread into the bowl of your food processor. Add the sherry vinegar, garlic, cayenne, paprika, salt, and cumin. Cover the processor and pulse a few times until the mixture becomes thick and evenly chopped.

Slowly add the remaining oil, 1 Tbsp at a time, mixing after each addition, until a thick paste forms. If the paste is still too thick to be dip-able, mix in 1 Tbsp of water to loosen it.

Serve the sauce immediately or place in a sealed container in the refrigerator. Use within a week.
---
---
Looking for more tapas recipes? Look no further! We've collected some tasty recipes below!
Para Empezar, Las Tapas (Appetizers/tapas) –
Postres (Desserts) –
Bebidas (Drinks) –
Plus Alcachofas al Ajillo – Garlicky Artichokes – and Spanish Tapas Recipes from Sunday Supper Movement
If you liked this recipe, here are some similar dishes you may enjoy!