Sweet and buttery roasted chestnuts are much simpler than you would think and a great warm treat for a winter evening.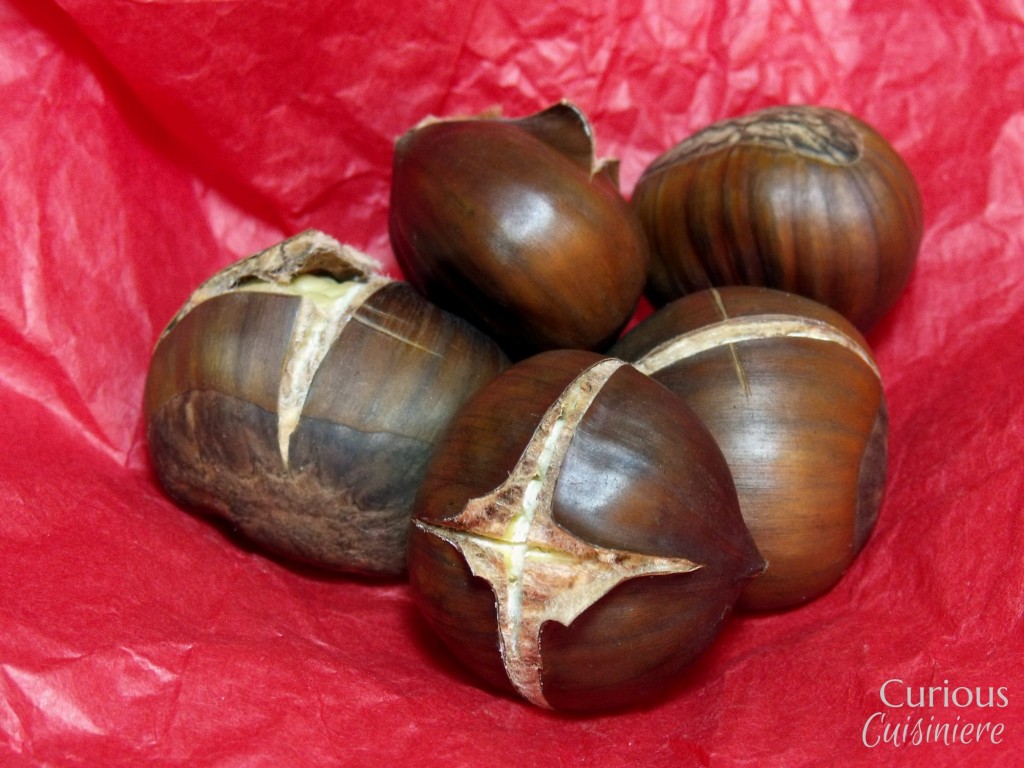 Roasted Chestnuts For Christmas
"Chestnuts roasting on an open fire…"
I had often wondered about the draw of roasting chestnuts at Christmas time.  It was never something we did growing up, and I had never even eaten a roasted chestnut until a few years ago.
Tim, however, has fond memories of the buttery and nutty fragrance that would fill the house when oven roasting chestnuts with his Dad.  It wasn't a yearly tradition, but one that Tim eagerly anticipated and treasured when it would come around.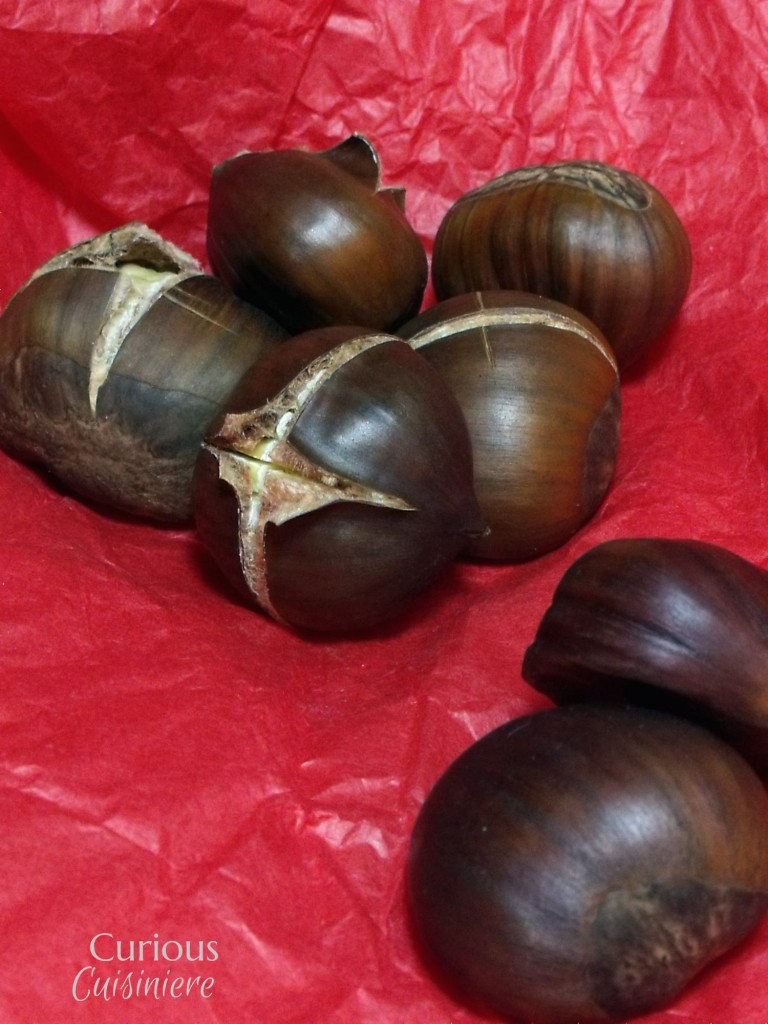 Creating Christmas Traditions
This year's Christmas is an interesting one for us, as it is the first that we will be celebrating married.  It is the first year that I will be missing my family on Christmas day, but we are blessed to be spending Christmas close to our home, with Tim's family.
This year of firsts finds us thinking a lot about traditions.  We are discovering old traditions of our childhood that we didn't even realize were so important to us.  And, we are stumbling upon new traditions that we may want to keep for years to come.  It is a fun and exciting time, as much as it is nostalgic and contemplative.
Tim's love of roasting chestnuts has made it one of those traditions that I think we will make a point to keep year after year.  It brings an old-world feel to the Christmas season, a warmth to a snowy night, and not to mention, a wonderful, festive fragrance to the house.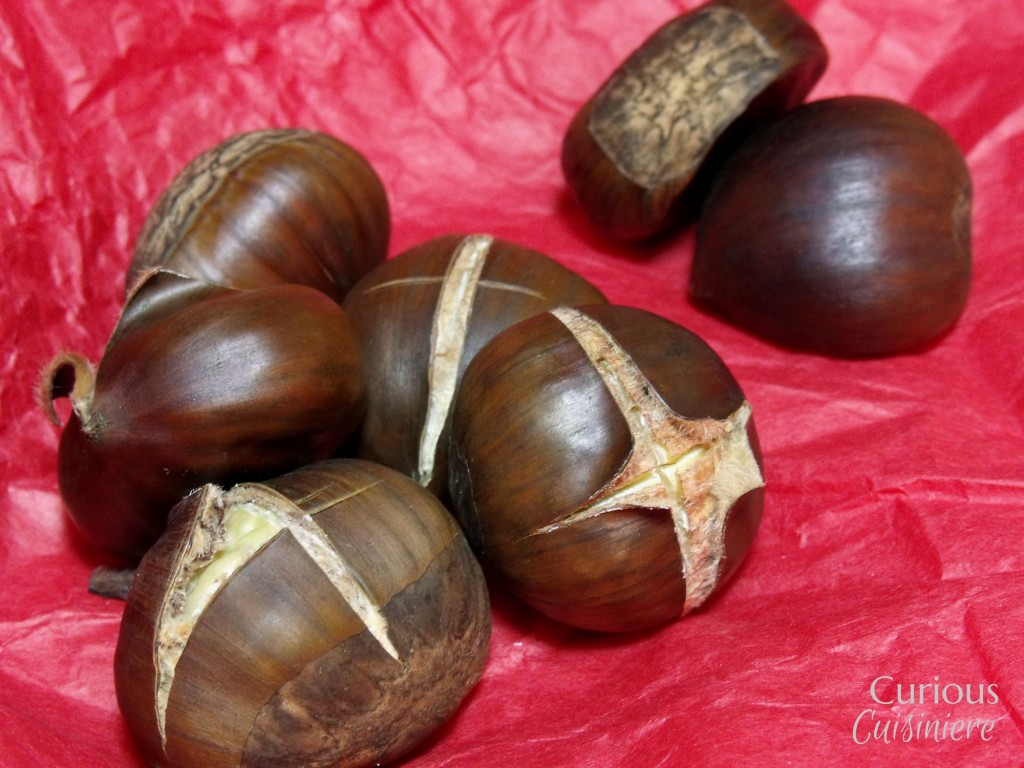 How To Choose Chestnuts
The key to roasting chestnuts, that we found out the hard way this year, is to choose your chestnuts wisely.
They should be deep brown in color, with a glossy finish that feels almost moist and satiny to the touch.  The nut shouldn't rattle in the shell, and they should not feel brittle.  An old or bad chestnut will puncture and crack easily, so if you don't have to put a little force into making an X slit in the shell, you probably don't have fresh nuts, and your end product will be rock hard.
How To Roast Chestnuts
With fresh, good chestnuts, roasting chestnuts can't be simpler.
Carefully and firmly, make an X slit in them to allow for the release of steam (or else they WILL explode in your oven).
Roast for 15 minutes.
Once they have cooled, just enough that you can handle them, the shell and fuzzy skin should peel away easily, leaving soft, golden flesh that is best enjoyed while still warm.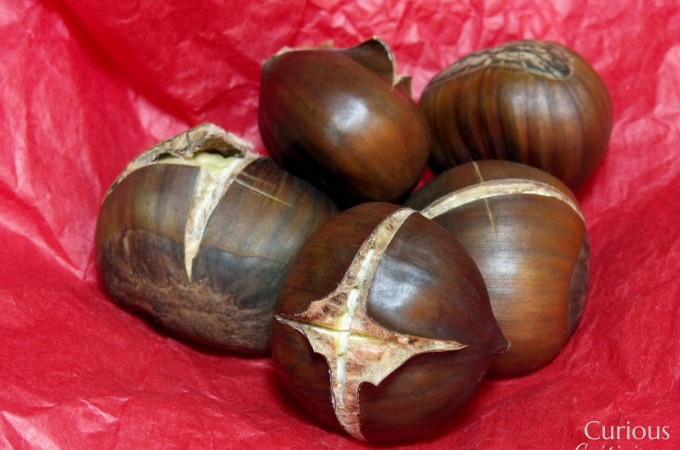 Roasted Chestnuts
Sweet and buttery roasted chestnuts, festive for Christmas or a perfect treat for a warm winter night.
---
Ingredients
1/2

lb

whole chestnuts,

with shell
Instructions
Preheat oven to 450F.

Place the chestnuts on a cutting board on their flat side, so they stay in place. With a large knife, make two cuts in an X shape in the rounded side of the nut, pressing firmly to break through the shell.

Place chestnuts on a cookie sheet, X-side up.

Roast in the oven for 15-20 minutes. The edges of the X will begin to peel up, revealing the golden meat below.

Remove from oven, and let cool until you can handle them easily.

Peel away the shell and the fuzzy skin. The nut meat should be soft and golden. (Any black or green means you have a bad nut, and it should be pitched.)

Roasted chestnuts are best enjoyed warm, but can be kept, peeled, in an airtight container or frozen for future use.
---
If you liked this recipe, here are some similar dishes you may enjoy!