From queso fresco to queso oaxaca, cotija to requesón and more, this guide to Mexican cheese gives you an overview of some of the most common types of cheese in Mexican cuisine and how to use them.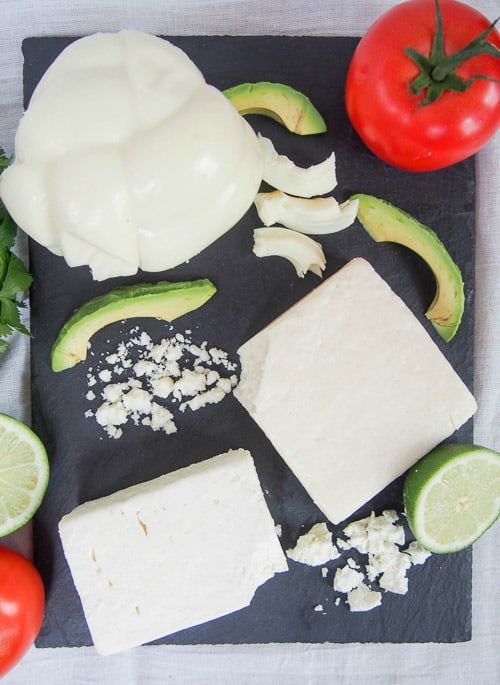 When you think of Mexico, you probably think of corn, avocados and chiles before you think of cheese. But Mexico does in fact have a diverse range of cheeses that are used in lots of different dishes, from providing a creamy filling or a tasty topping, to creating melty goodness.
But where do you start?
This guide to Mexican cheeses gives you an overview of some of the most common types and how you might use them.
Queso Fresco
Key characteristics: mild and crumbly
Queso fresco means "fresh cheese" which is a pretty appropriate description. It's soft, creamy and crumbly, even spongy and has a slight saltiness, though that can vary. It's usually made from whole cow's milk, but can also be part goat's milk.
Queso anejo is an aged version of queso fresco and similar to Romano.
How to use queso fresco: You can slice it, but since it's crumbly and given the flavor, it's common as a topping for dishes like taquitos, Mexican street corn (elotes), beans and salads. It's also often combined with other ingredients to fill things like enchiladas.
Substitutes for queso fresco: a mild feta or ricotta salata
Recipes using queso fresco:
Queso Oaxaca
Key characteristics: mild and stringy
Queso Oaxaca takes its name from the region of Oaxaca in the South of Mexico, where it's called "quesillo". It's easy to recognize, as it looks like a wound up ball of rope. As it's stretched cheese curds are pulled and wound into a ball. It's great for melting, without going watery, and is also eaten as a snack.
How to use Oaxaca cheese: Queso Oaxaca is the most common cheese used in quesadillas and is great when you need a mild, melting cheese.
Substitutes for queso Oaxaca: mozzarella or string cheese
Recipes using queso Oaxaca:
Cotija
Key characteristics: sharp and crumbly
Queso Cotija is named after the town of Cotija in Michoacan and is sometimes called Mexico's answer to Parmesan. It's got a stronger flavor than many other Mexican cheeses, and is slightly sharp, salty and dry due to being aged. It doesn't melt, but does soften when heated.
How to use Cotija cheese: It's often used in a similar way to queso fresco, just giving a bit more flavor. Try it crumbled over beans, salads, elotes and tacos.
Substitute for queso Cotija: parmesan
Recipes using queso Cotija:
Requesón
Key characteristics: mild and spreadable
Requesón is soft, creamy and mild. It's made in a similar way to ricotta: whey is mixed with some residual curds and warmed, then the curds are skimmed off the top and strained. In Mexican markets, you'll often find Requesón sold wrapped in corn husks.
How to use Requesón cheese: It's ideal as a filling for enchiladas, chilis and antojitos.
Substitute for Requesón: ricotta
Recipes using Requesón:
Queso Chihuauhua
Key characteristics: firm and meltable
Queso Chihuauhua is named after the state of the same name and is also known as queso menonita, after the Mennonite farmers who first made the cheese. It's an aged cheese that has a mild yellow color and comes in a few levels of aging that vary in flavor from relatively mild to tangy.
How to use Chihuauhua cheese : It's very meltable, and is commonly used in queso fundido or as a topping, as well as to stuff chile rellenos and tamales.
Substitute for queso Chihuauhua: cheddar or Monterey Jack
Recipes using Chihuahua: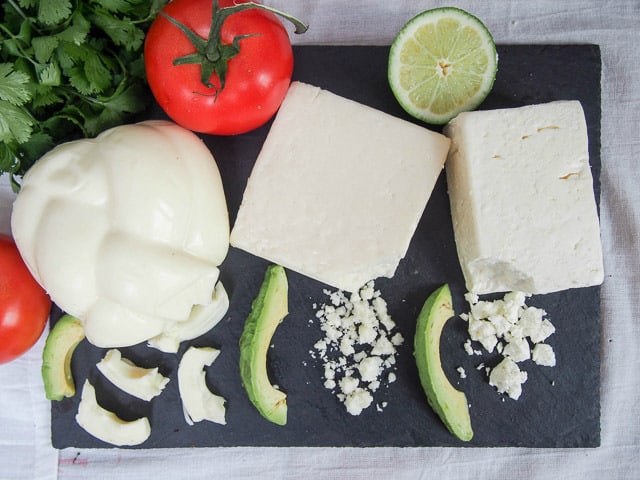 Other Mexican Cheeses
Other Mexican cheeses you might come across include Manchego, Panela, and Queso Blanco.
Manchego is similar to the Spanish cheese of the same name that it is based on. However Mexican Manchego is more typically made from cow's milk rather than sheep's milk. It's great as a snack!
Panela is made with skimmed milk and is a firmer cheese. It's great for 'queso frito' (fried cheese) and is similar to halloumi.
Queso blanco is sometimes described it as a cross between cottage cheese and mozzarella or a 'farmer's cheese' and is soft and mild.
Have you tried any of these Mexican Cheeses? Which is your favorite?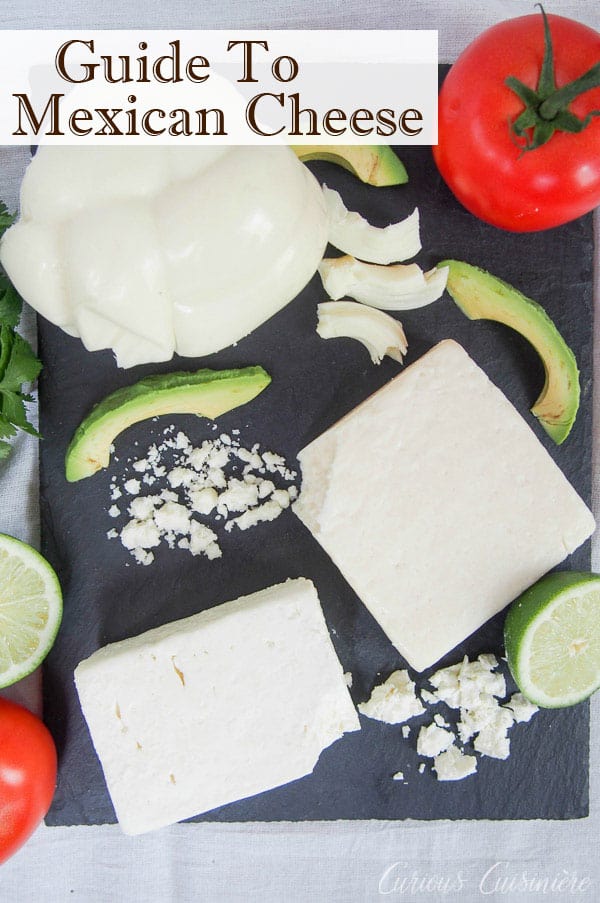 If you liked this recipe, here are some similar dishes you may enjoy!