Cream cheese and jalapeno give these Baked Jalapeno Popper Taquitos the creamy and spice combo you love, all rolled into crispy homemade taquitos.
Game Day Food and Games
I think game-day parties are some of our favorites to host. Friends bring over cards and board games, and we get to make a bunch of hearty, winter-fuel and munchy foods.
Did some of you have to re-read that last sentence?
Even thought we're in Wisconsin and do appreciate a good game, when we get together, it's rare that the game takes center stage.
Sure, we'll have it on in the background, and someone's always got an eye on the game to give a shout if something exciting happens, so we can all focus in on the instant replay.
Even when the Packers were in the Super Bowl a few years back, the guys decided they were tired of sitting around come half time and headed out to play their own game. It didn't seem to bother them in the slightest that they missed the first part of the second half.
Before coming the Wisconsin, I had only watched a handful of football games. But, apparently in Wisconsin football is kind of a big deal. My roommate in college wouldn't miss a Packers game (despite her Chicago heritage), and I'm proud to say I've gone from not understanding a thing about the game, to being able to cheer at the right times, and even feeling a little tension if things get close.
But, the food is still the best part.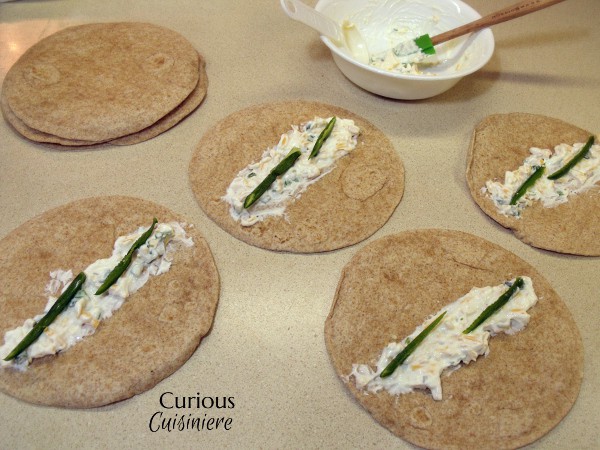 So, onto the food!
Homemade Jalapeno Popper Taquitos: Cream Cheese and Jalapeno Goodness
It's no secret that we love spice. And, jalapeno poppers have been a guilty pleasure of mine for as long as I remember. (Mom would always make a special exception to buy a box for those occasional games we would watch as kids.)
We've tried making our own poppers, but have yet to find a baked version that really knocks our socks off.
However, these taquitos might replace our search.
Everything is there: the crunch from the whole wheat tortilla, the cream cheese creaminess in the filling, and the jalapeno heat that you can dial up as much as you want.
You could even cut the tortillas into 2 inch strips to make mini taquito bites, making them even more pop-able.
But, I'll probably stick with the whole ones.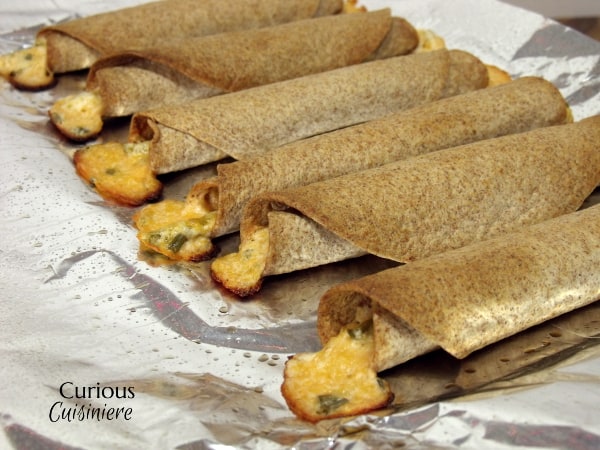 Baked Jalapeño Popper Taquitos
Cream cheese and jalapeno give these Jalapeno Popper Taquitos the creamy and spice combo you love, all rolled into crispy homemade taquitos.
Yield: 12 Jalapeno Popper Taquitos
Ingredients
4

oz

1/3 fat cream cheese,

room temperature

2

Tbsp

plain low-fat yogurt

2

oz

sharp cheddar cheese,

shredded

1

Tsp

scallions,

diced

¼

tsp

garlic powder

12

(6 inch)

corn tortillas,

fresh* (or whole wheat flour tortillas)

2

large

jalapenos,

sliced**
Instructions
In a medium bowl, mix together cream cheese, yogurt, cheddar cheese, scallions, and garlic powder.

Wrap your tortillas in a damp towel and heat them in the microwave for 10 seconds to steam them and make them more pliable.

Spread 1 Tbsp of filling in a line, slightly off-center of each tortilla. Top with jalapeno slices. Roll the tortilla tightly around filling.

Place, seam side down on a greased, foil-lined baking sheet. Lightly spray the tops of the rolled taquitos with cooking spray.

Bake 15 minutes, until golden and crisp.

Let stand 5 minutes before serving. (These babies are hot in more ways than one when they come out!) Serve with sour cream or salsa.
Notes
*While corn torillas are traditional for making taquitos, sometimes store-bought corn tortillas are old and not pliable, so they crack when you try to wrap them around the filling. To remedy this, you can lightly steam the tortillas. Or, if you prefer, use flour tortillas instead, which are much more pliable.
**It is advisable to get a pair of kitchen gloves to wear while slicing any hot peppers, in order to avoid a not-so-lovely burning sensation that refuses to leave your fingertips.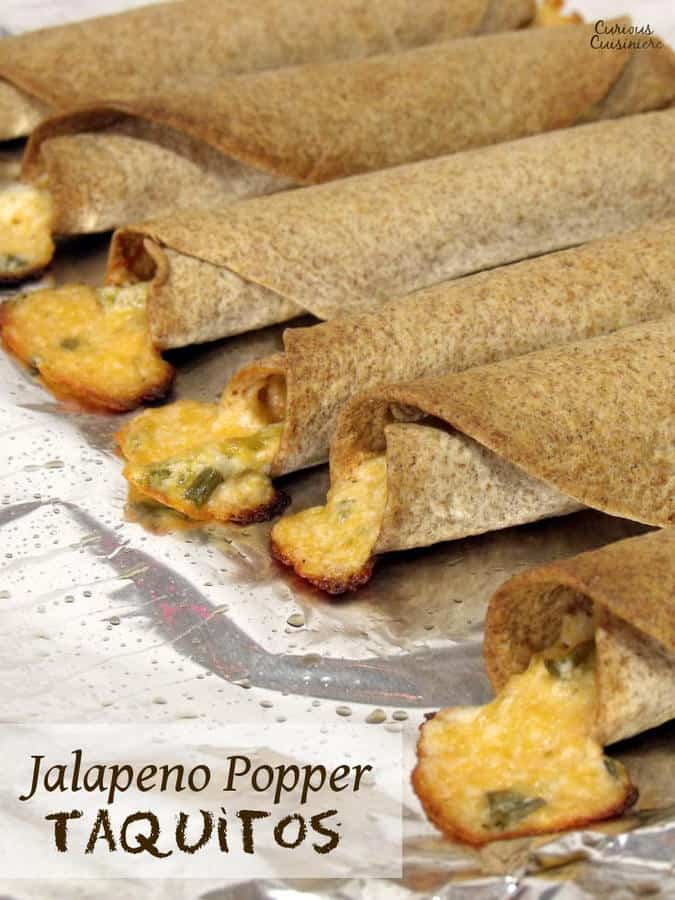 If you liked this recipe, here are some similar dishes you may enjoy!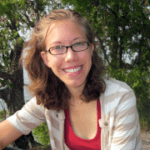 Sarah is one of Curious Cuisiniere's founding duo. Her love for cultural cuisines was instilled early by her French Canadian Grandmother. Her experience in the kitchen and in recipe development comes from years working in professional kitchens. She has traveled extensively and enjoys bringing the flavors of her travels back to create easy-to-make recipes.