They might not look like "classic" enchiladas, but the chili-seasoned dough of these Enchiladas Potosinas makes them a unique and tasty treat.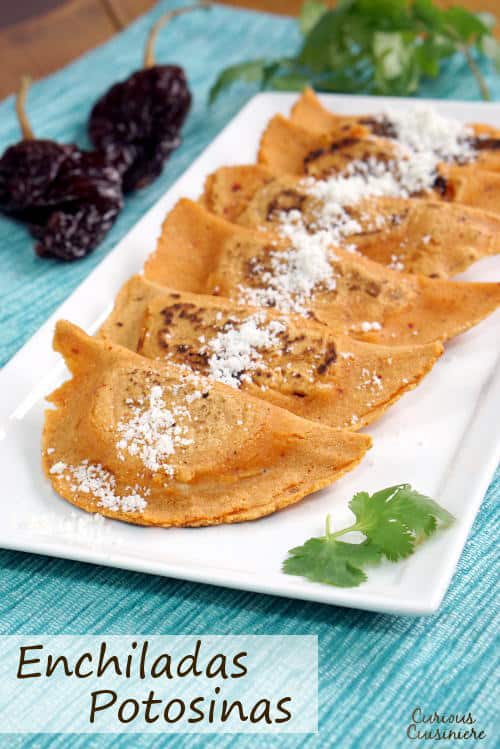 Enchiladas are a classic Mexican food. With such wide popularity, it is no surprise that they come in a number of shapes and sizes. (Like the chili-less entomatadas.) Many regions in Mexico (and in the southern United States) have their own unique take on (what we would typically thing of as) "classic" enchiladas.
Enchiladas Potosinas: A happy accident
The story of enchiladas Potosinas dates back to the early 1900s when a gentlemen in the village of Soledad, a part of the state of San Luis Potosi, in central Mexico, brought his boiled corn to the village mill to grind into flour. It just so happened that the mill was full of dust and particles from some chilies that had just been put through in the mill.
Imagine this man's surprise when his corn flour came out of the mill rosy red and smelling spicy! Trying to make the best of a bad situation, this man began making things with his chili-corn flour, and the unique flavor grew into a wide-spread hit!
Enchiladas or Empanadas?
If you noticed that these enchiladas look more like empanadas than a sauce-covered enchiladas, you're right! They really are filled and shaped more like empanadas than enchiladas. Really, the only thing that makes these enchiladas different from empanadas is that they use corn masa flour, while traditional empanadas use wheat flour for the dough.
Enchiladas Potosinas: Cooking
After shaping, enchiladas Potosinas are first toasted on a dry griddle or cast iron pan to seal the filling inside and cook the dough. If you'd like, you can stop right there. Serving them this way makes for a lighter version. (And, we loved them this way!)
If you like a good crispy crunch, you can also fry your enchiladas Potosinas a second time in oil to create a really crispy exterior. This is the way they are traditionally served in homes and by vendors in Mexico.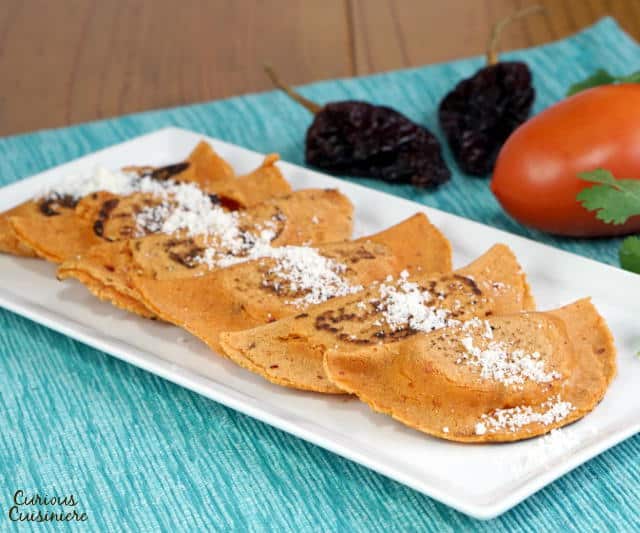 Enchiladas Potosinas
Author:
Sarah | Curious Cuisiniere
Ingredients
Dough
2 dried ancho peppers seeded and stems removed
1 ½ c hot water
1 garlic clove, minced
2 c masa harina flour (like this)
¼ tsp salt
Filling
1large tomato, diced and drained
1 jalapeno pepper, seeded, de-veined, and diced
½ of a small onion, minced
¼ tsp salt
8 oz queso fresco cheese (like this)
Topping
Chopped cilantro
Avocado slices
Diced onion
Queso fresco
Instructions
Making the Dough and Filling
Heat 1 cup of water to boiling (in a saucepan or in the microwave). Remove the stem and seeds from the ancho peppers. Place the de-seeded peppers into a medium bowl and cover with the boiling water. Soak the peppers for 10-20 minutes, until soft and re-hydrated.
While the ancho peppers are soaking, dice the tomato and jalapeno and mince the onion for the filling. Place a fine-mesh strainer over a bowl. Place the diced tomatoes, jalapeno, and onion in the strainer. Mix in ¼ tsp salt. Set the mixture aside to drain while you finish making the dough.
Remove the ancho peppers from the water and place them into the bowl of your food processor along with the garlic clove and ¼ c of the pepper soaking liquid. Process until the mixture is smooth.
Place the massa harina in a medium bowl. Add the chili paste from the food processor and enough water to create a stiff dough (the consistency of dry mashed potatoes). Add more water as necessary to reach the desired consistency. Cover the dough and let it rest for 10 minutes.
While the dough rests, make the filling. Place the tomato mixture, that is now drained, into the food processor. (There is no need to clean it from the peppers you processed earlier.) Process the mixture until it resembles a thin salsa.
Crumble the cheese into a medium bowl. Add the tomato mixture and mix well. Set you completed filling aside aside.
Making the Enchiladas
Shape 1 Tbsp of dough into a ball. Press it with a tortilla press or roll it into 4 inch tortilla.
Place 2 tsp of filling slightly off center of the tortilla and fold the tortilla in half to encase the filling. Press the edges to seal. Continue with the remaining dough and filling.
Heat a cast iron skillet over medium high heat. Cook the enchiladas in the dry skillet for 1-2 minutes per side. (Serve now, fry, or refrigerate until you are ready to fry them to serve.) Place finished enchiladas on a platter and continue cooking the remaining enchiladas.
Eating the Enchiladas
The enchiladas can be served immediately with your choice of garnish (cilantro, avocado, diced onion, queso).
They can also be frozen or refrigerated for later use. When you want to serve the enchiladas, pan fry them in a little oil to serve.
---
DISCLOSURE: This post does include Amazon affiliate links. These links are provided to help you find some of the more specialty ingredients we mention in the recipe. If you make a purchase on Amazon after following our affiliate links, we do receive a small commission from Amazon, at no extra cost to you. Thank you for supporting Curious Cuisiniere!
If you liked this recipe, here are some similar dishes you may enjoy!