Crispy and cinnamony on the outside and custard-like on the inside, Rabanada, Brazilian French Toast is the perfect breakfast treat or desert at Christmas or any time of year! 
Rabanada: Christmas French Toast
Around Christmastime you will find rabanada popping up in many Brazilian homes. This deliciously indulgent version of French toast is a Christmas staple for good reason!
Rabanada came to Brazil by way of Spain and Portugal. In fact, it is a rendition of a Spanish dish that is traditionally eaten during the Holy Week before Easter.
These beautifully golden French toast are traditionally eaten as a dessert or afternoon treat, rather than for breakfast. But, we say, why not break them out of breakfast too?
Honestly, they're so good, we'd eat them any time of day!
Our Brazilian French Toast Recipe
Brazilian French toast differs from the French toast that we are used to in the States in a couple of ways. While the ingredients are the same: eggs, milk, bread. The construction and cooking method differ.
For Rabanada, thick slices of stale bread are dipped first in milk and then in beaten eggs. This lets the milk soak into the bread first and coats only the exterior with the egg.
The result, is a French toast that is crispy and eggy on the outside, but wonderfully creamy and custardy on the inside.
What also contributes to the crispiness of Rabanada is that, instead of being pan fried in a bit of butter, like French toast in the States, Rabanada is fried in oil until golden brown. Then, it is coated in cinnamon sugar, to make that crispy exterior nice and sweet!
This is some serious French toast heaven!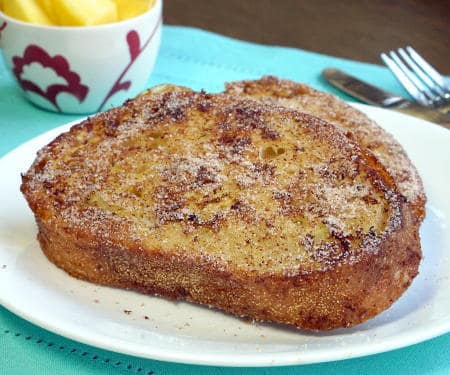 Rabanada (Brazilian French Toast)
This unique, cinnamon-infused, twist on French Toast will have you and your crew coming back for more!
---
Ingredients
¼

c

sugar

1

Tbsp

cinnamon

3

c

milk

4

eggs

1

loaf, stale

French bread,

Italian bread, brioche, or challah, sliced 1 inch thick

Oil for frying

(olive or canola)
Instructions
On a large plate, mix the sugar and cinnamon until blended, set aside.

Place the milk in one shallow bowl and the eggs in another. Lightly beat the eggs.

In a medium skillet, heat ½ inch of oil to just before it begins to smoke (350-375F).

Working with a few slices at a time, dip the bread in the milk letting it soak in. Then, dip the bread in the beaten egg, coating both sides.

Place the soaked bread in the hot oil and fry for 2-3 minutes on each side, or until golden brown. Carefully remove the fried French toast from the hot oil and place on a platter that has been lined with paper towels.

Continue with the remaining bread.

While the fried French toast is still warm, dip both sides in the plate with cinnamon sugar, and serve.
---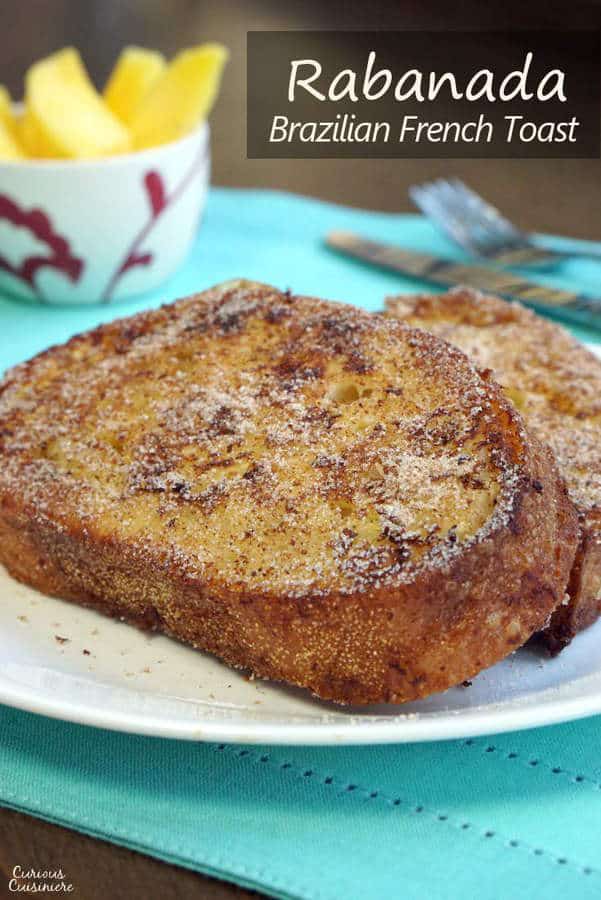 If you liked this recipe, here are some similar dishes you may enjoy!