Our Hawaiian Kalua Pork recipe is cooked in the smoker, creating tender meat with a natural and authentic flavor.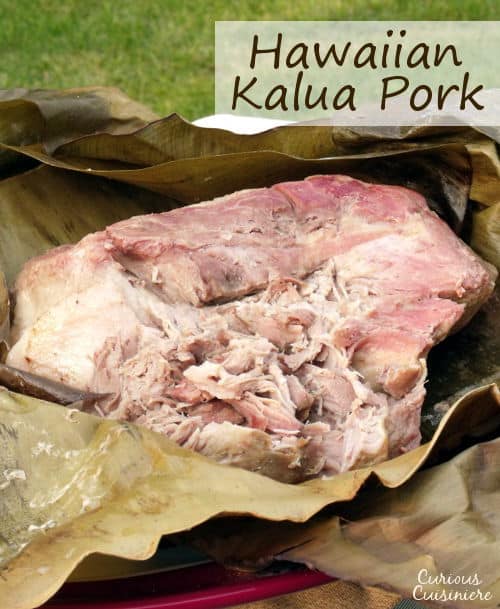 Kalua literally means "cooked in an underground oven" which makes sense because it is a traditional Hawaiian cooking method that uses an underground oven called an imu. To make the oven, a large dirt pit is dug. Then, a fire is built in the pit using kiawe wood. Large rocks are placed in the pit to help retain the heat once the fire dies out. When the rocks are hot, the pit is lined with ti or banana leaves.
The meat is salted, wrapped in more ti or banana leaves, and placed into the pit. The meat is then covered with wet burlap and a layer of sand or dirt to keep in the moisture and heat.  The meat is left to cook for 6-7 hours, during which time it is infused with smoke from the mesquite wood and flavor from the banana leaves.
The meat comes out of the pit tender, smoky, salty, chin-drippin', finger-lickin' good. All you need is to shred it and dive right in!
Finding a Kalua Pork Recipe
Even if you don't have access to a large, underground pit, it is still possible to enjoy this tender and flavorful pork.
Many home-cooked recipes will use an oven or slow cooker to cook the meat low and slow, creating the right texture and tenderness. But, cooking the pork this way means that you don't get that wonderful, smoky flavor. Many of these recipes will make up for the lack of smoke flavor by adding liquid smoke, but if you have a smoker (or a charcoal grill) you can get that smoky flavor naturally. (And, honestly, Kalua pork is meant to be smoked, so why not smoke it if you can?)
Key Ingredient #1 : The Smoke
Imus are traditionally heated with kiawe wood, which is a Hawaiian mesquite. It is nearly impossible to get kiawe wood on the mainland, so we used mesquite wood chips to create the smoke for our smoker.
While kiawe will impart a more tropical flavor to the meat, using American mesquite wood will get us close to the authentic smoke flavor.
Key Ingredient #2 : Banana Leaves
There are very few ingredients that go into making delicious Kalua Pork. If you have your mesquite wood chips, you're off to a good start, but there is still something missing.
In order to get a truly authentic flavor you can't skip the leaves that the meat is wrapped in. The banana leaves infuse the pork with a flavor unlike anything we have tasted before. Luckily, you can find banana leaves in the freezer section of your local Latin or Asian grocery store. If you don't have one of those in your area, you can also purchase frozen banana leaves from Amazon. (Just be sure you are getting the frozen ones, and not ones labeled for 'deco' or decor purposes.)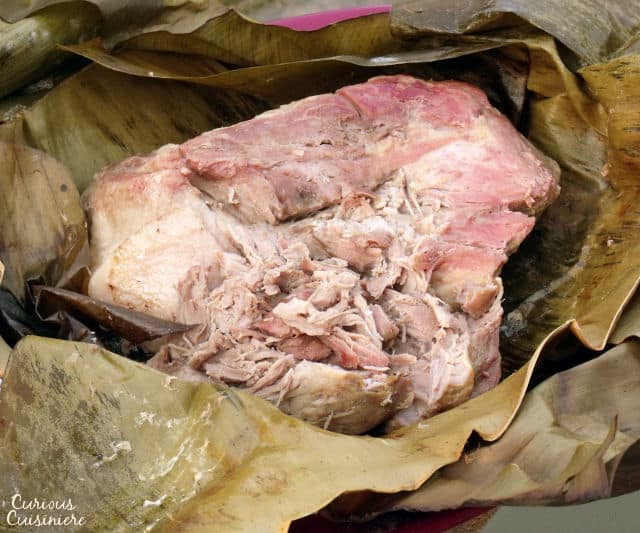 Hawaiian Kalua Pork
Tender and juicy slow-cooked pork that will bring you a taste of the Hawaiian islands. Our Hawaiian Kalua Pork recipe is cooked in the smoker, creating tender meat with a natural and authentic flavor.
**When determining how much meat you need to serve your crew, remember that a pork shoulder will shrink during cooking by about 1/3. **
Instructions
Preheat your smoker to 200F (or

set your grill for indirect cooking

at 200F). Place the wood chips in a bowl and cover them with water. Let them soak while you prepare the meat.

Rub the sea salt into the pork and wrap it in banana leaves. Tie the leaves with kitchen twine, so the packet stays together.

Add a couple handfuls of soaked mesquite chips to the hot coals in your smoker and place a tray of water under your cooking grate.

Smoke your roast between 200-225F for around 8 hours, adding wood chips and charcoal every hour.*

The meat is done when it has reached an internal temperature of 190F.

Remove the meat from the smoker and let it stand for 10 minutes before unwrapping and serving.

Serve with steamed rice and a cabbage slaw or macaroni salad and Hawaiian sweet rolls.
Notes
*To speed up the process, smoke the roast for 4 hours and transfer it to a 325F oven to continue cooking for an additional 2 hours.
---
DISCLOSURE: This post does include Amazon affiliate links. These links are provided to help you find some of the more specialty ingredients we mention in the recipe. If you make a purchase on Amazon after following our affiliate links, we do receive a small commission from Amazon, at no extra cost to you. Thank you for supporting Curious Cuisiniere!
If you liked this recipe, here are some similar dishes you may enjoy!