Our Hawaiian Sweet Rolls recipe makes light and fluffy dinner rolls that are slightly sweet and perfect for eating alone or stuffing with your favorite sandwich filling.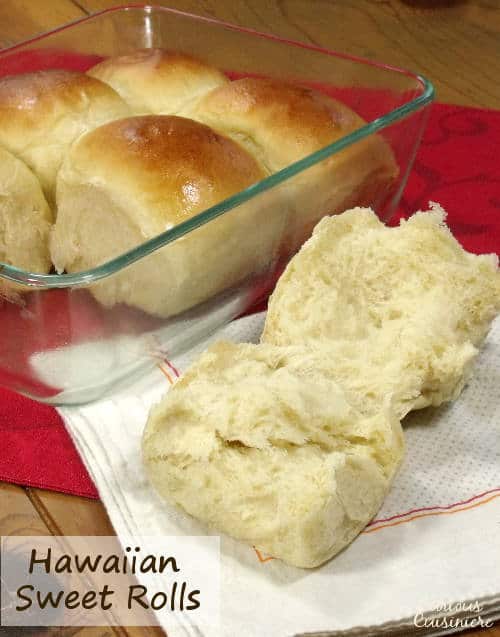 If you're in the States, you're probably familiar with the bright orange packaging of King's Hawaiian Sweet Rolls. They are known and loved for their light and fluffy texture and slightly sweet flavor. So, what's the deal with these Hawaiian rolls? Are they actually Hawaiian, or is it some kind of gimmick to make people feel like they're eating their way to a tropical island?
The origin of Hawaiian sweet bread
A little reading on the King's Hawaiian website tells us that their bread began in the 1950s with a baker in Hilo, Hawaii. This baker was inspired by traditional Portuguese bread.
So the bread's origin isn't Hawaiian. It's Portuguese!
From Portuguese Sweet Bread
Portuguese immigrants began coming to Hawaii in the later 1800s. These immigrants came primarily from the Portuguese islands of the Azores and Madeira. This is why you will find a heavy Portuguese influence in the Hawaiian cuisine.
Portuguese sweet bread is a rich holiday bread made with eggs, butter, and milk. It was traditionally served for Christmas and Easter, but it is now common to find year-round.
To Hawaiian sweet rolls
Maybe it was the tropical nature of the Hawaiian islands that inspired the King's Hawaiian founder to add his special twist to Portuguese sweet bread. Most of us will never know.
But, what we do know is that the Hawaiian sweet rolls that have become so widely popular have a light tropical sweetness that everyone seems to crave. (Seriously, have you met anyone who doesn't love those rolls?)
Our Hawaiian sweet rolls recipe
To give these rolls a tropical flair, we've added pineapple juice to a rich and creamy dough. We also use brown sugar to round out the sweetness with a little depth that plays well with the richness of the egg yolks and butter.
The rise time is the key to to these fluffy rolls. You need to make sure the dough doubles in bulk at each rising stage. So, don't skimp on the rise time, and these rolls will deliver the fluffy texture that you're craving!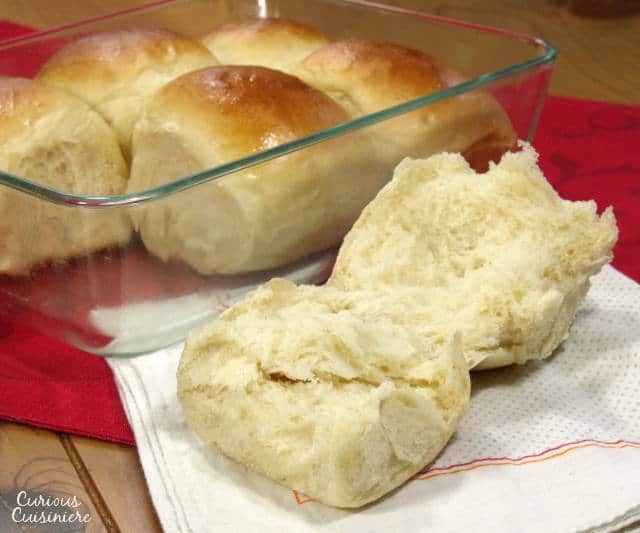 Hawaiian Sweet Rolls
Yield: 12 rolls (1 9x13 pan of rolls)
Ingredients
¼

c

milk,

warmed to 90F

1

Tbsp

active dry yeast

¼

c

brown sugar

1 ¼

tsp

salt

½

c

pineapple juice,

warmed to 90F

2

egg yolks

(reserve one egg white for brushing the rolls before baking)

2

Tbsp

unsalted butter,

softened
Instructions
In a small bowl, mix together the milk and yeast. Let the mixture stand until the yeast has hydrated, 1-2 minutes.

While the yeast hydrates, mix the flour, brown sugar, and salt in a large bowl.

Add the pineapple juice, egg yolks, butter, and yeast-milk mixture to the flour mixture. Mix well, until the dough begins to come together.

Turn the dough out onto the counter and knead it until a soft, smooth dough forms, 7-10 minutes. (If the dough is too sticky, dust your counter with flour, until the dough is smooth and tacky, but not sticky.)

Place the dough in a greased bowl and cover it with a slightly damp tea towel. Place the dough in a warm, draft-free place and let it rise for 2 hours, until doubled in bulk.

After the dough has doubled, knock it back and divide it into 12 roughly even pieces. Shape each piece into a ball and place them into a buttered 9x13 pan. Cover the pan with your damp tea towel and let the rolls rise in a warm, draft-free place until doubled in bulk, roughly 1 hour.

Check the rolls after 40 minutes, and preheat your oven to 350F.

Mix one egg white with 1 Tbsp water. When the rolls are ready to go into the oven, gently brush the tops with the egg white mixture.

Bake the rolls in the preheated oven for 20-25 minutes, until golden.

Remove the rolls from the oven and let cool in the pan for 5 minutes, before turning them out onto a wire rack to finish cooling.
If you liked this recipe, here are some similar dishes you may enjoy!