A dark chocolate cake topped with creamy, rum-infused mascarpone custard takes the flavors of traditional tiramisu to a whole new level in this easy and impressive Chocolate Tiramisu Cake.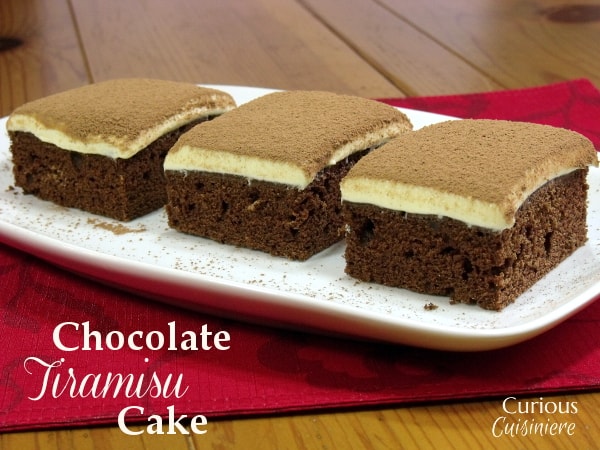 For The Love Of Tiramisu
What makes tiramisu better?
Well, sometimes I would argue a big, resounding NOTHING. The soft lady fingers soaked in coffee and the light mascarpone cream are things I dream about.
But, Tim would argue, without question, that chocolate makes everything better, and most of the time, I would agree with him. So, when he suggested we find a way to add some dark chocolate flavors to the classic light and summery tiramisu, I was up for the challenge.
Our Chocolate Tiramisu Cake Recipe
The result is a cake that gives my love for traditional tiramisu a run for its money.
But, that's ok, because this isn't traditional tiramisu. It's a whole different animal.
An intensely chocolaty, coffee-infused cake creates a sturdy base for a creamy and light layer of rum-infused mascarpone custard that acts as a cool and creamy blanket for the intense chocolate flavors of the cake and cocoa powder it finds itself sandwiched between.
It stands tall, proud, and elegant. But it won't stand for long, because these babies are guaranteed to be gobbled down fast!
I guess that's what happens when you cross a favorite dessert with a good dose of chocolate.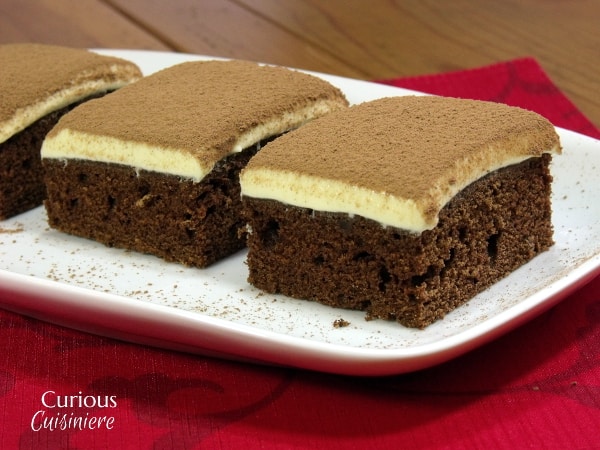 Chocolate Tiramisu Cake
A dark chocolate cake topped with creamy, rum-infused mascarpone custard takes the flavors of traditional tiramisu to a whole new level.
Yield: 1 (8x8 pan) (Double the recipe to fill a 9x13 pan.)
Ingredients
For the Dark Chocolate Cake
½

tsp

baking soda

½

tsp

baking powder

¼

tsp

salt

½

c

strong coffee,

cooled

¼

c

buttermilk *

¼

c

salted butter,

room temperature

½

c

sugar

2

eggs

1 ½

oz

unsweetened chocolate,

melted and cooled slightly
For the Mascarpone Custard Topping
4

egg yolks

½

c

sugar

8

oz

Mascarpone cheese,

chilled

2

Tbsp

spiced rum

¼

c

heavy cream,

chilled

¼

c

cocoa powder
Instructions
For the Dark Chocolate Cake
Preheat oven to 350F. Grease an 8x8 baking pan and set it aside.

Sift flour with baking soda, baking powder, and salt. Set aside

Combine coffee and buttermilk.

Cream butter until light and smooth. Add sugar and cream until fluffy. Add eggs one at a time, beating until the mixture is pale colored and smooth.

Beat in the melted chocolate until the batter is an even color.

Add half of the dry ingredients to your egg mixture, followed by the wet ingredients, and the remaining dry ingredients. Beat each addition until just smooth. (Your batter should resemble a very light and fluffy chocolate mousse.)

Spread the batter into a greased 8x8 pan and bake 20-27 minutes, until cake is nicely domed on top, is firm and springy to the touch, and only a few crumbs remain on a toothpick inserted at the center.

Set the cake, in the pan, on a wire rack and cool completely, 1-2 hours.
For the Mascarpone Custard Topping
As the cake is cooling, make your custard. In a double boiler set to a simmer, whisk egg yolks with sugar. Heat, whisking constantly, until the sugar dissolves and the mixture thickens, 10 minutes.

Remove the egg yolks from the heat and beat them with an electric hand mixer until the custard is cool, thick, and pale yellow. Add the Mascarpone, a quarter cup at a time, beating after each addition until smooth. Add the rum and beat until incorporated. Set the custard aside.

In a chilled bowl, beat your chilled heavy cream until stiff peaks form. Gently fold the whipped cream into the Mascarpone custard.

Chill the custard mixture in the refrigerator until the cake is completely cool.
Putting it all Together
Once the cake is completely cooled, spread the Mascarpone rum custard over top of the cake in the pan. Place the cake in the refrigerator for at least 1 hour to let the custard set. (This can be done up to a day ahead of time.)

When you are ready to serve your cake, dust the top with a generous layer of cocoa powder.

Cut and serve.
Notes
*If you don't have buttermilk, place 1 tsp vinegar in a liquid measure and fill the rest of the ¼ cup with milk. Let stand for 5 minutes.
Nutrition
Calories:
351
kcal
|
Carbohydrates:
41.9
g
|
Protein:
9.1
g
|
Fat:
17.5
g
|
Saturated Fat:
10
g
|
Cholesterol:
181
mg
|
Sodium:
249
mg
|
Fiber:
2.1
g
|
Sugar:
25.7
g
If you liked this recipe, here are some similar dishes you may enjoy!