Baked Flautas combine a crisp flour tortilla shell with a flavorful pork filling to create a lighter version of this classic snack.
What is the difference between a flauta and a taquito?
Flauta is Spanish for "flute," which is kind of what these small, snack-able bites look like.
Flautas and Taquitos are incredibly similar dishes. Depending what region you are in, you may even find the two terms used interchangeably. The biggest difference is that a flauta is traditionally made with a flour tortilla. (Think "F" for flauta and "F" for flour.) A taquito, on the other hand, is typically made from a corn tortilla.
In both cases, the tortilla is wrapped around a filling (typically beef, chicken, or pork) and then deep-fried.
Baked Flautas
To make things a bit healthier, we're taking a baked route with our flautas today. Baking won't give you quite the crisp and crunchy result that deep-frying will, but by coating the flautas with cooking spray before baking, you get a similar crispy exterior, without all the excess grease (kitchen mess and smell) of deep-frying.
For this recipe, we have filled our baked flautas with a seasoned pork and vegetable mixture, that is flavorful, but not spicy, making them the perfect snacking food for a game day or any casual party.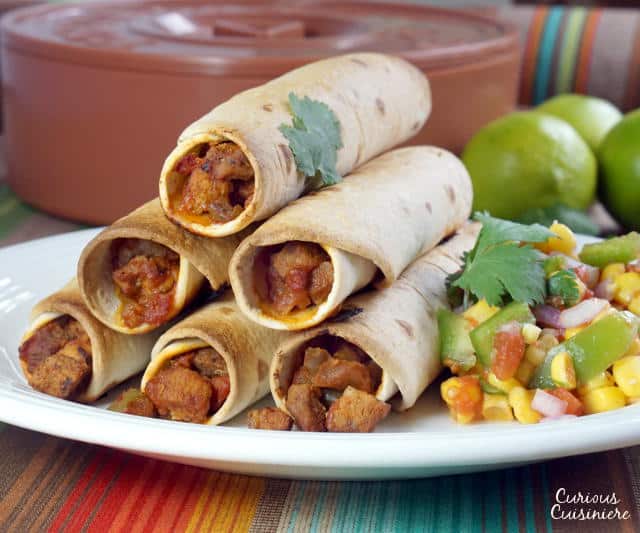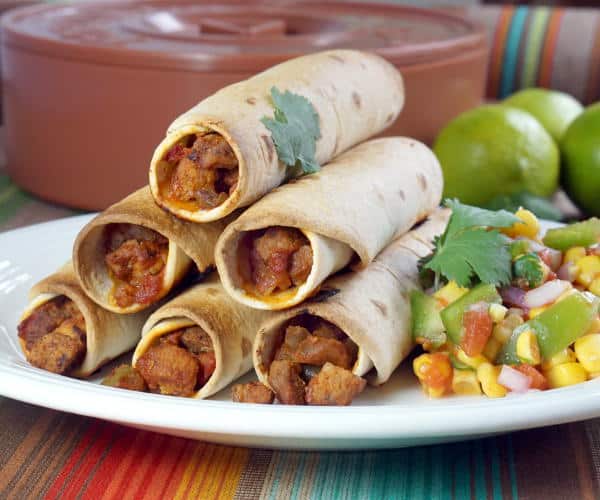 Pork Baked Flautas
---
Ingredients
For the Filling
½

tsp

oil

½

onion,

diced

½

green pepper,

diced

½

lb

pork steaks,

diced into small cubes

1

tomato,

diced

2

garlic cloves,

minced

2

tsp

paprika

1

tsp

parsley

1

tsp

cumin

1

tsp

chili powder

¾

tsp

salt

¼

tsp

oregano

1/8

tsp

ground black pepper

Pinch

cinnamon

½

c

water
Putting It All Together
10

(6")

flour tortillas

Sour cream, salsa, and/or guacamole

( for serving)
Instructions
Heat oil in a large, non-stick frying pan. Add the diced onions and green pepper and sauté them over medium-high heat 5 min, or until soft.

Add the meat and sauté for 1 minute to start to sear the pieces.

Reduce the heat to medium. Add the diced tomato, seasonings, and water. Stir to mix well. Simmer the mixture, uncovered, until the pork is cooked through and the liquid has simmered out (7-10 min). Remove the pan from the heat.

Line a baking sheet with aluminum foil and grease the foil with cooking spray.

Place roughly 3 Tbsp of filling down the center of each flour tortilla. Roll the tortilla tightly around the filling and place the rolled flautas, seam-side down, onto the greased baking sheet, spacing them roughly 1 inch apart. Repeat until all the filling has been used.

Spray the flautas with a light coating of cooking spray and bake for 15-20 minutes, until golden and crisp.

Remove the flautas from the oven and serve immediately with your desired toppings.
---
Recipe Notes
The Flautas can be made ahead of time and frozen. Simply place the rolled flautas in a sealed container in the freezer.
To serve, bake from frozen in a preheated, 450F oven for 20-25 minutes, until golden. (Be careful, they will be HOT when coming out of the oven!)
Disclosure: This post was sponsored by CozyMeal. All opinions and recipes are our own. 
If you liked this recipe, here are some similar dishes you may enjoy!