This Pork Carnitas recipe is an easy way to make Mexican Carnitas a little lighter, but still just as delicious.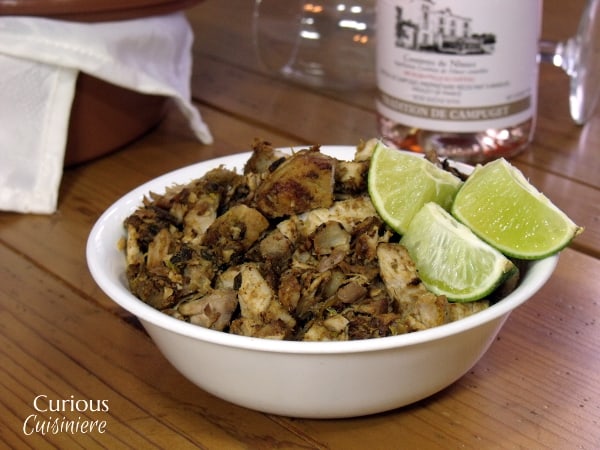 Pairing Wine With Mexican Food
Pairing wine with Mexican food can be a tricky endeavor, which is why most people will simply reach of a beer or a margarita as their beverage of choice. But, by keeping in mind a few key tips, you can find that perfect bottle to pop for your fiesta dinner.
Consider the Wine
Alcohol
Alcohol intensifies heat, and heat intensifies alcohol. This means that a beverage with a high alcohol content will make your dish taste even spicier, and the spice from the dish with make your alcohol taste sharper. This is one of the reasons that beer is such a great choice with spicy, Mexican food, because the typical ABV (Alcohol By Volume) for beer is 4-7%. Most wines fall in the 11-16% range, but lighter wines like Italian Moscato and German Reisling tend to have an alcohol content closer to that of beer, making them a great choice for Mexican food.
Tannin
Tannin contributes to the dryness of the wine. If you notice that your mouth feels bone dry after taking a sip of wine, that's the effect of the tannin. That drying effect of the tannin will also intensify the heat of your dish. This means that you want to stay away from dryer wines that are high in tannin, like big, dry reds. Oak barrel aging produces a similar, dry and earthy effect, so try to steer clear of oaked white wines as well.
Acidity
While tannin makes your mouth go dry, acidity in wine makes you salivate. And, while we're staying away from high tannin wines with Mexican food, high acidity is a great way to balance out the heat and intense flavors of Mexican food. Look for whites that have notes of citrus or are described as 'crisp,' these are good indicators that they will have some acidity to them.
Consider the Dish
Mexican food can be divided into two (incredibly general) categories of ingredients and preparation. We'll call them red and green. Tomatoes, cumin, coriander and chili pepper would contribute to a red dish. These flavors are bold and need more of a bold and flavorful wine, like a juicy red or slightly dry rosé to balance them out.
Jalapenos, lime and cilantro would contribute to a green dish. And, since these flavors are more light and refreshing, they work better with a light and acidic white. Many Sauvignon Blanc wines already have a bit of jalapeno and/or lime flavors, making them excellent choices.
Mexican Pork Carnitas
Today we're pairing our wine with a classic Mexican meat preparation: Pork Carnitas.
Carnitas, translated "little meats," is a dish made from pork shoulder that is braised until incredibly tender and then cooked just a bit longer to give it little bits of crispy edges.
A traditional pork carnitas recipe would call for the pork shoulder to be cooked in a large amount of pork fat. The fat coats the meat as it braises, making it incredibly creamy and tender. And then, once all the braising liquid is gone, the nice fat coating is what creates the crispy-edged perfection.
Our Pork Carnitas Recipe
Since cooking a pork shoulder in its weight in fat seemed a bit much, even in the name of tender meat and crispy edges, we decided to find a compromise.
We chose a pork shoulder that was well marbled with its own fat, and then we added a tablespoon of extra fat (butter, tallow, even bacon grease would work) to the cooking liquid. The results were still tender and the edges of the meat crisped nicely, making it a perfect compromise in our book.
This dish does take a bit of planning, because you will need to let your meat cook for a few hours. But, most of the time is hands-off. And, as the aroma of the orange and cinnamon fill your home, you'll be thinking of a way that you can make this once a week, just to keep that smell around.
It really is that amazing.
Pairing Wine With Carnitas
As for wine, we decided to go out on a bit of a limb for us and go the rosé route. We don't drink rosé wines much, and I think it's because when we see a pink wine we automatically think about the super sweet wines that we drank in college. After doing some research, we were hearing a lot about pairing Mexican dishes with a semi-dry rosé, particularly ones from the Rhone region in France. And, so, we went out searching.
We decided on a 2014 Chateau de Campuget Rosé Wine. The wine was acidic, fruity, and slightly dry. For us, the dryness was surprising, and I'll have to say, it opened a whole new realm of rosé wines to us.
How can you go wrong with fall-apart tender meat with hinds of orange and warm spices that has been almost caramelized by the long cooking process?
I don't think you can. But, it was made even better by the fruitiness of the rosé  that pull out the flavors of the orange in the meat. And, following each juicy, flavorful bite with a sip of the bright and refreshing wine was the perfect way to round out the flavors.
Pork Carnitas
This Pork Carnitas recipe is an easy way to make Mexican Carnitas a little lighter, but still just as delicious.
Ingredients
1

c

water

1

Tbsp

lard or butter

2

lb

pork shoulder,

well marbled with fat, cut into large chunks

2

oranges,

halved

½

large

onion,

diced

4

garlic cloves,

minced

1

cinnamon stick,

broken into pieces

1

Tbsp

oregano

1

tsp

salt
Instructions
Heat water and lard/butter together in a Dutch oven (or other heavy, bottomed pot). Once the fat has melted, add the pork chunks. Juice the orange halves and add the juice and rind. Bring the mixture to a simmer and simmer, uncovered for 1 hour over medium low heat.

After 1 hour, most of the moisture should have evaporated from the meat. Add the remaining ingredients, mixing well. Cook over medium low heat for 1 hour, stirring every 20 minutes. (Your meat will start to stick to the bottom and sides. This is good, we're creating nicely browned and crisped meat!)

To serve, shred or coarsely chop the meat. Serve alone or as a taco filling. Lime, chopped raw onion, salsa, and queso fresco all make great toppings.
Notes
Make Pork Carnitas in the Slow Cooker:  Combine all ingredients except the lard/butter in the slow cooker and cook over low heat for 8-10 hours.
Remove the meat from the slow cooker and shred or chop. Heat the tablespoon of lard/butter in a large skillet and pan-fry the chopped meat over high heat just before serving to achieve those crispy bits.
Nutrition
Calories:
448
kcal
|
Carbohydrates:
10.2
g
|
Protein:
26.3
g
|
Fat:
33
g
|
Saturated Fat:
11.5
g
|
Cholesterol:
109
mg
|
Sodium:
490
mg
|
Fiber:
2.4
g
|
Sugar:
6.3
g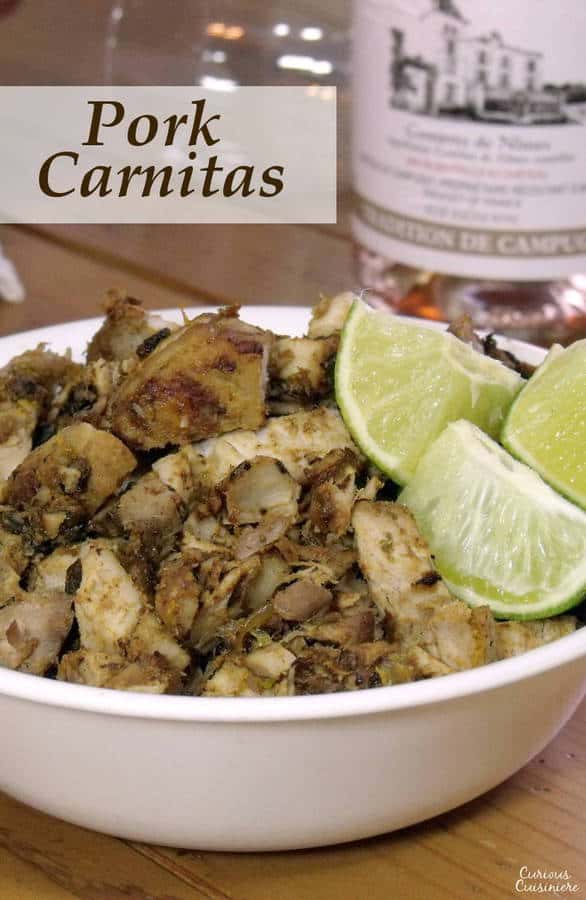 ---
More great wine pairings for Mexican food! 
David of Cooking Chat started this event in June of 2014, and every month since then this group of wine and food lovers have had a great time! For more background, check out the original post announcing Wine Pairing Weekend. You can see the full list of past and upcoming #winePW events here.
If you liked this recipe, here are some similar dishes you may enjoy!