Light and flaky Greek pies filled with feta cheese, Tiropita make for a wonderful appetizer or snack that everyone is sure to enjoy!
Pita: Greek Pie
When we say "pita" when it involves Greek food, we're not thinking about the flatbread. In Greek cuisine, "pita" means "pie", and it can be sweet, but it is very often savory.
You've probably heard of Spanakopita, that Greek spinach and feta pie that is wrapped in a flaky phyllo dough crust. And, we've made Kotopita, the Greek version of Chicken Pot Pie. (Yup, it's still wrapped in flaky and irresistible phyllo dough.)
But have you heard of the lesser known, but still wildly delicious Tiropita?
Tiropita: Greek Cheese Pie
Tiropita (or tyropita) is a Greek pie made from layers of phyllo dough that are filled with a cheese and egg mixture.
Tiropita can be made as individual pastries, like we did here. Or, you can make it in one large pan and cut into serving portions, like you do for Kotopita.
In Greece, this is a popular breakfast food that is also commonly eaten during the day as a snack.
Seriously, I have a weakness for anything wrapped in phyllo dough, so I could eat these ANY time of day!!

Our Tiropita Recipe
As we researched this dish, we found that EVERY cook makes their filling differently. Some us Greek yogurt, others use cottage cheese, some combine other cheeses like Parmesan, Gouda, and/or ricotta with the feta. Some make a creamy bechamel to mix in with the feta. And some just stick with simple and delicious feta and eggs.
It makes it really hard to find THE authentic recipe!
So, since we like cheese. (That just might be an understatement.) We decided to mix some Parmesan in for flavor and ricotta in for creaminess.
All we know is that what we have here is a mighty tasty bundle of super flavorful and creamy cheese surrounded by light and airy blankets of crispy phyllo.
If that doesn't make you want to crunch into one of these babies, nothing will.
Greek Cheese Pie: A Great Make Ahead Appetizer
As a bonus, these little hand pies make GREAT make-ahead appetizers. You can spend an afternoon filling and rolling pies, and then freeze them for later.
Simply arrange them in a single layer on a baking sheet, and freeze them until they are frozen solid. Then, you can transfer the pitas to an airtight container or bag and store them in the freezer until you need them.
When you are ready to bake, they simply take 10-15 minutes in the oven, and you have flaky, cheesy goodness for your guests.
Or, all for yourself.
Seriously, we're not ones to judge. We ate this whole batch ourselves…
Tiropita (Greek Cheese Pies)
Ingredients
For the Filling
8

oz

feta cheese

3

oz

ricotta

or small curd cottage cheese

3

oz

Parmesan cheese,

grated

2

eggs

salt

(as needed)
For the Pies
8

oz (24 sheets)

phyllo dough,

thawed

6

Tbsp

unsalted butter,

melted
Instructions
Preheat your oven to 350F.

In a large bowl, mix together the cheeses. Taste and add a pinch of salt as necessary.

Add the eggs and mix well.
To Make The Pies
Layer 3 sheets of phyllo dough, brushing melted butter in between each layer and brushing butter on top. (Be sure to keep the phyllo that you are not using under a lightly damp tea towel to keep them from drying out.)

Cut the phyllo stack into strips, roughly 3 inches wide.

Place 1 Tbsp of filling at one end of each strip of layered dough.

Starting at the filled end, bring the bottom corner up to the top, creating a triangle that encases the filling. Then, fold the triangle over. Then, fold the triangle down. Continue folding until the end of the dough is reached. Re-butter the end to ensure it sticks firmly.

Place the triangle on a baking sheet, seam-side down and brush the top with butter.

Continue with the remaining dough and filling.

Bake the triangles for 10- 12 minutes, until golden and puffy.
To Freeze For Later
Place the unbaked triangles on a baking sheet and freeze in a single layer. Once frozen solid, transfer them to an airtight bag or container.

Bake from frozen at 350F for 15-25 minutes, or until golden.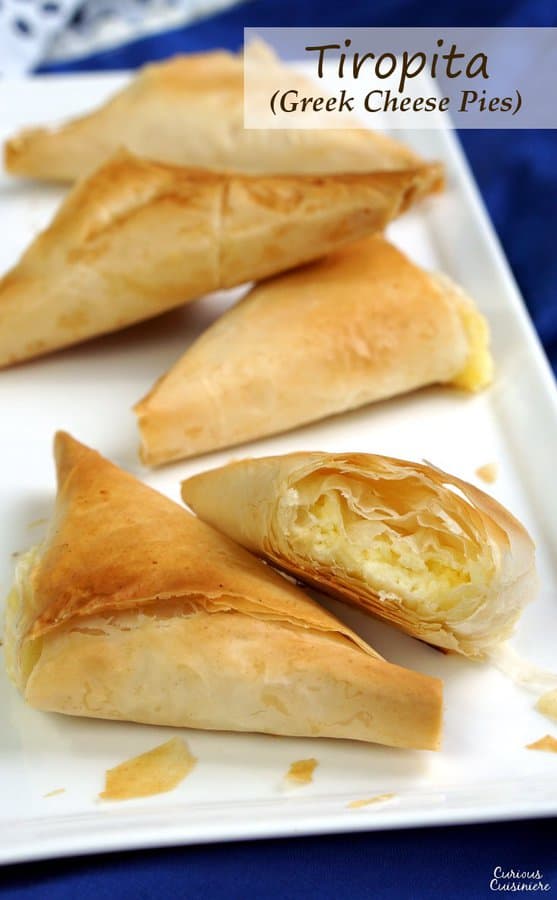 If you liked this recipe, here are some similar dishes you may enjoy!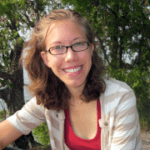 Sarah is one of Curious Cuisiniere's founding duo. Her love for cultural cuisines was instilled early by her French Canadian Grandmother. Her experience in the kitchen and in recipe development comes from years working in professional kitchens. She has traveled extensively and enjoys bringing the flavors of her travels back to create easy-to-make recipes.