Buddha's Delight is a healthy Chinese dish that can be complicated to make, but our recipe breaks it down and makes it easier to make at home, even for a weeknight dinner!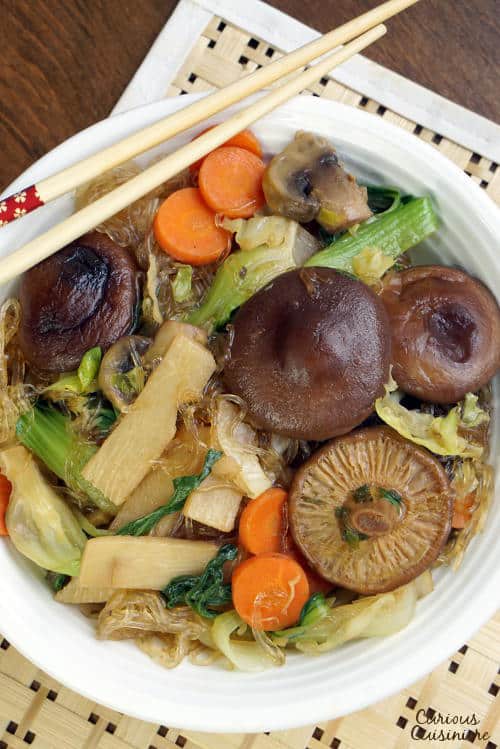 (DISCLOSURE: This post contains Amazon affiliate links. These links are provided to help you find some of the more specialty products we mention in the recipe. If you make any purchase after clicking through one of our links, we receive a small commission from Amazon, at no extra cost to you. Thank you for supporting Curious Cuisiniere!)
Authentic Chinese Food
Whenever we order Chinese takeout, we look at the menu and wonder which of the dishes are actually, authentically, Chinese, which are authentic dishes that have been canabalized by sugar and deep frying to please American patrons, and which have no resemblance to actual Chinese food at all.
Crab rangoon? Nope. General Tso's Chicken? Not so much. Egg rolls? Nope. Sweet 'n' Sour Chicken? Sorry. Fortune cookies? Don't make me cry.
Basically, if it's deep fried, it's probably not authentic. If it contains American broccoli or onions: nope, those aren't common. And, dairy is a BIG indicator that it's not authentic.
Chinese cuisine puts a lot of emphasis on vegetables and bean products (like tofu and soybean). Meat takes a back seat to these other ingredients in authentic Chinese dishes, which often contain a long list of ingredients.
Buddha's Delight
That's why we were intrigued when we first encountered Buddha's Delight at a new takeout restaurant.
A healthy, vegetarian option? That might just be authentic!
And, it is.
Well, kind of.
Buddha's Delight is a vegetarian dish that is widely popular in China among Buddhist communities, who are vegetarian and use only simple seasonings. It is also a very popular dish when it comes to ringing in the Lunar New Year!
Americanized versions of Buddha's Delight typically just contain a variety of vegetables and often tofu, but authentic Buddha's Delight can have a VERY long list of ingredients, some of them familiar, others, not so much.
The Ingredients for Buddha's Delight
The list of ingredients for traditional Buddha's Delight is quite long, but it's a fun dish whose ingredients can vary depending on your personal preferences.
Really there is no one recipe of Buddha's Delight. The ingredients and seasonings vary from cook to cook, depending on preference and what is available.
We really liked how Maggie from Omnivore's Cookbook laid the traditional Buddha's Delight ingredients out, so we're going to take a similar route.
The ingredients can be broken down into three categories: Flavor, Texture, Color.
Flavor
Flavor ingredients are essential to the dish. You don't need all of them though for great flavor, which is good, because some of them are more specialty ingredients. We just chose one, and we LOVED our Buddha's Delight.
Fried Tofu
Fried or Braised Wheat Gluten
Texture
Texture ingredients give the dish some heft and interest in your mouth. We love texture, so we chose a few of these ingredients to amp up our Buddha's Delight.
Fresh Mushrooms
Napa Cabbage
Baby Bok Choy
Color
Color ingredients are purely optional. They should be added in less quantity than the ingredients in the "texture" category, because these guys are more like accents to the dish.
Thickener
Bean Thread Noodles are also a common ingredient in Buddha's Delight. They act to absorb the last of the liquid from the broth.
If you don't want to use bean thread noodles, you can create a slurry with 1 Tbsp cornstarch and 1 Tbsp water and let that thicken up your broth at the end of cooking.
Our Buddha's Delight Recipe
Traditional Buddha's Delight can be time consuming to make because it has a lot of vegetable that need to be prepared and cooked separately.
For our recipe, we picked ingredients that would be easy to find and would cook together nicely to make the dish overall easier (and quicker) to come together.
That way, it could even be a nice vegetarian meal for a weeknight's dinner!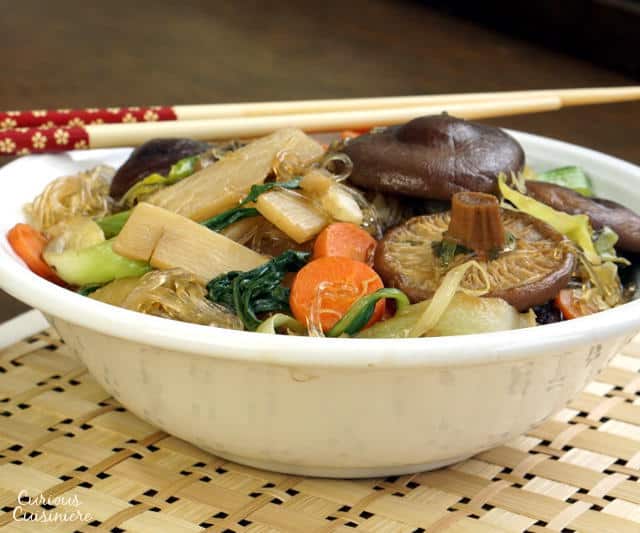 Buddha's Delight
An easy and healthy, vegetarian dinner that is SO much better than takeout!
Ingredients
For The Dish
2

Tbsp

oil

4

green onions,

sliced

6

slices

fresh ginger,

peeled and chopped

1

c

carrots

or snow peas or baby corn, sliced

1

c

bamboo shoots

or water chestnuts

1

c

fresh mushrooms

4

c

Napa cabbage

or regular cabbage, shredded

8

small heads

baby Bok Choy

or use more cabbage, quartered

2

Tbsp

soy sauce

2

tsp

sugar

1

c

rehydrating water from mushrooms

or vegetable stock

2

tsp

sesame oil

(optional)
Instructions
Do Ahead
Rinse the shiitake mushrooms and place them in a bowl. Cover them with water and let them rehydrate for 2 hours, until they are very soft.

Once softened, remove the mushrooms from the water and place them on a plate. Reserve the soaking liquid for later.
For the Dish
Place the bean thread noodles in a bowl and cover them with warm water. Let the noodles stand for 5 minutes, until they have softened. Drain the water and set the noodles aside.

Heat the vegetable oil in a large wok or deep skillet over medium high heat. Add the green onions and ginger. Sauté for 30 seconds.

Add the carrots to the wok, and sauté for 1 minute.

Add the soaked shiitake mushrooms, bamboo shoots, and fresh mushrooms. Sauté for 1 minute.

Finally, add the cabbage and Bok Choy. Sauté for 30 seconds.

Add the soy sauce and sugar.

Add the rehydration liquid from the mushroom (or the vegetable stock). Cover the wok or skillet and steam the vegetable mixture over medium heat for 5 min

Uncover the wok and turn heat to medium high. Taste the vegetables and add salt or more soy sauce, if necessary.

Add the soaked bean thread noodles and mix them into the vegetables, using them to soak up any of the remaining liquid. (Alternately, mix 1 Tbsp cornstarch with 1 Tbsp water and add this slurry to the wok now. Sauté until the broth begins to thicken.)

Remove the wok from the heat and drizzle the mixture with sesame oil, if desired.

Serve immediately with rice, if desired.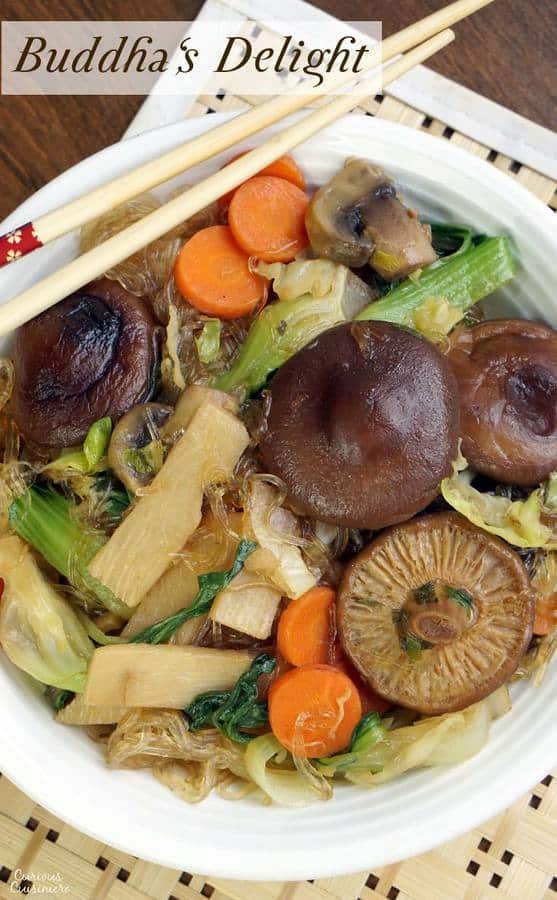 If you liked this recipe, here are some similar dishes you may enjoy!