The perfect, crispy and creamy appetizer recipe, these Baked Crab Rangoon are a healthier way to satisfy your craving for Chinese takeout.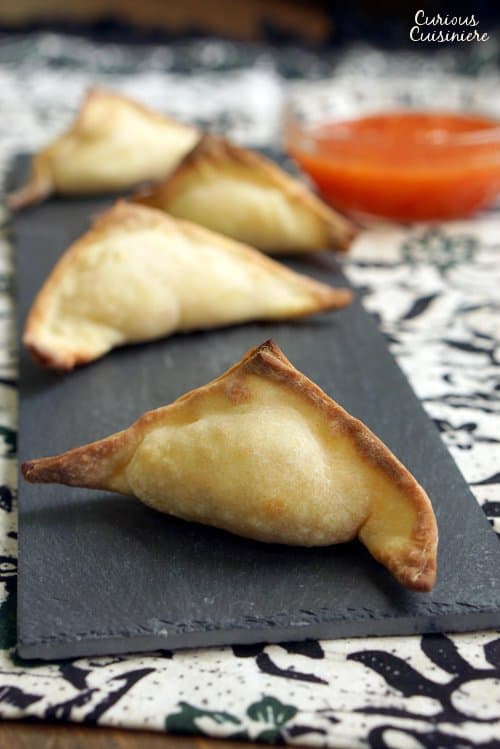 Ok. Ok. We know Crab Rangoon don't really fit in the Chinese category. But, if you were looking for Crab Rangoon, isn't that the first place you'd look for them?
Where Did Crab Rangoon Come From?
If you're a fan of American Chinese takeout, you've probably tasted these crispy, crunch deep-fried dumplings that are filled with a creamy mixture of sweetened cheese and crab meat.
These tasty appetizer bites have been around since at least the mid 1950s when they could be found first in San Francisco.
There's talk that, while crab rangoon were invented in the US, they were based off of a authentic Burmese dish. But, cream cheese (and other cheeses) are hard to find in Southeast Asian cuisine, so it's hard to say for sure.
Crab and Cheese Combo
Seriously. I'd love to meat the person who thought to mix crab and cream cheese.
I mean really. You hear it, and it just sounds odd.
But, warm oozing cream cheese with that slight crab fishy-ness and a bit of a sweet tang. All inside a shell that shatters as you crunch into it.
Heaven.
Craving Egg Rolls
Nope. Chinese takeout cravings are never as satisfied as they are when you bite into a creamy and slightly sweet Crab Rangoon.
It might just be me.
You could give Tim a plate of egg rolls and he'd be perfectly content. But, for me, something's missing until I get that crab rangoon.
Healthy Crab Rangoon?
Sadly, I normally bypass these little gems on the rare occasion we get takeout. All I have to do is think about all that deep fried grease and who knows what else that goes into them, and now I can say "no thanks."
Which is why I was overjoyed when I realized I could make them at home, exactly the way I like them.
I mean, have you ever decided to splurge only to realize the splurge really wasn't worth it?
When I used to indulge in these guys, I found that SO often I was disappointed. Each restaurant's crab rangoon tastes a bit different. (And don't even get me started on the ones that barely have a teaspoon of filling!)
I crave the crab rangoon of my childhood, slightly sweet, slightly tangy, a hint of garlic, creamy, and crisp. And now, I get to taste the filling before it goes into these guys, so I know I won't be disappointed.
Making Our Baked Crab Rangoon Recipe
You can make these crab rangoon using 3 inch wonton wrappers that you can find in the produce section of our grocery store. Or you can make your own wonton wrappers using our wonton wrapper recipe.
These crab rangoon remind me of the crab rangoon of my childhood, with the perfect balance of sweet and acidic, with a marked (but not overpowering) crab flavor.
And, we get to use reduced fat cream cheese, real crab, and wrappers made with real ingredients.
Oh yeah. And these baked crab rangoon mean no deep fried belly bombs.
Watch out! I'm making a beeline for this plate!
Baked Crab Rangoon
The perfect, crispy and creamy appetizer recipe, these Baked Crab Rangoon are a healthier way to satisfy your craving for Chinese takeout.
Yield: 20 rangoon
Ingredients
For the Filling
8

oz

1/3 fat cream cheese,

softened

2

tsp

rice vinegar

2

Tbsp

Greek yogurt

or light sour cream

1

tsp

onion powder

1

tsp

ground ginger

½

tsp

garlic powder

½

tsp

sugar

½

tsp

salt

½

c

crab meat,

minced
For the Rangoon
20

small (3 inch)

wonton wrappers*

(Make your own or find them in the cold case in your grocery's produce section.)
Instructions
Preheat oven to 425F.

In a medium bowl, mix together all filling ingredients until smooth.

Spoon 1 Tbsp of filling just off center of each of the wonton wrappers. Using your finger or a small brush, moisten the edges of the wrapper with a little water. Fold the wrapper over and press the edges together to seal in the filling.

Place filled crab rangoon on a greased baking sheet.

Give the un-baked crab rangoon a spritz with some cooking spray, or brush them lightly with oil.

Bake the crab rangoon for 15-17 minutes, until golden brown.

Let the crab rangoon cool slightly on a wire rack before serving. (The filling gets quite hot.)
Notes
To Freeze For Later: Place filled (unbaked) crab rangoon on a parchment lined baking sheet. Freeze them on the baking sheet for 2 hours, until firm. Then, remove the frozen crab rangoon from the baking sheet and place them in a seal-able container or bag. Return them to the freezer until you are ready to serve them. (They will last up to 2 months in the freezer.) To Bake From Frozen: Place the frozen crab rangoon on a baking sheet in a preheated, 450F oven. Bake for 15-20 minutes, until golden. (Let stand for 5 minutes before serving. The filling will be hot!)
Nutrition
Calories:
152
kcal
|
Carbohydrates:
17
g
|
Protein:
4.4
g
|
Fat:
7.2
g
|
Saturated Fat:
4.3
g
|
Cholesterol:
35
mg
|
Sodium:
314
mg
|
Fiber:
0.6
g
---
This is one of the recipes from the early days of Curious Cuisiniere. We've updated our pictures since we first made it, but we've left the original images here as a fun throwback and shout out to how far we've come. Enjoy!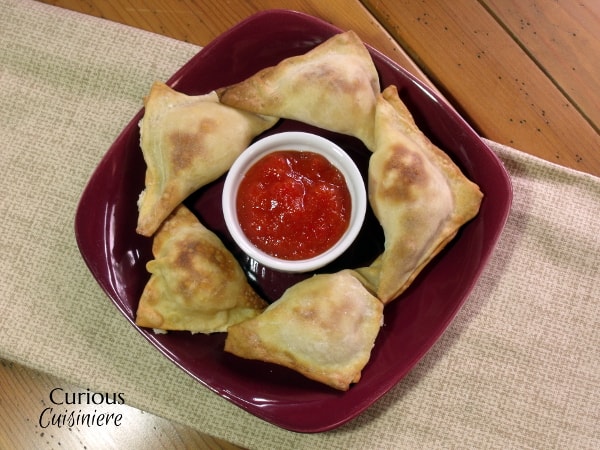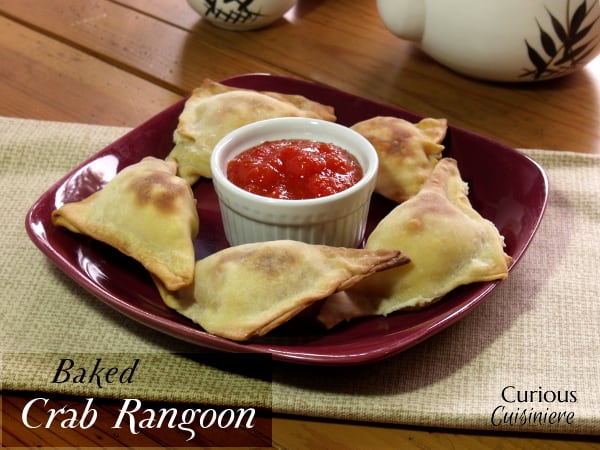 If you liked this recipe, here are some similar dishes you may enjoy!