Wonton wrappers are essential to making appetizers like egg rolls and dumplings. Did you know you that they are incredibly easy to make at home? Make a big batch of our recipe, and use them to make egg rolls, wontons, dumplings, ravioli (yes, ravioli!), and more!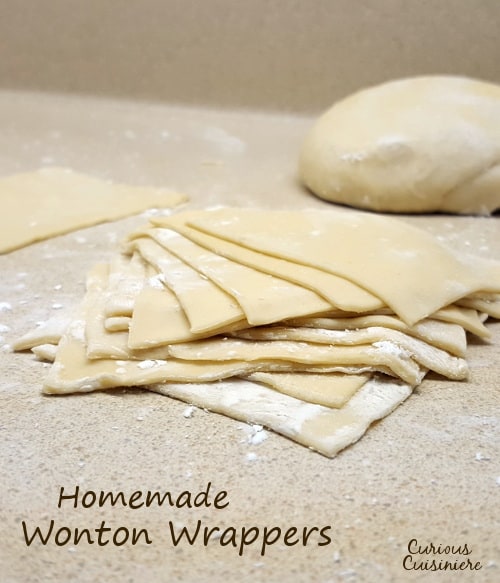 (DISCLOSURE: This post contains Amazon affiliate links. These links are provided to help you find some of the more specialty products we mention in the recipe. If you make any purchase after clicking through one of our links, we receive a small commission from Amazon, at no extra cost to you. Thank you for supporting Curious Cuisiniere!)
Wonton, Egg Roll, Dumpling, Or Gyoza Wrappers
You've probably encountered wonton wrappers in their fried-to-perfection form holding in the tasty cabbage and pork stuffing of an egg roll or the creamy filling of a crab rangoon.
You may have even encountered the paper-thin wrappers in the produce section of your grocery store (typically found by the bean sprouts and tofu).
Maybe you've even picked up a package to make your own egg rolls or mozzarella sticks.
But, did you know that those paper thin wrappers are actually quite easy to make at home?
Wonton, egg roll, dumpling, or gyoza wrappers all start from the same basic dough. The size (big for egg rolls, small for wontons) and shape (round or square) that you cut the dough will be determined by what you are using the dough for.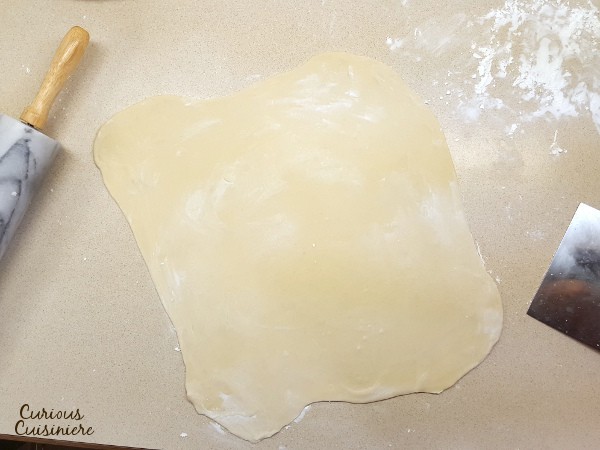 How To Make Wonton Wrappers
While the dough for wonton wrappers is easy to make, you will give your arms a bit of a workout with the rolling pin, since it needs to be rolled nice and thin for the perfect wonton wrappers.
But, don't get discouraged.
We like to roll 5-10 strokes and then flip the dough over, roll 5-10 more, flip, etc.
The dough will contract when you flip it, but flipping helps make sure that the dough isn't sticking to the counter.
If you are having trouble getting your wonton wrapper dough as thin as you want it, here's a trick. Roll it part way and then cover it with a tea towel to let the gluten relax for 5 minutes. Then, try rolling it out again.
(Think about the gluten in the dough like a tight muscle that you are trying to stretch out. Sometimes, it can only stretch so much before it needs a little rest. Then, once you try stretching again, you're surprised that you can stretch farther than before!)
If you are one of those lucky people who has a pasta roller, this would be the perfect time to break it out. Using a pasta roller is a great, easy way to get your wonton dough to the perfect consistency.
We don't have one though, and it's never stopped us from making our own wonton wrappers!
Using Cornstarch Rather Than Flour
When rolling out dough, it is habit to reach for the flour to keep it from sticking to the counter. Right? Not with wonton wrappers!
We can't say it enough. DON'T DUST YOUR COUNTER WITH FLOUR when rolling out the wonton wrappers.
Extra flour will make the wonton wrappers tough and gummy.
So, instead, we use cornstarch. Cornstarch will not be absorbed as it coats the dough, creating the perfect non-stick barrier.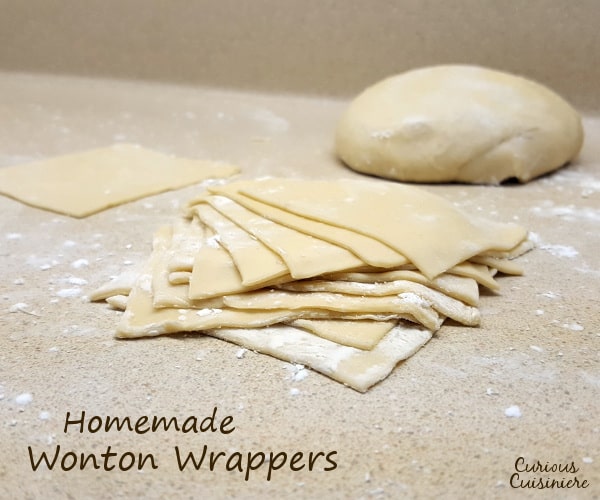 Freezing Homemade Wonton Wrappers For Later
We prefer to use our wonton wrappers right when we make them. We find that the dough is easiest to use when it is fresh.
We still make a big batch of wonton wrappers, but then make our potstickers, egg rolls, etc. Then we'll freeze those for later.
It's so nice to have a bag full of egg rolls in the freezer that you can just pop one our two out when you crave them!
That being said, we have frozen the wonton wrappers themselves, and it's definitely a route you can go if you want to save them to use later.
Simply stack the cut wonton wrapper squares with a very generous dusting of cornstarch between them.
A good amount of cornstarch between each wrapper is key to being able to separate the wrappers when you want to use them later!
The homemade wonton wrappers will keep for 2-3 months in an airtight container in the freezer.
Simply thaw them overnight in the refrigerator before using.
How To Use Wonton Wrappers
There are so many fun uses for wonton wrappers, even outside of the classic Asian treats. You can even use them as pasta to make ravioli!
Homemade Pizza Rolls from DIY Natural
Thung Thong (Thai Crispy Dumplings) from Tara's Multicultural Table
(Fried) Shrimp and Vegetable Egg Rolls from A Day In The Life On The Farm
Spinach and Sausage Ravioli from Sew You Think You Can Cook
Pork and Prawn Wonton Soup from Food Lust People Love
Edible Origami by Culinary Adventures with Camilla
So, the next time you're craving crispy egg rolls or a big bowl of wonton soup, grab a bowl and your rolling pin, and try your hand at making your own wonton wrappers!
Wonton Wrappers
Wonton wrappers are fun and easy to make at home. Make a big batch and use them to make egg rolls, wontons, dumplings, ravioli, and more!
Yield: 16-5" egg roll wrappers or 30-3" wonton wrappers
Ingredients
1

egg

¾

tsp

salt

½

c

water

cornstarch

(for rolling and dusting)
Instructions
Place flour into a large bowl.

In a separate bowl, whisk together egg, salt, and water.

Create a well in the center of the flour and pour in the wet ingredients.

Mix everything together with a spoon (or your hands), until the mixture begins to come together.

Turn the dough onto the counter and knead for 3-5 minutes. The dough should be firm but silky smooth when you are done. (If your dough is too tacky, add a little extra flour to your counter.)

Cover the dough with a damp towel and let rest for 1 hour. (Letting the dough rest will make it easier to roll thin wrappers.)

Divide the dough in half. Cover one half of the dough with your towel. Lightly dust your counter-top with cornstarch (NOT flour), and roll half of the dough as thin as you can, aiming for a rectangle roughly 20"x10" if you are cutting 5" wrappers, or 15"x9" if you are cutting 3" wrappers.

Cut the sheet into your desired shapes. (5 inch squares are perfect for egg rolls. 3 inch squares or circles are great for wontons or dumplings.)

Repeat with the remaining dough.

Use the wonton wrappers immediately or freeze them below (see below).
Notes
To Freeze for Later: Homemade Wonton Wrappers can be made ahead of time and frozen. Simply stack the wrappers with a VERY generous dusting of cornstarch between each wrapper. Wrap the stack in plastic wrap and store it in an airtight container for 2-3 months. Thaw the wrappers overnight in the fridge before using.
If you liked this recipe, here are some similar dishes you may enjoy!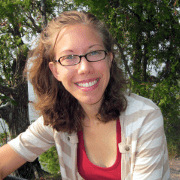 Sarah is one of Curious Cuisiniere's founding duo. Her love for cultural cuisines was instilled early by her French Canadian Grandmother. Her experience in the kitchen and in recipe development comes from years working in professional kitchens. She has traveled extensively and enjoys bringing the flavors of her travels back to create easy-to-make recipes.