Would you believe that you can make homemade pork potstickers, like they serve in restaurants? They're not as tricky as you might think!!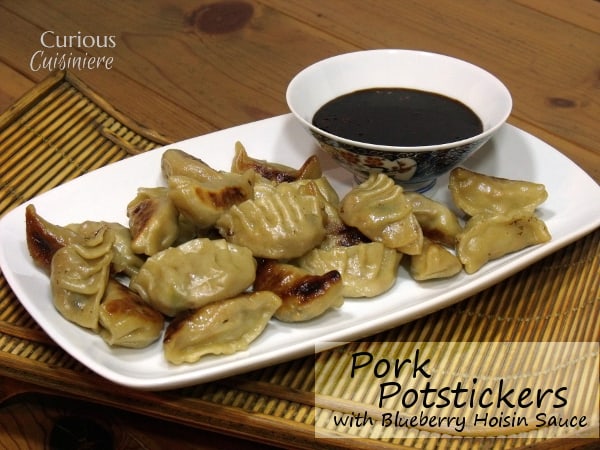 If you've ever made ravioli or pierogi, you know the basic concept to Asian dumplings.
If not, now's your time to try it!
Chinese Potstickers
Potstickers originated in China, where they are called guotie.  They are a version of Chinese dumplings (jiaozi) that have been pan-fried on one side and steamed on the other, giving them an irresistible crisp and soft texture duo. The dumpling's  Chinese name, guotie literally means "wok  stick," which is where we get the name 'potstickers.'
These have been a Chinese delight since roughly 1000 AD when, legend has it, a chef in the imperial court burned some dumplings, but didn't have enough time to make a second batch. He served the 'bad' batch, passing it off as a new creation, and it was a hit!
Don't you wish all your kitchen mess ups could turn out like that?
Japanese Potstickers
You will also find a variation of potstickers in Japanese cuisine. Japanese soldiers stationed in northern China during WWI tasted Chinese potstickers and bought the idea back to their home country when they returned.
Japanese potstickers, called gyoza, tend to be smaller than Chinese potstickers, more of an appetizer or side dish, rather than a meal.
Making Homemade Pork Potstickers
Potstickers are made with a boiled water dough, like all Chinese dumplings. Apparently, the Chinese have really figured this dumpling dough thing out, because hot water is a trick they have been using for ages.
The hot water better activates the gluten proteins in the flour, creating a dough with greater elasticity. That means the dough will hold its shape better as it is rolled out and cooked.
Genius!
You might be tempted to use wonton wrappers instead of making your own jiaozi dough. And, while it wouldn't be the end of the world, wonton wrappers are thinner than jiaozi wrappings, and wonton dough contains eggs and salt, while jiaozi use a very simple dough of only flour and water.
Make a Big Batch of Homemade Potstickers!
Like we do for ravioli and pierogi, these dumplings are great to make in a big batch and freeze.
First, freeze them in a single layer on a baking sheet for a half hour. Once they are mostly frozen, they can be transferred to an air-tight bag or container for longer storage (3-6 months).
Cook them directly from frozen to keep them from sticking to each other and getting soggy.
How To Serve Potstickers
While we made our pork potstickers smaller, more Japanese gyoza style, we are serving them with a Chinese inspired Blueberry Hoisin sauce, created using a combination of Blueberry White Pepper Not Ketchup dipping sauce and lightly dried ginger and red pepper flakes from Gourmet Garden. (If you'd like to serve them with a more traditional Hoisin Sauce, you can make your own too!)
Both the sauce and the pot stickers were incredibly tasty, with the slightly spicy blueberry creating a perfect complement to the pork.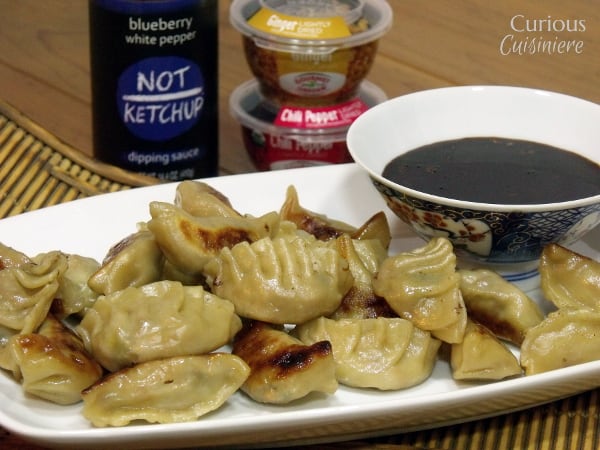 If you love dumplings, be sure to check out our Chinese dumpling recipe where we give a great vegetarian option!
Pork Potstickers
Make homemade potstickers like your favorite restaurant!
Yeild: 24 potstickers
Ingredients
For the Filling
½

c

cabbage

shredded

½

tsp

salt

1

c

cooked pork

(you could also use 8 oz raw, ground pork), diced

2

Tbsp

leeks,

sliced

1

tsp

soy sauce

1

tsp

rice wine vinegar

(you can use white wine vinegar in a pinch)

½

tsp

dry ginger,

ground

½

tsp

salt

½

tsp

canola oil

½

c

water
Instructions
Before you start the dough, prep the cabbage: Toss the cabbage with ½ tsp salt and place it in a colander to drain for 20 minutes while you make your dough.
For the Dough
Place flour in a medium bowl. Pour the boiling water over the flour, mixing to combine. Turn the dough out onto the counter and knead for 10 minutes. (Don't skimp on the kneading time, this will develop the gluten proteins that give the dough its texture.)

Shape the dough into a 1 inch diameter snake. Cover the dough with a damp tea-towel and let rest for 30 minutes.
For the Filling
In a medium bowl, mix together pork, sliced leeks, soy sauce, vinegar, ginger, and salt.

Press any excess moisture out of the cabbage and add it to the pork mixture. Mix well and set aside.
Making the Dumplings (Jiaozi)
Cut the snake into ½ inch pieces. Keep the dough pieces you are not working with covered with the damp towel.

Roll one piece of dough into a roughly 3 inch diameter circle. Fill with 2 tsp of filling and spread a little water on the outside edge of the circle of dough.

Fold the dough around the filling and crimp the edges by folding one side over itself 5-7 times and pressing it against the opposite side of the dough. (See the pictures below.)

Set the dumpling on a plate and continue with the remaining dough.*
Making Potstickers (Guotie)
Heat ½ tsp oil in a large skillet with a lid. Place dumplings in a single layer in the skillet, so they are not touching. Cook the dumplings in the oil over medium-high heat, until crisp, 1-2 minutes.

Add ½ c of water to the pan and cover tightly. Reduce the heat to low and cook 5-7 minutes, until most of the water has steamed out.

Uncover and cook until any remaining water has evaporated, 1-2 min.

Serve immediately with a dipping sauce.
Notes
*At this point the dumplings can be frozen. Place them in a single layer on a baking sheet and freeze them for 30 minutes. Once mostly frozen, place them in an air-tight bag or container and store in the freezer for 3-6 months. Cook by pan frying, boiling, or steaming directly from frozen.
Nutrition
Calories:
213
kcal
|
Carbohydrates:
32.6
g
|
Protein:
14.4
g
|
Fat:
2.2
g
|
Saturated Fat:
0.5
g
|
Cholesterol:
26
mg
|
Sodium:
462
mg
|
Fiber:
1.3
g
Blueberry Hoisin Sauce
A sweet blueberry twist on classic hoisin sauce.
Yield: 1/2 c
Ingredients
2

Tbsp

soy sauce

1

tsp

dry ginger,

ground

½

tsp

crushed red pepper flakes
Instructions
Combine all ingredients in a small bowl and mix to combine.*
Notes
*The flavor of this sauce does improve with time, as the elements have time to meld together. If possible, make the sauce at least 30 minutes before serving.
DISCLOSURE: We received the Blueberry White Pepper Not Ketchup and Gourmet Garden Herbs used in this recipe. We were not compensated for our time. All opinions are our own.
If you liked this recipe, here are some similar dishes you may enjoy!