Ever wondered about the different types of Asian dumplings? We're breaking down the differences between the types and sharing our favorite recipe for Vegetable Chinese Dumplings!
Jiaozi: Chinese Dumplings
Jiaozi, Chinese dumplings, are an essential part of Chinese cuisine. Dumplings can be found on a Chinese table for breakfast, lunch, or dinner. They can be appetizers, side dishes, or served as the main course.
Dumplings are particularly essential in the celebration of the Lunar New Year. They are shaped like ancient Chinese money, the ingot. and, because of this, dumplings have come to represent prosperity and fortune.
The Difference Between Chinese and Japanese Dumplings
You find dumplings of different shapes and sizes in both Chinese and Japanese cuisine. So, how do you tell a difference between them all?
First off, all dumplings originated in China. The Japanese began to adopt the dumplings after WWII. Japanese soldiers stationed in northern China tasted Chinese dumplings and bought the idea back to their home country when they returned.
Chinese Dumplings
Chinese dumplings tend to have a thicker wrapper than Japanese dumplings because, in China, dumplings are often eaten as a main part of the meal.
Chinese Boiled Dumplings: Shui Jiao
Chinese boiled dumplings are, just that, dumplings that have been cooked via boiling. These dumplings are served in broth or on their own with dipping sauce.
Pork and vegetable are common fillings for Chinese boiled dumplings.
Pan Fried Dumplings (Chinese Potstickers): Guotie
Chinese potstickers use the same type of dumpling as Chinese boiled dumplings. However, the dumplings are cooked by a combination of sauteing and a little steam. (You can see the method in our potsticker recipe.) These dumplings end up with a golden crisp bottom, making them texturally different from boiled dumplings.
There are a wide range of fillings for potstickers: shrimp, mixed veggies, or pork and cabbage are very common.
Chinese Steamed Dumplings: Zheng Jiao
Chinese seamed dumplings use a slighlty different type of wrapper than Chinese potstickers and boiled dumplings, one that is a bit thinner so that it is better penetrated by the steam.
Steamed dumplings can have a number of fillings as well, including pork, shrimp, cabbage, and vegetable fillings.

Wontons
Wontons tend to be smaller than other Chinese dumplings, but a very good way to tell a wonton from a dumpling is by the shape of the wrapper. Wontons use square wrappers, while dumplings use circular wrappers. Wonton wrappers are also thinner and tend to include eggs and salt in the dough.
Wontons are typically eaten in a soup and are most commonly filled with pork or shrimp.
Japanese Dumplings: Gyoza
Remember we said that the Japanese got their dumplings from the Chinese? Well, to be more specific, the Japanese got their dumplings from Chinese potstickers.
Japanese dumplings, gyoza, are a potsticker, a version of guotie, but with some marked differences. First, gyoza have a thinner skin than Chinese potstickers, making the emphasis more on the filling.
Second, Japanese gyoza are typically smaller than Chinese potstickers: 1-2 bites rather than the Chinese 3-4 bites.
It is very common to see Japaneses dumplings with a filling that includes pork, and they will often include garlic (which is not generally found in Chinese dumplings).
Making Chinese Dumplings
Making dumplings can be a bit time consuming, particularly if you make your own dumpling wrappers, which we have provided you a recipe for below. (You can, however find dumpling wrappers at the grocery store, making the process a bit easier!)
This is a fun recipe to make with friends or the kids, because many hands make light work. And while you're at it, make a bunch of dumplings and freeze them for later!
When making your dumplings, it is important to make sure that they are well-sealed, or they will pop open when they cook. You can do just a basic pressed seam if you like, that works really well, and is quick! But, we have a tutorial in the video below for a fun ruffling effect, if you feel like trying your hand at it!
Know Your Dumpling Wrappers
You can find store bought duping wrappers in the produce section of your grocery store, or at your Asian market. For jiaozi, just make sure you are getting the round wrappers, and not the square ones!
Our Homemade Vegetable Dumpling Recipe
We use a combination of vegetables, including carrots, cabbage, and mushrooms to create a vegetarian filling that is hearty and flavorful. It definitely doesn't leave you missing the meat!
And, the great thing about this recipe is that jiaozi dumplings can be used to make boiled dumplings or potstickers.
If you're feeling the meat, take a look at our Pork Potsticker recipe. You can use that filling to make larger dumplings like we did here or to make boiled dumplings as well!
How to Make Jiaozi (Chinese Dumplings)
Yield: 20 (3 1/2 inch) dumplings
Ingredients
½

c + 1 Tbsp

warm water

1 ½

c

filling

(see recipe below)
Instructions
Making the Dough
Place all the flour in medium bowl. Add the water, a little at a time, mixing constantly with your hands until a stiff dough comes together.

Knead the dough until it is smooth, 8-10 min. (This kneading step is important, it helps develop tender dumpling wrappers!)

Put the kneaded dough into clean bowl and cover it with a damp towel. Let the dough rest in a warm place for 2 hours. (It can rest for up to 5 if you need it to.)

Once rested, knead the dough again for 3-5 min and cut it into two, roughly even pieces.

Roll each piece into a 1 inch diameter snake (roughly 8 inches long). Let the dough snakes rest on a lightly floured surface, covered with a damp tea towel, for 30 min while you prepare your filling.
Rolling the Dumpling Wrappers
To roll the dumpling wrappers, dust your countertop lightly with flour. Cut one snake into roughly ¾ inch pieces. Roll each peace into a ball.

Keeping what you are not working with covered, roll one ball at a time into a thin disc roughly 3 ½ inched in diameter.
Filling and Sealing the Dumplings
Holding the dumpling wrapper in one hand, place 1 Tbsp of filling in the center of the rolled out round of dough.

If your wrapper seems dry, dip a finger into some water and lightly moisten the edge of the top half of the circular wrapper.

Fold the wrapper in half around the filling and pinch the top of the half circle together.

Continue sealing the edges, either by simply pressing or by using a ruffling technique. (Be sure to pinch the seam tightly to seal the filling inside.)

Place the shaped dumpling, seam side standing straight up, on a parchment lined platter.

Working quickly so that the dumpling wrappers don't dry out, continue with remaining cut dough. (Either freeze or cook your dumplings within 30 min of filling, so that the wrappers don't dry out too much.)
To Make Boiled Dumplings from Fresh or Frozen Dumplings
Bring a pot of water to a boil.

Add the dumplings and stir the water gently until the water starts to boil again.

If your dumplings are fresh, cook them for 1-2 minutes (1 minute longer than it takes for them to float).

If your dumplings are frozen, boil them for 4-5 minutes, until nicely swollen.

Remove the dumplings from the water using a slotted spoon.

Serve immediately with soy sauce or other dipping sauce.
To Make Potstickers from Fresh or Frozen Dumplings
Heat 1 Tbsp of oil in a nonstick skillet with a lid over medium high heat.

Once the oil is hot, place the potstickers into the skillet, with the seam side standing straight up, being sure that they are close but not touching.

Let the potstickers sear for 1-2 minutes.

Add 3 Tbsp of water to the skillet. Cover the pan immediately, and reduce the heat to low. Steam the dumplings until all the water has evaporated. The potstickers should look opaque and noodle-like, and the filling should be heated through. This will take 3-5 min from fresh or 6-7 min from frozen.

Remove the lid and flip one potsticker over to see if the bottom side is nicely golden. If it isn't, turn the heat to medium high, and cook until the bottom sides are golden.

Transfer the potstickers to a plate and serve immediately with soy sauce or other dipping sauce.
If Freezing the Dumplings For Later
Arrange your filled, un-cooked dumplings in a single layer on a parchment lined platter or baking sheet. Once your dumplings have frozen solid, transfer them to an air-tight container.

Dumplings will keep in the freezer for up to 3 months.
Vegetable Filling for Jiaozi
Ingredients
1

c

carrots,

sliced

½

inch

fresh ginger,

peeled and sliced

1

c

mushrooms,

sliced (shiitake or baby portabella)

2

c

Napa cabbage

or regular cabbage, chopped

5-6

chives,

chopped

2

tsp

sesame oil

1

egg,

lightly beaten

2

Tbsp

soy sauce

¼

tsp

ground black pepper

or white pepper
Instructions
Using a food processor finely chop the carrots and ginger. Transfer the mixture to a bowl.

Finely chop the mushrooms in the food processor and place them in the bowl with the carrots. Finally, process the cabbage and chives until finely chopped. Add them to the bowl with the other veggies. (Be careful not to pulse the veggies for too long. Otherwise, you may puree them!)

Heat the oil in a wok and sauté the veggie mixture until it is heated through, 3-4 min.

Remove the mixture from the heat and transfer it back to the bowl that you had the chopped veggies in previously. Let the mixture cool slightly and then add in the beaten egg, soy sauce, and ground pepper.

Mix well and taste the mixture. Add salt or additional soy sauce as desired.

Use this filling to fill dumplings or wontons, as desired.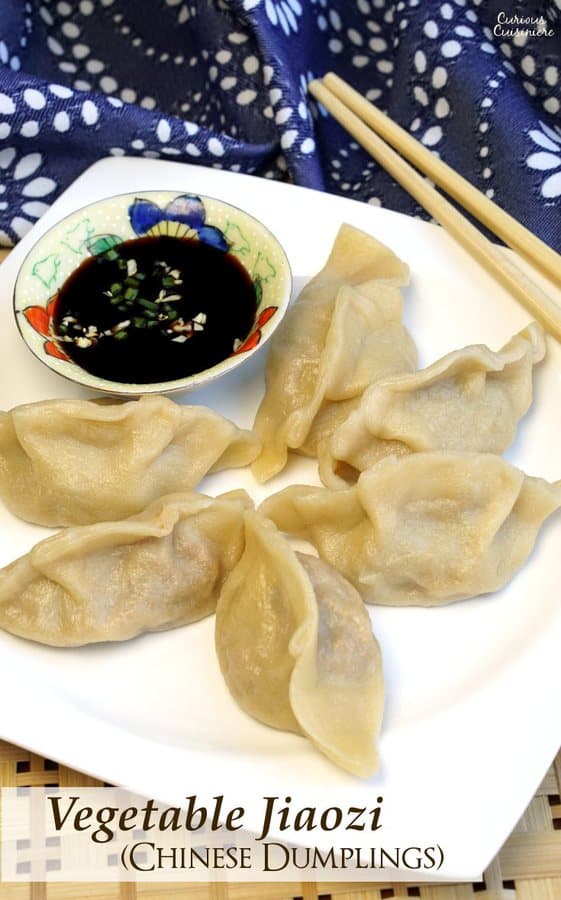 If you liked this recipe, here are some similar dishes you may enjoy!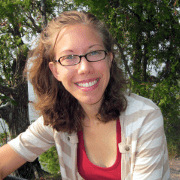 Sarah is one of Curious Cuisiniere's founding duo. Her love for cultural cuisines was instilled early by her French Canadian Grandmother. Her experience in the kitchen and in recipe development comes from years working in professional kitchens. She has traveled extensively and enjoys bringing the flavors of her travels back to create easy-to-make recipes.