These fried potato balls will surprise you with their flavorful beef and rice center! The Colombian version of Papas Rellenas is the perfect recipe for a party appetizer or a fun dinner.
Papas Rellenas: Many Forms
What potato pancakes are to many European countries, Papas Rellenas are to South America and the Caribbean. Papa Rellena literally translates to "stuffed potato," and that's exactly what they are.
Even though they originated in Peru, you will find versions of Papas Rellenas from Chile to Cuba. They all follow the same basic concept of fried potato 'dough' that has been stuffed with a seasoned ground beef filling.
They can be served as an appetizer or as a main meal, and are traditionally served with a fresh salsa and rice.
Making The Potatoes for Papas Rellenas
All Papas Rellenas start with a simple potato batter. You don't need much, just potatoes and a little salt, to create the vessel for your filling. (You can even used leftover mashed potatoes!)
While the potato dough is simple, you will want to use Yukon Gold or Red potatoes to make your Papas Rellenas. These potatoes are waxy and will hold together better as a dough. Starchy potatoes like Russets are too fluffy and won't stick together properly.
One thing to be careful of is to make sure that your potatoes are completely dry before you mash them. Any extra moisture will result in a very sticky dough that becomes hard to work with.
Once the potatoes are boiled, they should be soft enough to mash by hand. While using an electric hand mixer will work, it will make them creamier than necessary. You want a smooth texture that holds together like a batter, but not so smooth that it becomes sticky.
Papas Rellenas Filling
The filling and the coating are what make Colombian Papas Rellenas unique from the other versions. Colombian filling is similar to Peruvian and Chilean filling in that it includes seasoned beef, onion, hard boiled eggs, and smoky cumin. However Colombian filling differs in that it also includes diced tomatoes and rice.
That being said, there are as many versions of Colombian Papas Rellenas as there are cooks making them, so not all versions will be the same. But, in our research, these were the most common elements we came across.
How to Cook Papas Rellenas
While all Papas Rellenas are fried, the coating for each region's adaptation is the other thing that makes them unique. Colombian Papas Rellenas have a characteristic smooth golden exterior that comes from dipping the filled potato balls in a mixture of egg, milk, and flour. This creamy batter gives the potato balls a light crispness when fried and a beautiful golden color.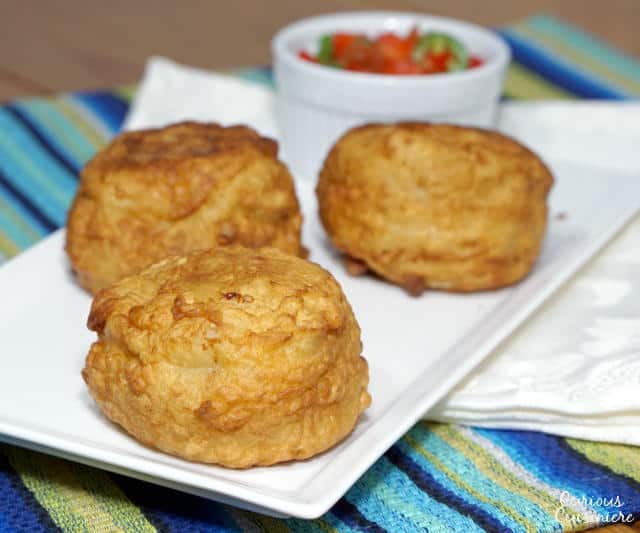 Pairing Wine with Papas Rellenas
Since these Papas Rellenas are typically served with a spicy salsa, we like serving them with a sweeter white wine, like a Reisling, where the sweetness acts as a nice complement to the spice of the salsa. On the beer side, we'd reach for a light and nutty brown ale, whose nuttiness will pair well with the smoky, beef filling.
Colombian Papas Rellenas (Stuffed Potato Balls)
These fried potato balls will surprise you with their flavorful beef and rice center! The Colombian version of Papas Rellenas is the perfect recipe for a party appetizer or a fun dinner.
Yield: 12 (2 1/2 inch) Papas Rellenas
Serving Size: 1 Papa Rellena per person as an appetizer OR 3 Papas Rellenas as meal
Ingredients
For the Potato Dough*
2

lbs

red or Yukon gold potatoes,

whole, unpeeled

½

tsp

salt
For the Filling
½

tsp

olive oil

½

small

onion,

minced

½

lb

ground beef,

85% lean

1

garlic clove,

minced

1

tomato,

roughly 1 c, diced

¾

tsp

cumin

½

tsp

salt

¼

c

cooked white rice

½

hard boiled egg,

diced
For Shaping
For Dredging
1

egg

½

c

milk

Canola oil

(for frying)
Instructions
Start the Potatoes
In a 2 quart soup pot, place the unpeeled, whole potatoes. Cover them with water and bring the potatoes to a boil over medium-high heat. Reduce the heat to medium and simmer until the potatoes are fork-tender, 25-30 minutes.
For the Filling
While the potatoes are cooking, heat the oil in a large sauté pan. Add the onion and sauté over medium-high heat until softened, 2-3 minutes. Add the ground beef and garlic and continue to cook until the beef has browned, 6-7 min. Add the tomatoes, cumin, and salt. Mix well. Add the cooked white rice and hardboiled egg. Mix well and cook, stirring often, until most of the moisture has been absorbed. 2-3 min. Remove the skillet from the heat.
For the Potato Dough
When the potatoes are tender, drain them. Fill the pot with a couple of changes of cold water, until the potatoes are cool to the touch.

Peel the potatoes by hand and place them in a large bowl. Add the salt and mash the potatoes with a fork or potato masher, until they are smooth and no lumps remain. Set the potatoes aside.
Making the Papas Rellenas
Line a baking sheet with parchment or wax paper and generously flour it. Set it aside.

Generously flour your hands and scoop roughly 1/3 cup of the potatoes into your hand. (You may want to flour your measuring cup, if using one, to keep the dough from sticking. Or, just scoop roughly 1/3 cup using a rubber spatula.)

Dust the dough in your hand with more flour and shape it into a ball, using as much flour as you need to keep it from sticking.

Pat the ball into a 3-4 inch disc. (Again, adding flour as necessary.)

Place 1 heaping tablespoon full of filling onto the center of the disc. Gently bring the edges of the dough up around the filling to seal the filling inside of the potato dough. Make sure the seam is well sealed. Place the finished ball onto the lined and floured baking sheet, seam side down.

Continue with the remaining dough.

Once all the potato dough has been used, place the baking sheet with the shaped Papas Rellenas into the refrigerator and refrigerate for 2 hours or overnight. (If you are in a time crunch, you could place them into the freezer for 30 minutes.)
For the Fried Papas Rellenas
Remove the Papas Rellenas from the refrigerator.

Fill a small saucepan with 1 ½ inches of oil. Heat the oil to 375F, checking the temperature with a thermometer.

While the oil is heating, beat together the egg, milk, and flour in a small, deep bowl.

When the oil is ready, carefully remove a shaped Papa Rellena from the baking sheet and dip it into the egg mixture. Once it is coated, immediately drop it into the hot oil and fry for 2-3 minutes on the first side. Turn it and fry for an additional 2-3 minutes on the second side, until it is completely golden brown. Remove the Papa Rellena from the hot oil and place it on a paper towel-lined plate.

Repeat with the remaining Papa Rellenas. If you're up to it, you can fry more than one at a time, just be sure not to crowd the oil in your pot.

Serve immediately with a fresh salsa.
Notes
To Freeze For Later
To save your Papas Rellenas for later, after frying, let them cool completely on a baking sheet. Place the baking sheet in the freezer overnight. The next morning, remove the Papas Rellenas from the baking sheet and place them in a sealable freezer bag. They can be stored in the freezer for 3-4 months. To Cook From Frozen
Remove the Papas Rellenas from the freezer and let them thaw for 1 hour on the counter. Preheat your oven to 350F and bake them for 25-30 minutes. *If using leftover mashed potatoes for your dough, you will need about 4 cups. If the potatoes were cold, bring them to room temperature and mash them a bit to create a smooth dough.
If you liked this recipe, here are some similar dishes you may enjoy!