We've lightened up Patatas Bravas, the traditional Spanish tapas dish, by roasting the potatoes and serving it with a traditional spicy tomato-based sauce.
Patatas Bravas: A Spanish Tapas
Tapas is the Spanish classification for a snack or appetizer. Think of it like the American version of happy hour food. It is comprised of small plates that are perfect for snacking on while your sip a drink and relax with friends.
Patatas Bravas, translated 'fierce' or 'angry' potatoes, really could be considered the sexy, spicy, Spanish version of French fries.
It's a simple dish of bite-sized potato chunks  which are fried and served with a spicy sauce. Depending on the region of Spain, you could find the potatoes served with a vinegar-based sauce, a garlic aioli (mayonnaise-type sauce), or a tomato sauce. But, no mater what sauce they come with, you can count on the fact that it will pack some heat.
Our Lightened Up Patatas Bravas
To keep things a bit on the lighter side, we opted to roast the potatoes, rather than deep fry them.  With a light coating of butter (or duck fat, if you really want to get fancy), oven roasting brings the chunks to a crisp and tender state of perfection.
Patatas Bravas is considered to be one of the spiciest tapas dishes in Spanish cuisine, however the spice comes from the sauce, so you can dial the heat up or down depending on your preference. Our recipe below creates a sauce with only a mild spiciness, so go crazy on the cayenne if you like to kick things up.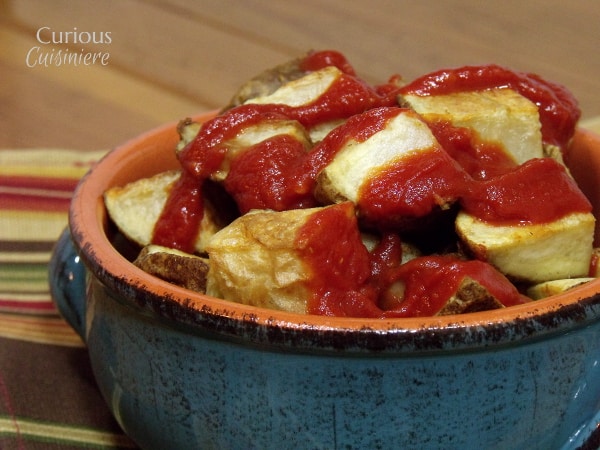 Patatas Bravas
Author:
Sarah | Curious Cuisiniere
Ingredients
For the Potatoes
2 lbs white potatoes, cut into ½ inch chunks
1 ½ tsp butter, melted (or duck fat or bacon grease)
¼ tsp salt
For the Spicy Tomato Sauce
1 tsp butter
2 garlic cloves, minced
1 (6oz) can tomato paste
2 tsp paprika
¼ tsp cayenne (more or less to determine the heat of your sauce)
¼ tsp salt
¼ tsp sugar
¾ c water
2 Tbsp red wine vinegar
Instructions
For the Potatoes
Preheat your oven to 450F.
Toss the potato chunks with 1 ½ tsp melted butter and ¼ tsp salt. Spread on an aluminum foil lined baking sheet and roast for 30-45 minutes, until the potatoes are crisp on the outside and tender within.
For the Spicy Tomato Sauce
While the potatoes are roasting, heat 1 tsp butter in a small skillet. Add minced garlic and sauté over medium heat until golden, 1-2 min.
Add tomato paste, paprika, cayenne, ¼ tsp salt, and sugar. Mix well and sauté 1-2 minutes to develop a nice deep flavor.
Slowly add water, stirring as you add, to create a smooth sauce. Once the sauce is hot and smooth, remove it from the heat.
Stir in vinegar. (The sauce should be thin and pour-able. If not, add a little more water to get it to a good consistency.)
Serve crispy roasted potatoes drizzled with the warm sauce.
Nutrition Information
Serving size:
Each of 6 servings
Calories:
147
Fat:
2g
Saturated fat:
1.1g
Carbohydrates:
30.1g
Sugar:
5.5g
Sodium:
244mg
Fiber:
5.1g
Protein:
3.9g
Cholesterol:
4mg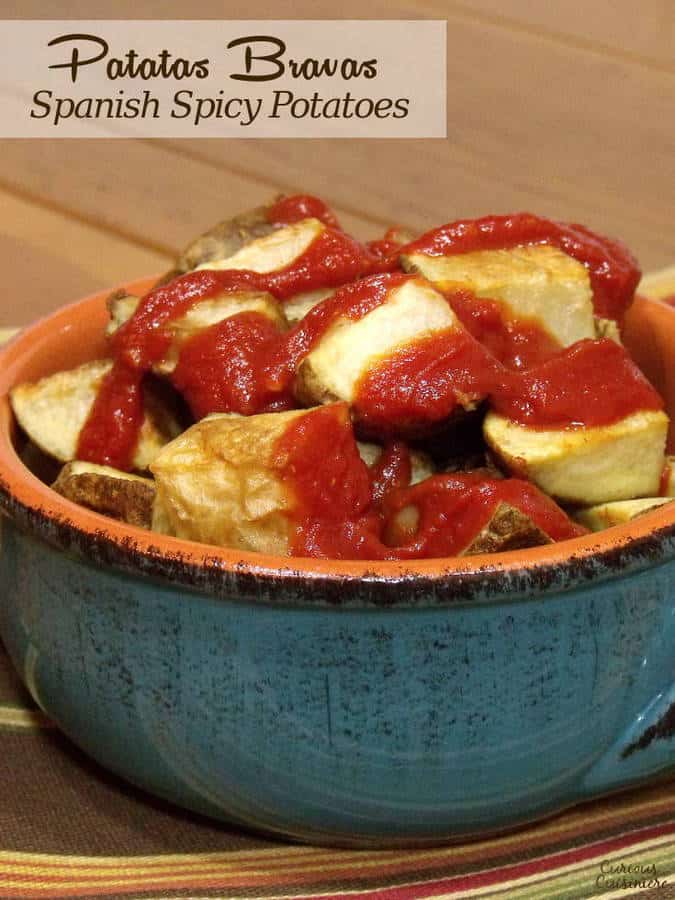 ---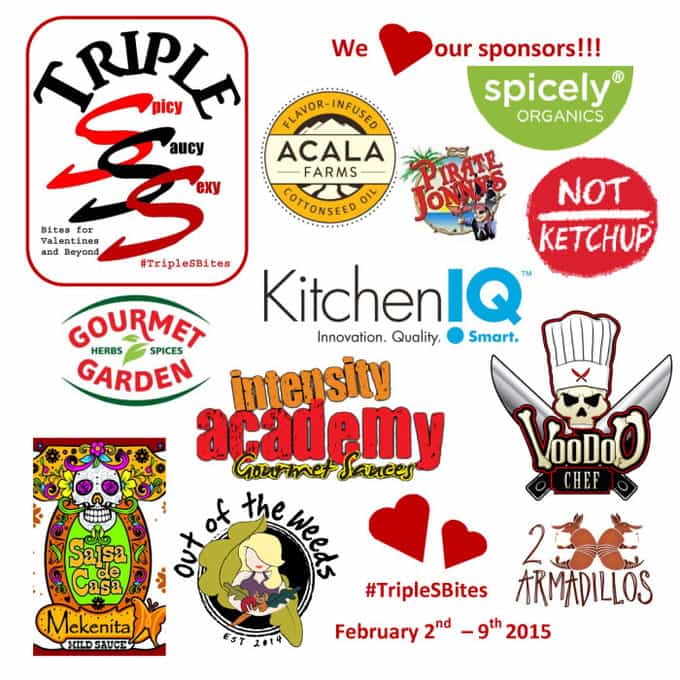 Be sure to take a look at the other Spicy, Saucy, and Sexy bites that were shared today for #TripleSBites.
Loading InLinkz ...
A huge thank you goes to Culinary Adventures with Camilla for putting together the #TripleSBites event, and to all our sponsors who have graciously donated prizes for our readers. You can keep up with all the tasty bites the bloggers are sharing by following #TripleSBites on Twitter or our Pinterest board.
If you liked this recipe, here are some similar dishes you may enjoy!