This Strawberry Peach Sangria is a fun summer twist on Spanish White Sangria. Fresh summer fruit, a crisp white wine, and a splash of brandy make this sangria a summer favorite! Add a little seltzer water if you like your sangria bubbly!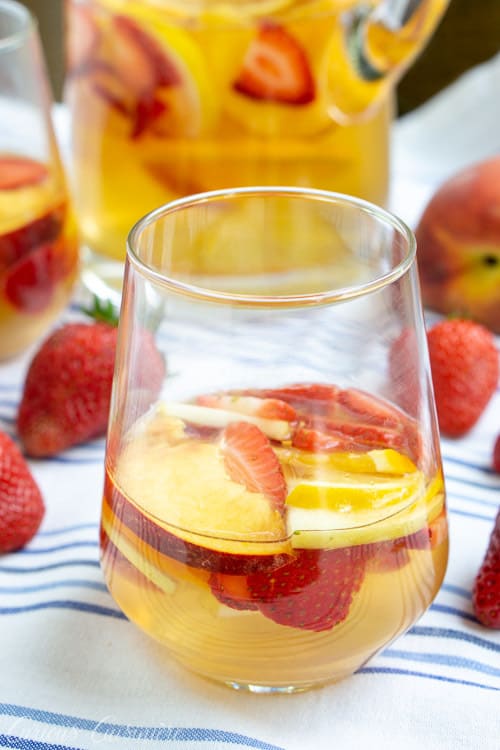 The first time I had sangria, I was packed in the underground cellar of a small bar in Paris with some American school-mates, college-age Parisians, and travelers from around the world.
The group at the table next to us was talking about art and philosophy. Upon hearing our accent, the Parisians, who had squeezed in to the long bench seat on our other side. immediately struck up a conversation about American politics.
It was loud and chaotic, with pitchers of sangria spilling every time someone moved – because one movement would start a chain reaction. But the host was friendly, even to us Americans, and the sangria was amazing.
Funny how a Spanish drink always gets me a little nostalgic for my time in Paris. I guess you can't help what memories are made of!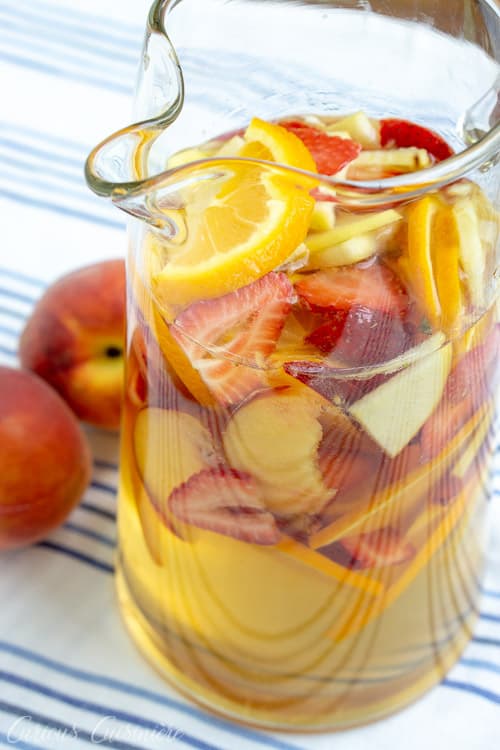 How Do You Make Sangria With White Wine?
Sangria means "blood" in Spanish, and should bring to mind the classic Spanish red sangria that is most traditional (and historic).
But sangria has never been a drink to stick to a strict recipe.
This wine punch has long been made with whatever ingredients were easily accessible, and as it started to become popular around the globe, more and more variations were made.
It's no surprise then that eventually someone, somewhere decided to use white wine to make sangria.
The trick to making white sangria is to find a balance between fruit, alcohol, and sweetness.
With red wine, the flavor of the wine is simply accented by the fruit and other liquor you put into your sangria. However, with the lighter flavor of white wine, all the flavors combine in a more even way to create your wine punch.
Even though all the flavors matter, it's really hard to go wrong.
Good white wine (see below for choosing the perfect bottle)
Fresh fruit
Simple syrup (it's easy to make at home)
A splash of liquor (again, we'll get into how to choose below)
That's really all you need to create the perfect white sangria.
The balance is up to you and what your tastebuds desire.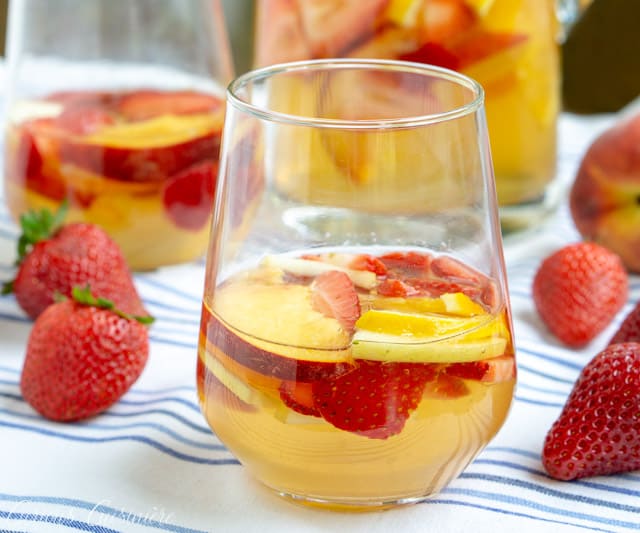 What Is A Good White Wine For Sangria?
When making sangria with white wine, you are looking for a crisp and refreshing wine.
Many people like to use a dry white wine to make sangria, since the drink will get a lot of sweetness from the simple syrup and fruit that you add. If you choose a fruity or sweeter white wine, you may not need to add quite as much simple syrup to the sangria to get it to a nice sweetness.
Typically an unoaked wine is best for white sangria, since the oak flavors in the wine are a bit tricky to pair well with fruit.
So what are the best white wines for sangria? Here are a few that we like:
Pinot Grigio
Sauvignon Blanc
Riesling (on the drier end rather than sweeter)
What Kind Of Liquor To Add To Sangria?
While the fruit in sangria definitely define the drink, what really gives sangria its surprising punch is the addition of a hard liquor.
Bourbon and brandy are typically our go-to add-ins to sangria. But, if those aren't really your thing, you can really add any hard liquor you like. Depending on the fruit combination, rum, gin, or vodka, can be great choices as well!
If you want your liquor to add a bit more flavor than punch, you can go with more of a liquor like Grand Marnier (orange flavored), Amaretto (almond flavored), or Midori (melon flavored).
You definitely don't have to add liquor to your sangria, but it does add an extra dimension of flavor. (And a bit of extra fun!)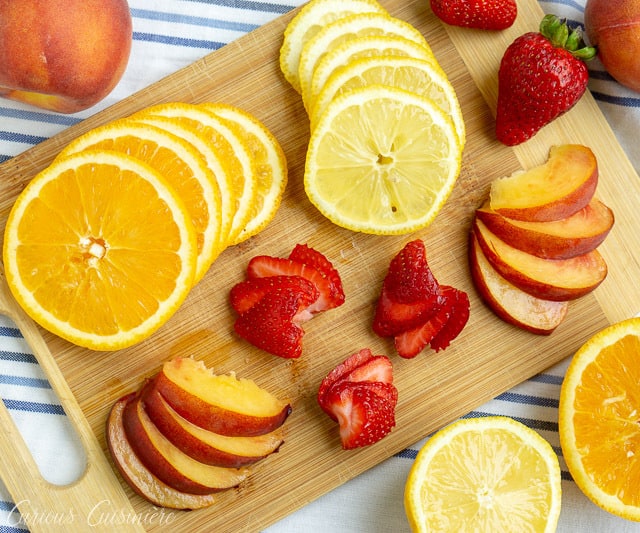 Our Strawberry Peach Sangria Recipe
For our strawberry peach sangria, we decided to go with brandy as our fortifying liquor. There's just something too perfect about the combination of peaches and brandy.
In addition to the peaches and strawberries, we added in some orange, lemon, and golden delicious apple slices.
The citrus fruits give a nice punch of flavor, while the apples give a smooth sweetness.
Whether you drink it straight, over ice, or combined with a splash of seltzer, this really is the perfect, light and refreshing summer sangria.
Strawberry Peach Sangria
This Strawberry Peach Sangria is a fun twist on Spanish White Sangria. Fresh fruit, a crisp white wine, and a splash of brandy make this a summer favorite!
Recipe for 1 bottle of wine punch
Ingredients
For The White Sangria
1

c

strawberries,

de-stemmed and sliced

1

peach,

pitted and sliced

1/2

Golden Delicious apple,

cored and sliced

1/2

orange,

sliced

1/2

lemon,

sliced

¼

c

brandy

1

bottle

crisp white wine

(Pinot Grigio or Sauvignon Blanc work well)
Instructions
For The Simple Syrup
Combine water and sugar in a small saucepan. Heat, stirring occasionally, over medium-low heat until the sugar has dissolved. Remove the pan from the heat and let the simple syrup cool to room temperature.
For The White Sangria
Slice all the fruit and place it in a pitcher. Add the brandy, wine, and cooled syrup. Mix gently with a wooden spoon.

Refrigerate the sangria for at least 1 hour before serving, to let the flavors come together. If you can wait, the flavor is best after 12 hours.

Serve plain, over ice, or with sparkling water and plenty of the fruit.
Notes
NOTE: Sangria will stay good in the refrigerator for 3-4 days. 
This recipe from 2013 was updated in June 2018. We made the sangria even more tasty. Enjoy!
---
This is one of the recipes from the early days of Curious Cuisiniere. We've updated our pictures since we first shared it, but we've left some originals here, in case you've found us in the past and are looking for that old, familiar image.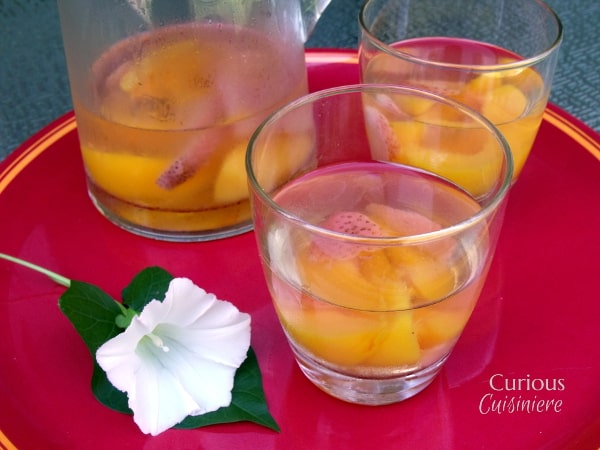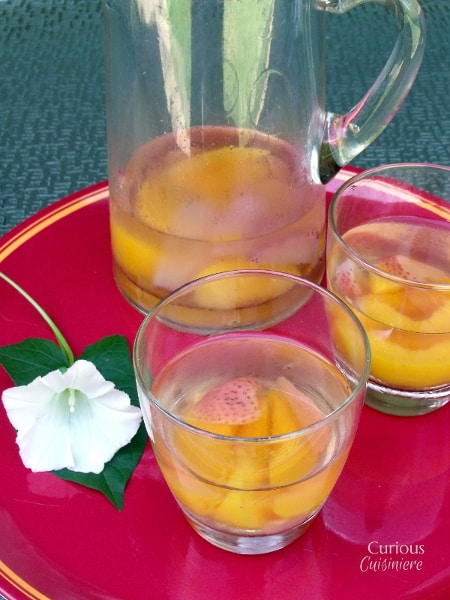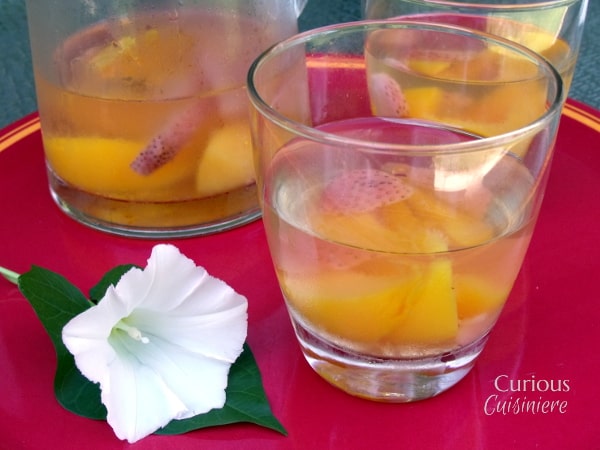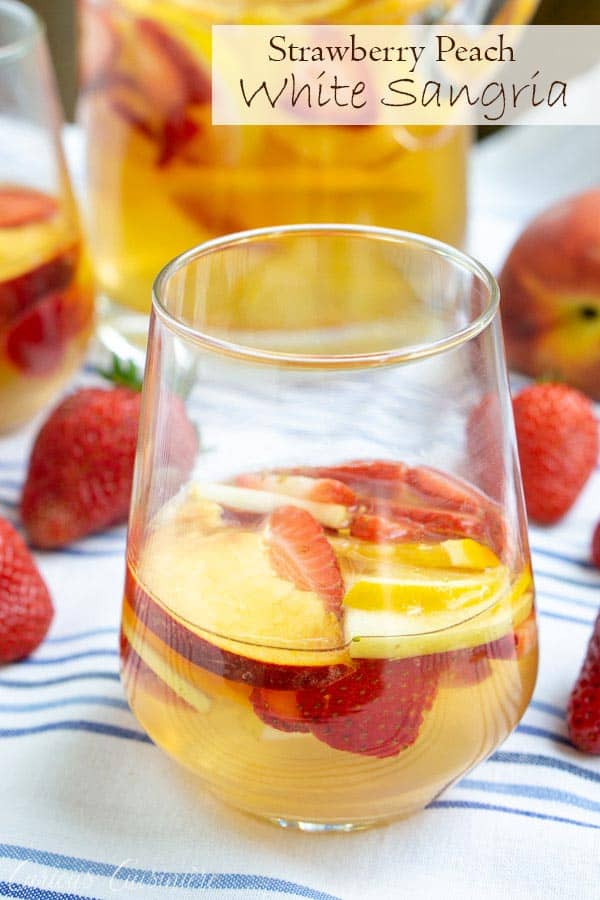 If you liked this recipe, here are some similar dishes you may enjoy!