If you like this dish, sign up for our newsletter to get tasty, cultural inspiration straight to your inbox. Where will you travel this week?
Ensalada Rusa is the Spanish name for a salad that is popular in many countries but is best known as Oliver Salad, or Russian Potato Salad. This well known potato salad is full of vegetables, like peas, carrots, onions, and more. There are so many variations, it's no wonder everyone thinks this salad is the perfect summer side dish!
What Is Ensalada Rusa?
Ensalada Rusa (literally "Russian salad"), not surprisingly, has its roots in Russia.
What is surprising to us, is that this is a potato salad side dish that is incredibly popular all around the globe.
Russian Potato Salad, AKA Oliver Salad
Russian Potato Salad, or Oliver Salad, has its roots in Moscow, Russia, with French-trained chef Lucien Oliver at the Hermitage Restaurant in the late 1800s.
The Hermitage Restaurant was a very prestigious Moscow dinning establishment, specializing in French cuisine. On any given night, composers, intellectuals, and other people of means could be found there enjoying a meal in Parisian style.
It is thought that Oliver's famous salad didn't start off as so much of a mixed potato salad side dish like we know it today. Rather, it was meant as a chaser for vodka, and what made it extra special was that Oliver topped it with fancy and expensive ingredients (like caviar).
Unfortunately, Oliver took the recipe for his widely popular 'salad' to his grave. But that didn't stop people from trying to create the "Oliver Salad" on their own.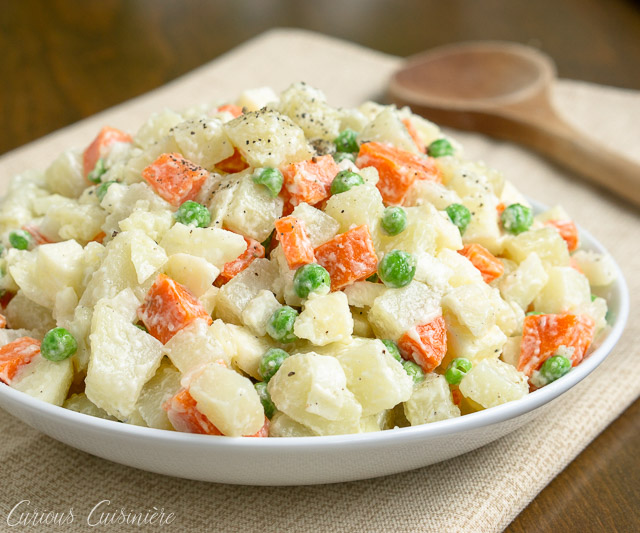 Russian Salad In Spain And France
Not surprisingly, recipes for "Oliver Salad" gained widespread popularity in Russia.
But, they also found their way to fame in France (where it is known as Salade Olivier and commonly included pickles and dill) and Spain (where we first find Ensalada Rusa).
From Spain, this popular tapas dish hopped an ocean and continued to South America, where it is found across the continent, particularly in Peru, Colombia, Argentina, and even a bit north in the Dominican Republic.
What Ingredients Are In Ensalada Rusa?
In South America, most countries' versions of Ensalada Rusa include a few essentials: potatoes, carrots, and peas with a creamy, mayonnaise-based dressing.
From there though, you will find many variations.
Apples, green beans, red or white onions, hard boiled eggs, diced ham, green olives, capers, and corn are all welcome additions to this salad.
You'll find that each household makes their Ensalada Rusa slightly differently. (And, of course, everyone thinks theirs is the best!)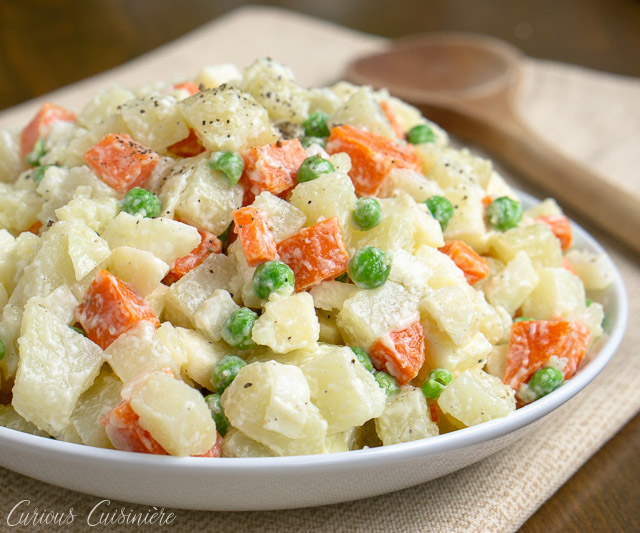 One thing that is fairly common is the addition of beets, particularly if the salad is to be served during Christmas festivities. The beets add a lovely, bright pink color to the salad, making it so festive for Christmas!
But, not just for Christmas, Ensalada Rusa is served as a simple side dish for many meals. With so many variations, it's a great side to make use of odds and ends that you may have hanging out in your refrigerator.
It also makes a great side dish for picnics and cookouts, because it is so economical and everyone loves it!
Our Ensalada Rusa Recipe
For our Ensalada Rusa recipe we went with one of the more standard ingredient combinations from South America: potatoes, carrots, peas, onions, hard boiled eggs, and apples.
The apples, while an unexpected ingredient in a potato salad, are quite at home and add a light sweetness and wonderful crunch to the salad.
The other ingredients combine with fresh flavors, so that only some mayonnaise, salt, and pepper are needed to bring the ingredients together.
No fancy seasonings, just simple, fresh flavors.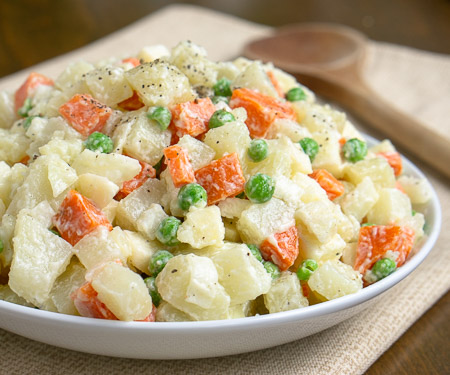 Oliver Salad and Ensalada Rusa
Ensalada Rusa is the Spanish name for a salad that is best known as Oliver Salad, or Russian Potato Salad. This well known potato salad is full of vegetables, like peas, carrots, onions, and more.
Yield: roughly 7 c of potato salad
Cuisine:
French, Russian, South American, Spanish
Keyword:
picnic side dish, potato salad
---
Ingredients
2

lbs

russet potatoes,

peeled

½

lb

carrots,

peeled

1

c

peas

1

c

onion,

diced

1

sweet

apple,

peeled and diced

2

hardboiled

eggs,

peeled and diced

½

-1 c

mayonnaise

Salt and pepper

(to taste)
Instructions
Place the peeled potatoes in a large pot and cover with 1 inch of water. Boil the potatoes until just fork tender.

While the potatoes are boiling, place the carrots in a saucepan and cover with 1 inch of water. Boil the carrots until just fork tender.

When the vegetables are cooked, remove them from the water and immerse them in cold water to cool. Once cooled, remove the vegetables from the water and pat dry. Dice the potatoes and carrots and place them in a large bowl.

Add the peas, diced onion, diced apple, and diced eggs.

Add ½ cup of mayonnaise and mix well. (Add additional mayonnaise if you prefer your salad to be a bit more moist.)

Season the salad with salt and pepper to taste.

Chill until ready to serve.
---
Recipe Notes
Other ingredients you can add (or use to replace some of the ones listed above) include green beans, corn, beets, shredded cooked chicken, diced ham, tuna, pickles, capers, green olives, etc.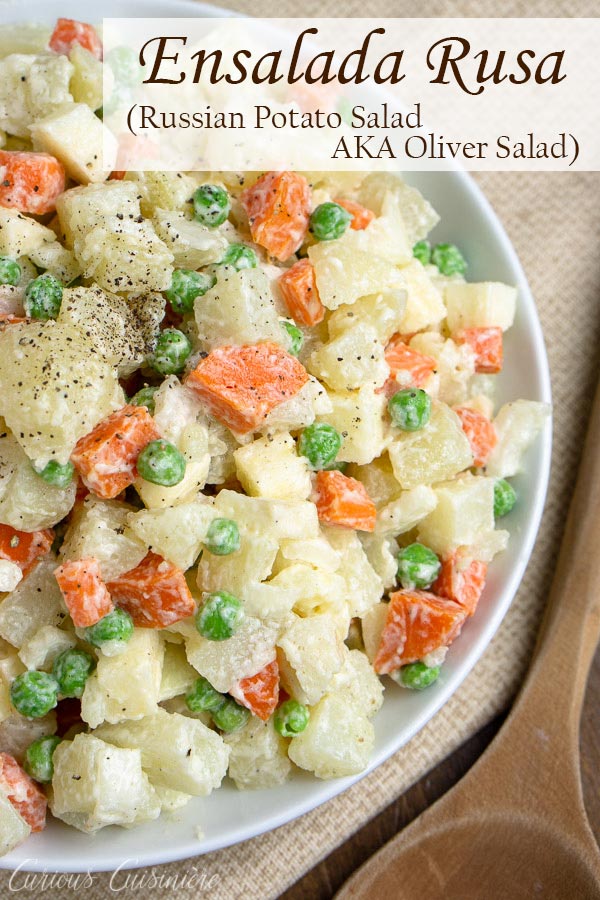 If you liked this recipe, here are some similar dishes you may enjoy!