Kick back and enjoy a big glass of juicy red wine studded with bright, liquor-soaked fruit. Spanish Red Sangria is the perfect way to cool off during a hot summer day!
The History of Spanish Sangria
Sangria (from the word sangre or blood, referring to its color) is a classic summer party drink, and for good reason! It is easy to make and incredibly refreshing.
As much as we'd like to just say Ole! and attribute sangria's history to the fun and easygoing atmosphere of the Spanish people, the reality is, sangria's history is a bit less glamorous.
Over 2,000 years ago, the water in Spain was considered unsafe to drink, so it was common to fortify it with alcohol to kill any bacteria. It is believed that the first occurrences of sangria were heavily watered down blends of wine, water, and spices. The wine was added to kill off the bacteria in the water and the spices were added to disguise the flavor of the not-so-great wine.
Sangria probably made its way to the States in the 1800's, growing in popularity at the 1964 New York World's Fair when it was served at the Pavilion of Spain.
Modern Day Sangria
Modern day sangria has turned into more of a fortified wine punch, and it is now more common to find fruit in your sangria than spices.
For a sangria that hearkens to its Spanish roots, find a Spanish wine like a Tempranillo or a Spanish red wine blend that is heavy on the Grenache grape. Both Tempranillo and Grenache are known for their characteristic fruity flavor, which is perfect for sangria.
Making Classic Spanish Red Sangria
Making sangria is as easy as mixing wine with some fresh squeezed fruit juice, a splash of brandy, and just enough sugar to get it to taste just right. Then, throw in your fruit, and let the flavors come together in the refrigerator for at least an hour.
Once you have the basics of sangria down, have fun experimenting with different fruits, juices, liquors, and wines. Maybe even throw in a few spices to hearken back to sangria's early days!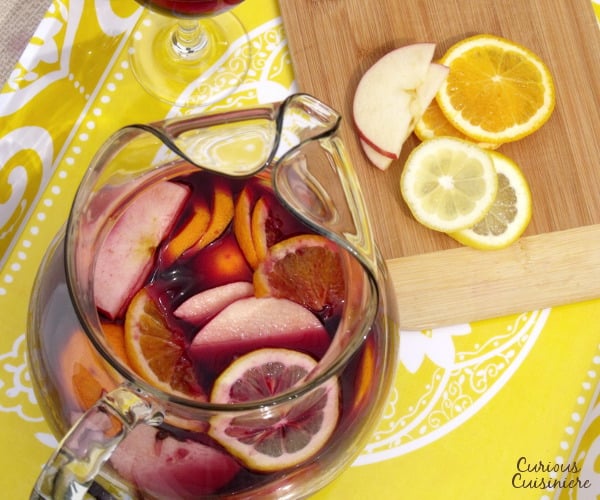 Classic Spanish Sangria
Spanish red wine meets oranges, apples, lemons, and brandy in this classic Spanish red sangria, perfect for any summer party or cookout.
Ingredients
1

bottle (750mL)

Spanish red wine

(Tempranillo or Grenache work very well)

¼

c

brandy

2

oranges

2

lemons

2-3

Tbsp

sugar

1

red apple
Instructions
Mix the red wine and brandy in a pitcher.

Juice one orange and one lemon and add the juice to the pitcher with the wine.*

In a small bowl, mix 2 Tbsp sugar with 2 Tbsp warm water until dissolved. Add the sugar water to the pitcher. Stir the sangria and taste it. If it needs additional sweetness, continue adding 1 Tbsp of sugar mixed with 1 Tbsp water until your desired sweetness is achieved.

Slice and halve one orange, one lemon, and the apple. Add the fruit slices to the sangria. Refrigerate for at least 1 hour before serving.
Notes
*You should have roughly ½ c of orange juice and ¼ c of lemon juice.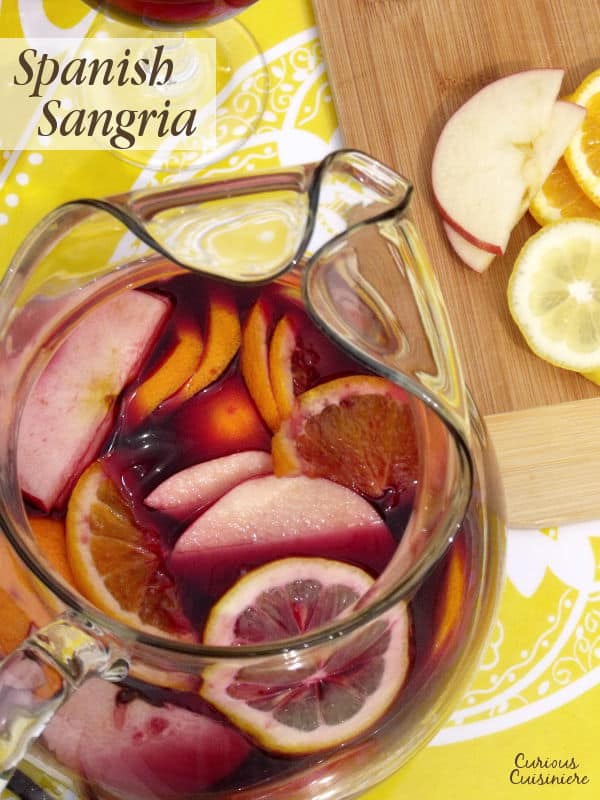 If you liked this recipe, here are some similar dishes you may enjoy!