Our Cranberry Cornbread Stuffing Muffins brings the sweet flavors of cranberries and cornbread together with light chipotle smokiness.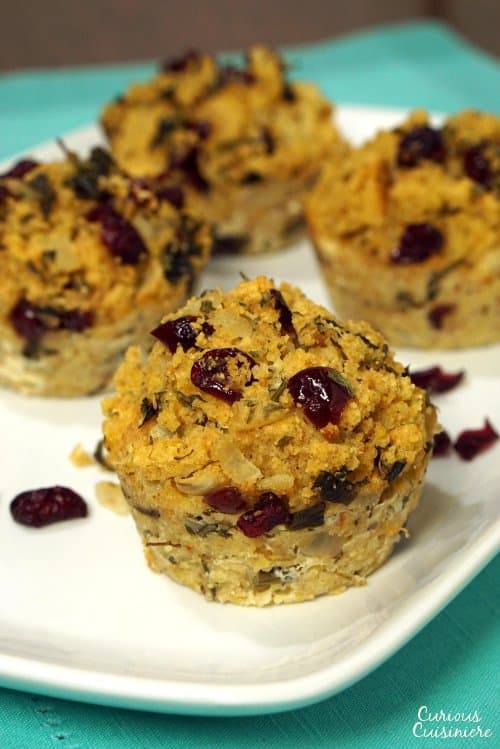 Do you have a favorite part of the Thanksgiving meal?
I love everything from the turkey, to the cranberries, all the seasonal veggies, and, of course, the pie. It's almost not fair, because Thanksgiving dinner is basically a meal made up of all my favorite foods.
But, if I had to pick a favorite out of these favorites, if I absolutely, positively HAD to give one food as my answer to this incredibly unfair question, I think my answer would be stuffing.
The love started (like so many other food loves) with my Mom's Thanksgiving Stuffing. She transforms ritz crackers, homemade broth, giblets and a magical blend of herbs, into something that is downright extraordinary.
I remember burning my fingers quite a few times as I tried to sneak a bite of those prime, crispy bits right after the turkey came out of the oven.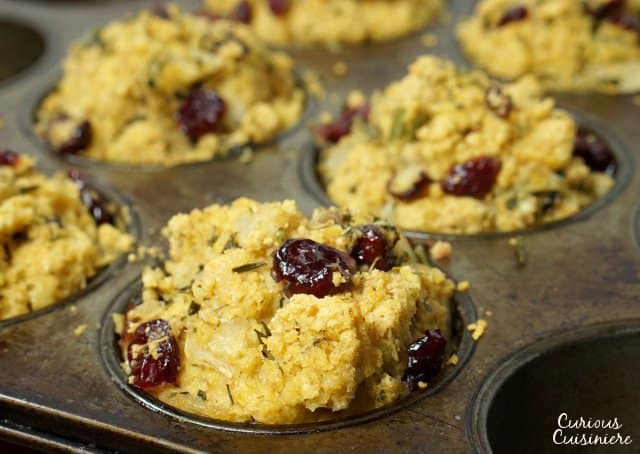 The many, many faces of stuffing
In the past few years, I realized that stuffing doesn't have to be contained to Thanksgiving dinner. In fact, it doesn't even have to be confined to to a cracker or dry bread based mixed with fall herbs.
You can make it with rice, like our Apple and Mushroom Wild Rice Stuffing. Or you can change up the flavor profile and shape, like we did with our Mushroom and Dill Stuffing Muffins.
And then, there's the whole new world of possibilities that opens up when you decide to go wild with the types of bread you use.
Like… cornbread!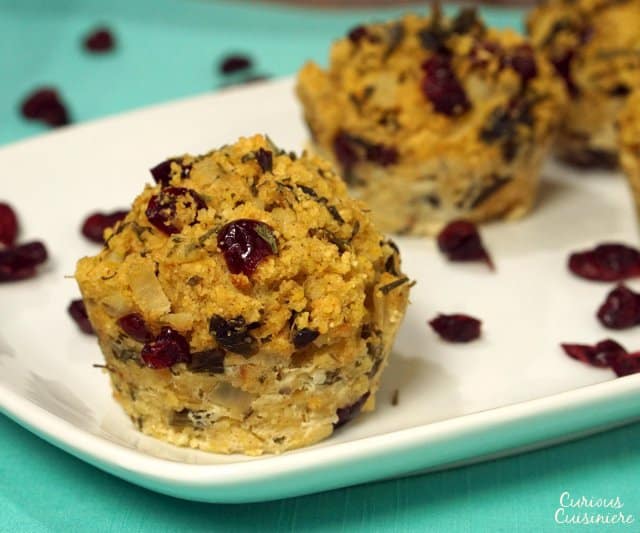 Our Cornbread Stuffing Muffins Recipe
These stuffing muffins are a bit of traditional Thanksgiving (They do have cranberries, and they are stuffing! ) shaken up with some serious of Southwest flair.
The chipotle flavor in the muffins is just enough to add a hint of smokiness, but not enough to really bring the heat. It counters so well with the the sweetness of the cornbread and cranberries and accents the herby notes of the parsley and thyme.
Even though these are a bit out of the ordinary, they still go incredibly well with turkey, and they're a fun way to change up your Thanksgiving spread.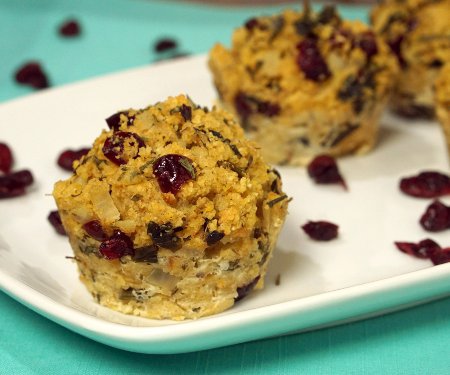 Cranberry Cornbread Stuffing Muffins
Our Cranberry Cornbread Stuffing Muffins brings the sweet flavors of cranberries and cornbread together with light chipotle smokiness.
Yield: 12 muffins
---
Ingredients
8

c

cornbread,

cubed (Roughly 1-8x8 pan.)

1

tsp

unsalted butter

1

sweet onion,

diced

1

celery stalk,

diced

½

c

dried cranberries

2

tsp

thyme

2

tsp

parsley

1

tsp

chipotle powder

(Can't find chipotle powder? Use 1 1/2 tsp paprika.)

1

tsp

salt

¼

tsp

ground white pepper

2

c

vegetable broth

(we prefer low sodium)

2

Tbsp

white wine vinegar

2

eggs,

lightly beaten
Instructions
Preheat your oven to 300F.

Cut the cornbread into ¾" cubes and place on a baking sheet pan. Bake in the oven for 10-15 minutes, stirring every 5 minutes, until the cornbread is toasted.*

Remove the toasted cornbread from the oven and let it cool slightly.

Increase your oven temperature to 350F.

In a large sauté pan, heat oil. Add onion and celery. Sauté over medium heat 3-5 minutes, until onions are soft.

Remove from the heat and add cranberries, thyme, parsley, chipotle powder, salt and white pepper. Mix to combine.

In a large bowl, combine the onion mixture and toasted cornbread.

Whisk together vegetable broth, vinegar and eggs. Pour over cornbread mixture and mix until evenly moist. Let mixture stand 5 minutes for any excess moisture to be absorbed.

Scoop the stuffing mixture by ½ cup into greased muffin tins.

Bake 25-30 minutes, until the tops are golden and a toothpick inserted into the center of a muffin comes out clean (with no crumbs clinging to it).

Let the muffins cool in the pan for 15-20 minutes before removing and serving. (The muffins will feel quite fragile right out of the oven, but will firm up and be easier to remove from the pan after cooling slightly.)
---
Recipe Notes
*Alternately, lay the cubes out on a baking sheet overnight to dry. Then, no toasting is needed.
---
This is one of the recipes from the early days of Curious Cuisiniere. We've updated our pictures since we first made it, but we've left the original images here as a fun throwback and shout out to how far we've come. Enjoy!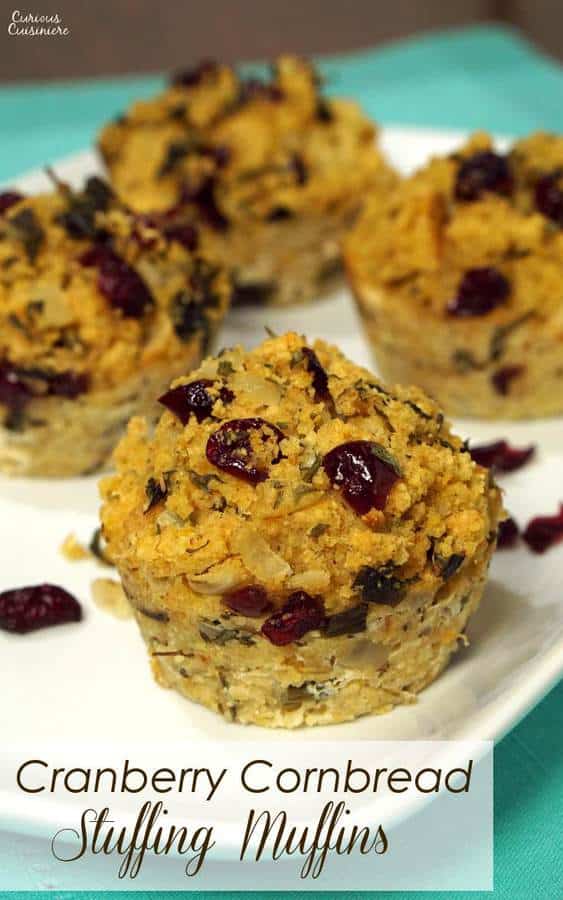 If you liked this recipe, here are some similar dishes you may enjoy!