Sweet apples and raisins combine with savory herbs for an unlikely, but very tasty, combo in this mushroom wild rice stuffing.

Being Thankful
I think one of the reasons I love Thanksgiving so much is that it gives us a set time each year to stop and realize all we have to be thankful for. So often, our lives get busy, we get clouded, and we start to spiral into that tunnel vision of what I deserve, expect, and see.
Or at least, I do.
But, life is full of so many reasons to be thankful, and we really should be setting aside a moment each day to think at least one thought of gratitude.
How do you think that would change the world, if everyone stopped each day to think about something they were grateful for?
Would it slow tempers? Would it heal wounds? Would it re-unite families?
Who knows.
It is something I would like to strive for as we enter this year's Holiday season. At least one grateful thought a day. I think it's definitely possible.
Let's Slow Down and Give Thanks
But for now, I pray that each of us can take this year's Thanksgiving day slowly. Cherish it as a day to realize how blessed we each are. Because, whatever situation we find ourselves in this year, there is something to be thankful for. There is a way in which we are blessed.
And, a Thanksgiving post would not be complete without a big outpouring of thankfulness to all of you. We can not tell you enough how honored we are to have such a wonderful group of readers, those of you who we know from the comments, and even those of you who silently come back day after day. You are what encourages us to give creatively and continue to learn in our own lives, so that we can share our passions and our lessons. We love hearing from you, and we greatly appreciate your support.
On to the recipe: Apple and Mushroom Wild Rice Stuffing
Apples and Mushrooms may seem like an unlikely pair for this stuffing, but trust us when we say they do in fact play very nicely together. The onions, celery, herbs, and mushrooms give this wild rice stuffing recipe a burst of familiar, savory stuffing flavors. The raisins lend just a hint of deep sweetness. And the apple? Well, that green apple lends just enough sweet tartness to brighten the savory flavors and lift them a whole new realm of stuffing flavors.
If you're looking for a new holiday side dish, this is surely a fun one to bring to the table!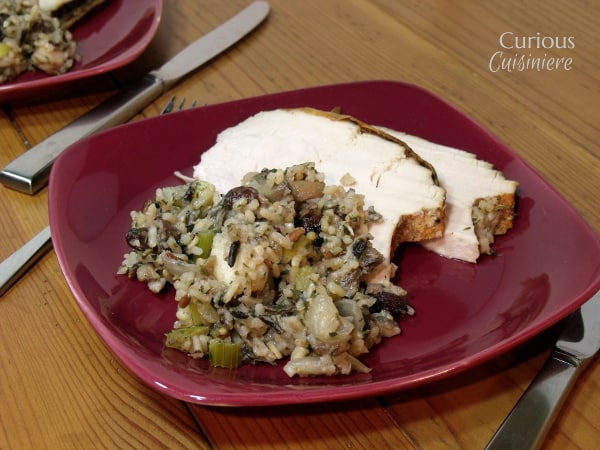 Apple and Mushroom Wild Rice Stuffing
Sweet apples and raisins combine with savory herbs for an unlikely, but very tasty, combo in this mushroom wild rice stuffing.
Yield: 8 cups of stuffing (enough to stuff an 11 lb bird)
---
Ingredients
3

c

water

½

c

wild rice.

dry

1

c

white rice,

dry

1

Tbsp

salted butter

1

onion,

chopped

2

celery stalks,

chopped

1

green apple,

cored and chopped

4

garlic cloves,

minced

½

c

chicken broth

(we prefer low sodium)

2

(4 oz) cans

sliced mushrooms,

drained

½

c

raisins

3

Tbsp

parsley

1

tsp

thyme

1

tsp

fennel seeds

1

tsp

tarragon

½

tsp

salt

¼

tsp

ground black pepper
Instructions
In a large, 4 quart sauce pan mix water and wild rice and bring to a boil. Simmer, covered for 5 min. Add white rice, turn heat to low, and simmer, covered, for 15 min, until rice is tender, but not overcooked. You may have some water left over in the pot when the rice is tender, simply transfer the rice to a strainer to eliminate the excess liquid.

Meanwhile, sauté onion with 1 Tbsp butter for 3-4 min. Add celery, apples, and garlic and sauté an additional 3-4 min. Remove from heat.

Add onion mixture to rice along with remaining stuffing ingredients.

Stuffing is ready to serve, or be stuffed inside a turkey.
---
If you liked this recipe, here are some similar dishes you may enjoy!