If you've ever wondered how to make corn tortillas from scratch, today is your day to stop wondering and start making! You are about to discover that there is NOTHING like a fresh tortilla.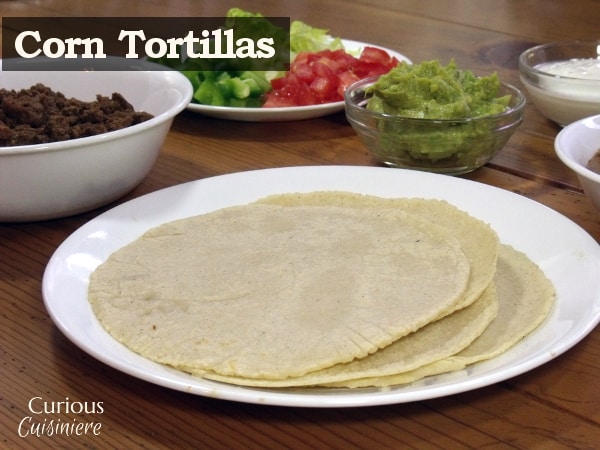 The beauty of fresh corn tortillas
Corn tortillas, warm off the griddle are a thing of beauty. And, while it is a bit more labor-intensive to make your own tortillas, it is definitely worth taking the time to discover what all the fuss is about.
Homemade corn tortillas couldn't be more simple to make. At the most basic level, you need just two ingredients: masa harina and water. And, while they do take a bit of time to press out, the more you do it, the easier and quicker the process becomes. Besides, the flavor of fresh tortillas and the smell of the toasting masa makes the whole process well worth it.
What you need to make corn tortillas
You can make tortillas without a tortilla press, by using a rolling pin or a cast iron skillet and some elbow grease to flatten the dough to about 1/8 inch. But, the press makes flattening the tortillas a snap by applying even pressure.
Tortilla presses are fairly inexpensive, so if you plan to be making fresh tortillas often, we would suggest looking into getting one. Just be sure to go for the metal version, we've heard the plastic ones tend to break easily.
The key to fresh corn tortillas
Masa Harina. That's what makes corn tortillas, well… corn tortillas. You just can't have corn tortillas without it.
Masa Harina looks a lot like finely-ground corn meal, but don't be decieved. It is ground from corn kernels, but those kernels have been treated with calcium hydroxide or lime (like the hominy we used for our Pozole). This solution softens the corn and changes its chemical structure, making it more nutritious and easier to digest. Look for masa harina in the Mexican section of your grocery store, and be sure to check the ingredients to be sure you are getting a masa harina that is only corn and lime (calcium hydroxide).
DO NOT try to use corn meal in place of masa harina. It just won't end well. Take our word for it. Just go out and get a bag of Masa Harina, because once you get one taste of homemade tortillas, you'll be hooked.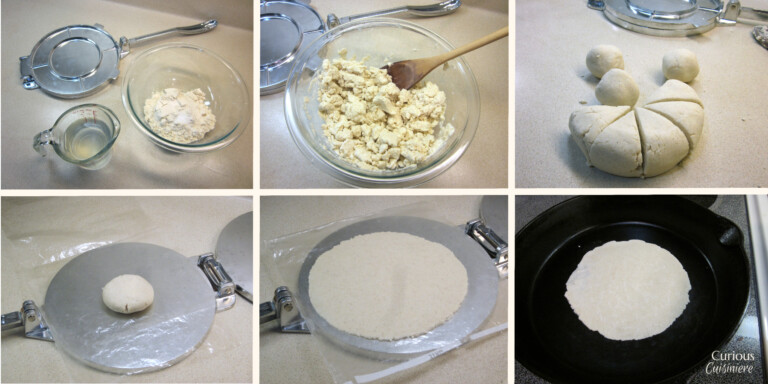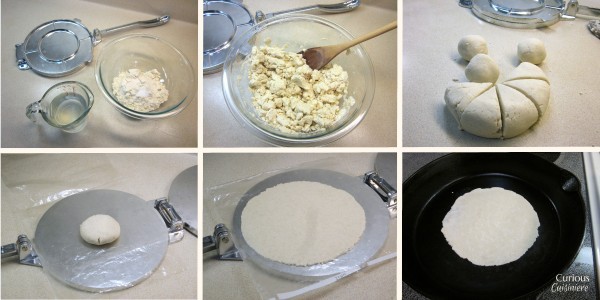 Making corn tortillas from scratch
While you can make corn tortillas with just masa harina and water, we like to add a pinch of salt and a little lime juice to ours to give them the flavor that Tim remembers from the time he spent in Mexico.
Making the Dough
The dough should feel soft and spongy, like play-dough (actually, more like model magic, from what I remember) or like dry mashed potatoes. It should be moist enough that it doesn't crumble when you press your thumb into it, but dry enough that it is not sticky.
If your dough is too moist, you won't be able to peel it off of the plastic. But, if it is too dry, it will crumble and not hold together. Don't be afraid to mix a little extra masa harina or water into your dough. It won't suffer from being overworked.
Let the dough rest, covered, for 15-30 minutes. This step is important because it lets the masa harina re-hydrate, giving it a more pliable texture.
Preparing the Press
While the dough rests, preheat your griddle (cast iron works very well) over medium heat and prepare the plastic for your press. Cut a freezer quart or gallon size zip-lock bag down the sides to create a sturdy, hinged piece of plastic to press your tortilla between. (Trust us, this works better than using plastic wrap and WAY better than using waxed paper.)
Pressing the Dough
Once the dough has rested and your plastic is ready, knead the dough a few times to create a soft and smooth ball. Then, divide the dough into 12 roughly even sections and roll each into a ball. (They should be about the size of golf balls.) The dough will dry out quickly, so keep it covered with a damp tea towel while you are making your tortillas.
Set one ball of dough on the piece of plastic in the press. Cover the dough with the other half of the piece of plastic. Then press. (If you are not using a press, still use the plastic and roll your dough out to about 1/8 inch in thickness.)
Release the press and gently peel the top plastic from the tortilla. Then, flip the tortilla into your hand, and gently peel the plastic from the other side. Transfer the tortilla to a hot, dry skillet.
Grilling the Tortilla
Cook for about 30 seconds on the first side. When it is ready to flip, it will release from the pan. Gently flip it and cook for 30-60 seconds on the other side. (We have found that it is better to under cook your tortillas than over cook them. Under cooked, the tortillas are still incredibly pliable, but over cooked, the tortillas will be more prone to drying out cracking as you eat them.)
Remove the tortilla from the skillet and wrap it in a warm, damp tea towel to keep it moist and warm while you work on your other tortillas.
Our homemade corn tortilla recipe
Written out, the process looks like a lot. But, once you get started, the steps are simple, and it is easy to get into a rhythm.
We tend to find tortilla making rather calming after a long day. Until you have that one that sticks to the plastic…
Truthfully, no matter how many times we make tortillas, it always takes us the first couple of tortillas to get back into the swing of it. So, don't be discouraged if the first few don't turn out perfectly. Now you just have a tasty snack to munch on while you work on the others!
Corn Tortillas
You are about to discover that there is NOTHING like a fresh tortilla.
Yield: 12 (6 inch) corn tortillas
Instructions
In a medium bowl, mix all ingredients until moistened. Cover the dough and let it rest for 15-30 minutes.

After the dough has rested, knead it into a smooth ball. Divide the dough into two roughly even portions. Shape each section into a ball and press it to flatten slightly. Divide each round into 6, roughly even, pieces. (Creating 12 pieces total.) Roll each piece of dough into a ball about the size of a golf ball. Cover the dough with a damp tea towel while you work on each tortilla.

Preheat a cast iron skillet over medium heat. Cut both sides of a plastic freezer bag (forming a hinge) to fit the shape of your tortilla press (or roughly 7-8 inches if you are not using a press).

Take one ball of dough and place it between the two pieces of plastic. If using a tortilla press, press the dough flat. If flattening by hand, roll or press the dough to about 1/8 inch thickness.

Gently peel the top piece of plastic from the dough. Flip the tortilla into your hand and very gently peel the plastic from the second side.

Place the tortilla into the dry, hot skillet for 30-45 seconds. Flip the tortilla and cook for 30 seconds to 1 min on the second side.

Remove the tortilla and wrap it in a damp tea towel to keep it moist and warm while you repeat the process with the remaining dough.

Tortillas are best if eaten immediately. They can be stored in an air-tight container, on the counter, for up to 2 days.
Nutrition
Serving:
2
g
|
Calories:
141
kcal
|
Carbohydrates:
29.6
g
|
Protein:
3.6
g
|
Fat:
1.4
g
|
Sodium:
198
mg
|
Fiber:
3.7
g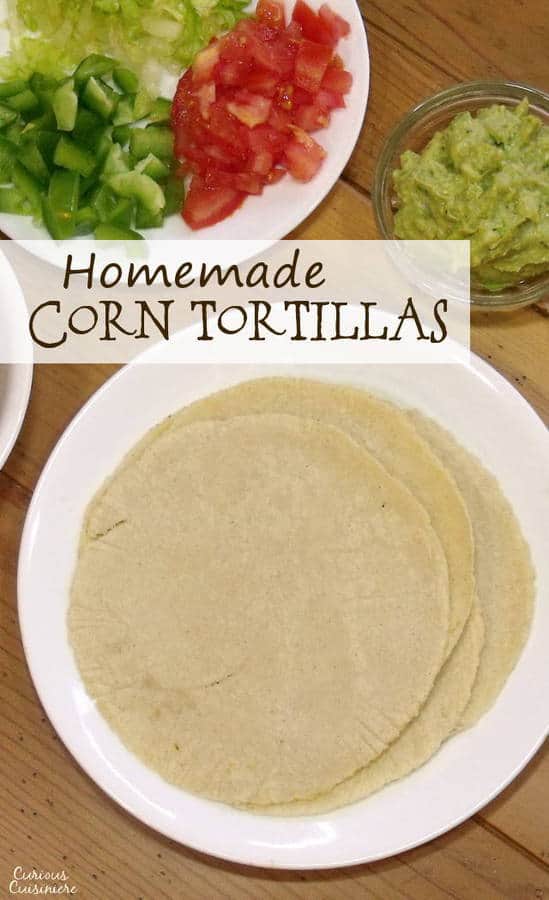 ---
DISCLOSURE: This post contains Amazon affiliate links. These links are provided to help you find some of the more specialty products we mention in the recipe. If you make any purchase clicking through our links, we receive a small commission from Amazon, at no extra cost to you. Thank you for supporting Curious Cuisiniere!
If you liked this recipe, here are some similar dishes you may enjoy!