Pozole Blanco is a traditional Mexican pork and hominy stew that is bursting with flavor. This shortcut version transforms leftovers into a hearty meal.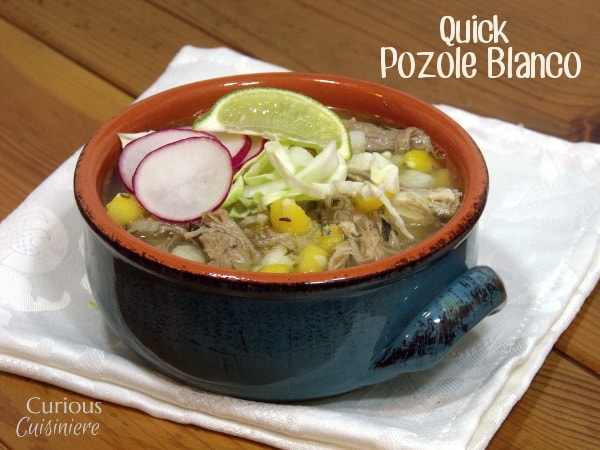 Pozole is a traditional Mexican soup (or stew) made of hominy and pork that is simple to make and features a spread of toppings that lets each person customize their dinner.
What Is Hominy?
We had the same question.
Hominy is corn that has been treated to give it a chewy texture, puffy shape, and flavor vaguely reminiscent of a corn tortilla.
Dried corn kernels are soaked in a lime or lye solution to soften the tough outer hulls, in a process that has been done since around 1500 BC.
Once soaked, the kernels are washed to remove the solution and the hulls. The calcium in the solution initiates a chemical change which makes is possible to make massa, the corn flour used in tamales and corn tortillas.
If you've ever made your own corn tortillas with massa harina (a special kind of corn flour), you may have wondered about the difference between massa and plain old corn meal. (I know we have!) The difference is in this process. The chemical change that takes place during soaking in the lime or lye solution makes it possible for massa to form a dough by just adding water. If you tried adding water to corn meal, you'd end up with something quite a bit messier than massa dough.
Aside from making the corn perfect for tortilla-making, the soaking adds additional calcium to the corn and makes some of its nutrients easier to digest.
Where To Find Hominy
Hominy is most commonly found canned in your grocery store's canned vegetable section, but stores with a large Mexican section will most likely also carry it dried.
To cook it up from dried you simply boil it, like you would a pot of beans.
(See all those white and yellow things in the stew? That's hominy! We decided to try yellow and white for ours, just to see the difference. They were pretty similar in flavor and texture.)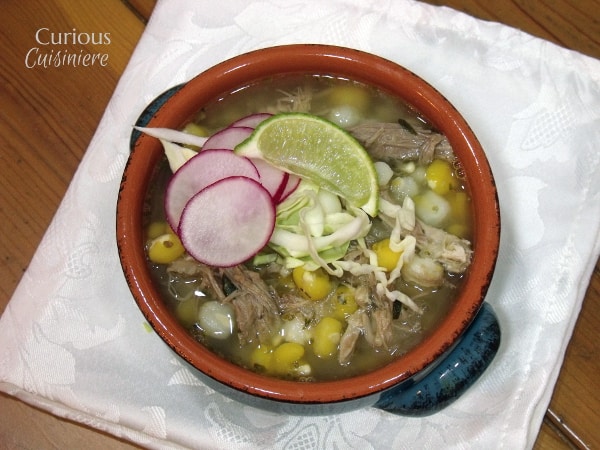 Our Pozole Blanco Recipe
Pozole (pronounced po-so-le) is a traditional Mexican stew.
Like many dished with a deep-rooted cultural significance, pozole changes quite a bit depending on which region it comes from. But, hominy always remains one of the main ingredients.
This blanco (white) version is cooked in a clear broth, and it seems to be the base for the other variations.
You can also find a red version that uses red chilies and a green version, using green chilies, tomatillos, and other green add-ins.
How To Serve Pozole
Pozole is typically served with a number of toppings. Sliced radishes, shredded cabbage or lettuce, lime wedges, salsa, diced onion, avocado, and tortilla chips are all common additions.
Each person can mix up their own bowl to their tastes, adding whatever toppings they like best!
I loved mine topped with radishes and cabbage.
Tim went for the salsa and lime.
No matter how you dress it up, pozole is a hearty comfort food that warms you right up.
Quick Pozole Blanco
Pozole Blanco is a traditional Mexican pork and hominy stew that is bursting with flavor. This shortcut version transforms leftovers into a hearty meal.
Yield: 6 cups of soup
Ingredients
½

tsp

salted butter

1

onion,

diced

1

garlic clove,

minced

2 ½

c

chicken stock

(we prefer low sodium)

1 ½

c

cooked pork roast or shoulder,

shredded

2

(15 oz) cans

hominy

1

tsp

oregano

Salt

(to taste)
Optional Toppings
Sliced radishes

Shredded cabbage or lettuce

Lime wedges

Tortilla chips
Instructions
Heat butter in a medium soup pot. Add onion and garlic. Saute over medium heat 3-5 minutes, until golden.

Add chicken stock, pork, drained hominy, and oregano. Bring the mixture to a simmer and simmer, covered over medium-low heat for 20 minutes.

Prepare your toppings while the soup is simmering.

Taste the soup and add salt, if needed, before serving with toppings as desired.
Nutrition
Serving:
1
g
|
Calories:
313
kcal
|
Carbohydrates:
27.8
g
|
Protein:
17.5
g
|
Fat:
14.2
g
|
Saturated Fat:
4.9
g
|
Cholesterol:
56
mg
|
Sodium:
884
mg
|
Fiber:
5
g
|
Sugar:
4.7
g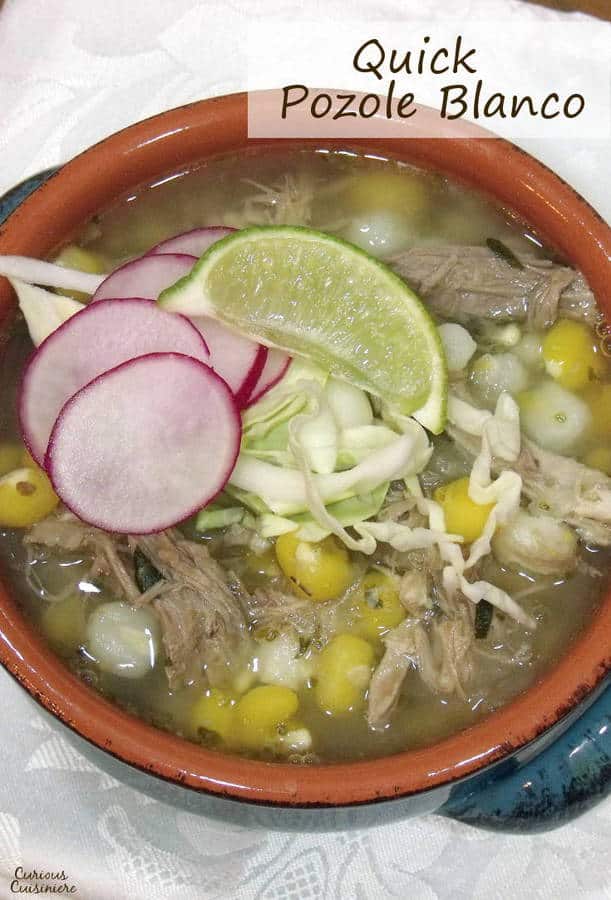 If you liked this recipe, here are some similar dishes you may enjoy!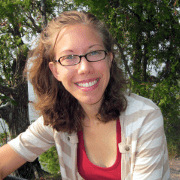 Sarah is one of Curious Cuisiniere's founding duo. Her love for cultural cuisines was instilled early by her French Canadian Grandmother. Her experience in the kitchen and in recipe development comes from years working in professional kitchens. She has traveled extensively and enjoys bringing the flavors of her travels back to create easy-to-make recipes.