This fresh garden salsa is easy to make and the perfect salsa for canning, particularly if you're new to cold pack canning for vegetables!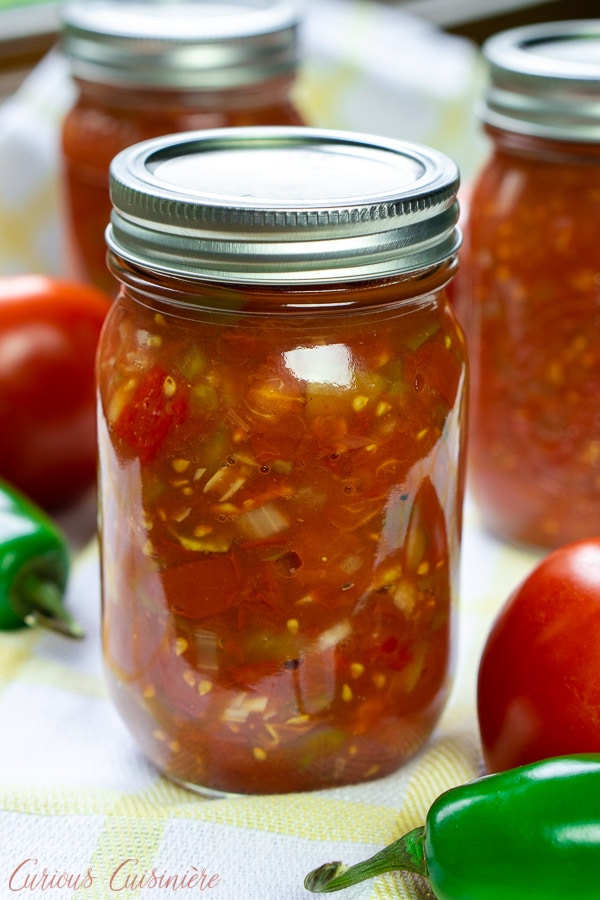 When we find ourselves with a glut of tomatoes, one of the first things we make is salsa.
And, while we love fresh salsa, there is only so much you can eat in one summer.
Canning to the rescue!
How To Choose Hot Peppers For Fresh Salsa
I don't know about you, but I've come across some very heated (pun intended) debates over the amount of spice in salsa.
It's a very personal choice.
We have used both jalapeno and Caribbean hot peppers in this salsa recipe.
Do take a look at this article we put together about how to choose hot peppers, when making your decision. It will walk you through some common types that you may be growing or find easily available at your farmer's market or grocery store.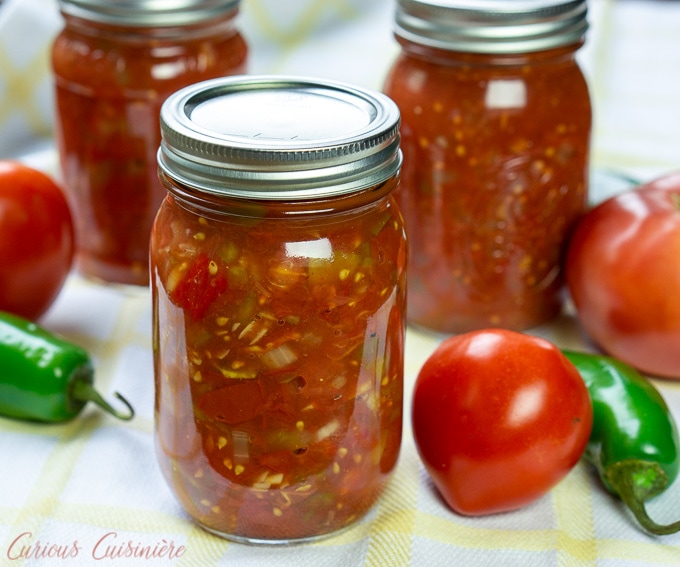 If you are just starting out making homemade salsa, we would highly recommend starting with jalapenos.
Jalapenos will give your salsa a flavor that is similar to a lot of store-bought brands. And, they can be anywhere from mild to spicy, depending on how much veining appears on the skin of each individual pepper.
Keep in mind too that the flavor and spice of the chiles will mellow over time.
A salsa that was quite hot when we packed it became more of a medium salsa when we opened a jar about a year later.
Tasting your vegetable mixture (always with a clean spoon) will give you a good idea how hot your salsa will be. Ideally, you want the vegetable mixture a smidge hotter than the heat you desire from your finished canned salsa.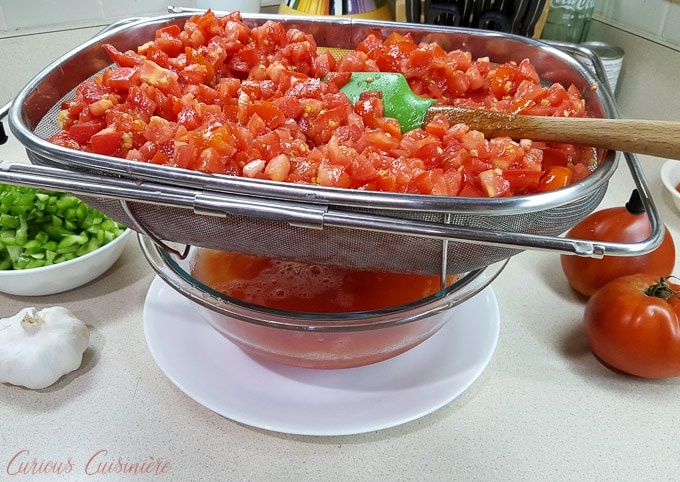 The Straining Method For Making Fresh Salsa For Canning
We have adapted our salsa method from Well Preserved. What is special about their method is the straining of the tomatoes before packing them.
This sweating and straining of the tomatoes is the same concept for pulling the moisture out of zucchini or eggplant slices before cooking. (Like if you're making eggplant Parmesan.)
By pulling the moisture out of the tomatoes, you allow the fruit to keep a more crisp texture when canned.
Also, by separating the juice from the tomatoes, you can heat the juice separate from the fruit. This allows you to use the tomato use from your tomatoes as your canning liquid. It will reduce some as it heats, creating a canning liquid with an intense tomato flavor.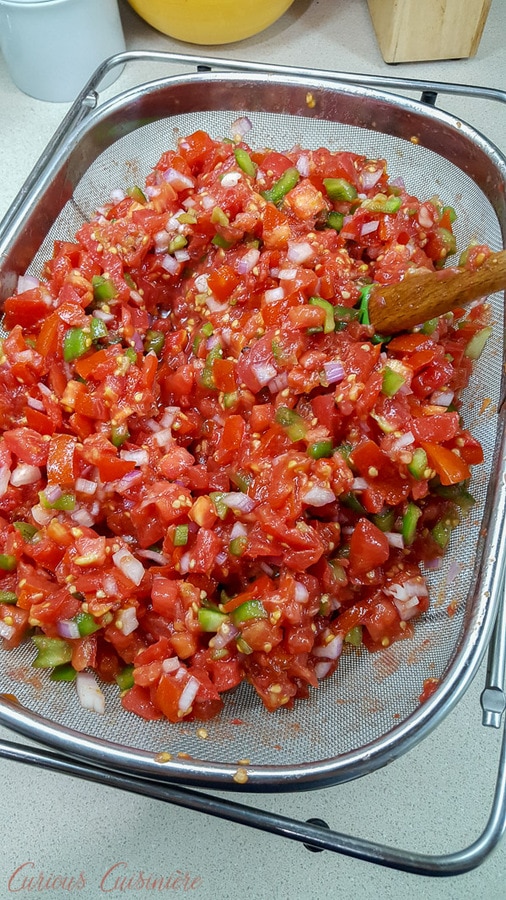 How To Can Tomato Salsa: Fresh Pack or Hot Pack
There are two methods for canning salsa: "fresh pack" and "hot pack". And this recipe is a bit of a combination of both.
Fresh packing means that your vegetables and fruit are put into the jars without cooking. The, a hot brine is poured in the jar to fill the air pockets, season and preserve the vegetables.
Hot packing means that the vegetables and brine are cooked together, so everything is nice and hot when it goes into the jars.
We like the texture of a fresh packed salsa, since the vegetables stay a bit more crisp.
However, you can fit a lot of those cool diced vegetables into a jar, which means that there isn't much room for the hot brine. Only a little hot brine means that the inside of the jar isn't always warm enough to go into your hot water canner. (Which could result in shattered jars.)
To prevent this, we give our vegetables a very short simmer in the hot brine. Just enough to warm them up, so they are packed hot. But, they're not really cooked, so they don't lose their fresh crispness.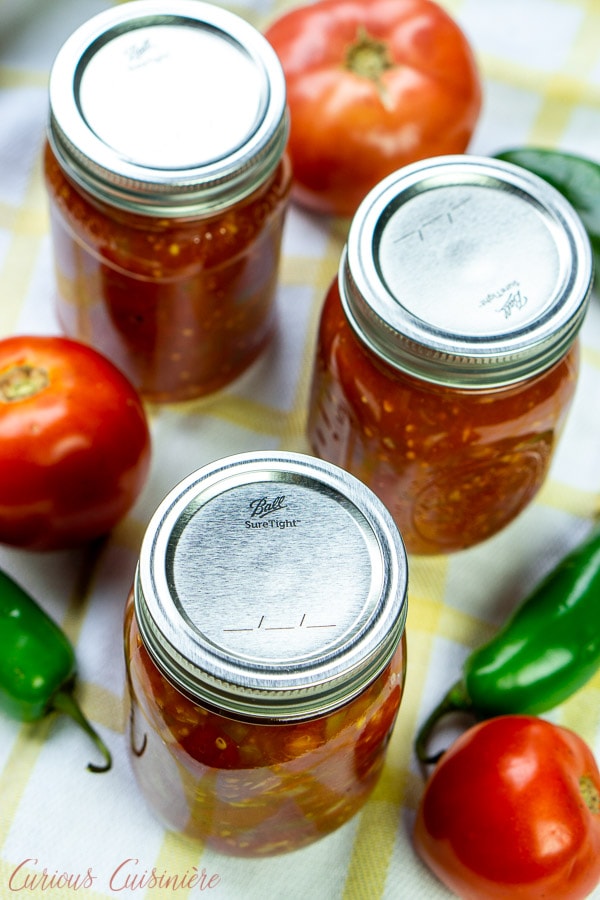 Can I substitute lemon juice for vinegar when canning?
In our recipe we call for a combination of apple cider vinegar and white vinegar.
Apple cider vinegar has a pH of around 3.10 and white vinegar's pH is 2.40-3.40.
Lemon (or lime) juice has a pH of around 2-3 (depending on the variety).
Lower numbers are more acidic on the pH scale, so yes, you can substitute lemon or lime juice for vinegar in this salsa recipe, because it is a more acidic ingredient. (You never want to substitute a less acidic ingredient when canning.)
In canning, it is best to use bottled lemon juice, since the acidity is standardized and won't vary like it can between types of fresh lemons.
Before you start canning, be sure to check our Canning Basics article for a refresher on the process. For additional reference, here is the USDA safe canning guide from the National Center for Home Food Preservation.
Basic Tomato Salsa For Canning
This fresh garden salsa is easy to make and the perfect salsa for canning, particularly if you're new to cold pack canning for vegetables!
Yield: Approximately 7 (16 oz) pint jars
Ingredients
9

lbs

tomatoes

2

green peppers,

diced

2

white onions,

diced

1

tsp

salt

Hot pepper

(of choice)*

1/3

c

white vinegar

1/3

c

apple cider vinegar

6

garlic cloves,

minced

1

tsp

cumin

6

oz

tomato paste
Instructions
Prepare the Veggies
Dice tomatoes and mix with diced peppers, onions and salt in a large strainer placed over a bowl. (This will pull the liquid from the tomatoes, helping to give you an end result that is not overly liquidy.)

Dice your hot peppers and add to the tomato mixture.* Let the vegetables strain on the counter for 6 hours. (You will want to check your mixture every so often to be sure your bottom bowl is not overflowing with juice. Keep the juice! We'll be using it later.)
Preparing Your Salsa For Canning
About one hour before you want to start canning, bring your water bath canner to a boil and wash and sanitize your jars.

Mix the liquid that has been strained from the tomatoes in a large sauce pan with the remaining ingredients. Bring to a boil and simmer 5 min.

Add the diced vegetables and simmer for an additional 5 minutes.
Canning the Salsa
Carefully ladle the hot vegetables and liquid into the jars, leaving 1/4" head space from the top of the rim. (Use a clean butter knife to move the contents of the jar around so that the liquid flows all the way to the bottom.)

Wipe the rims with a clean, damp towel. Place the lids and bands on the jars. Place jars in the canner, so that they are not touching, and process for 20 minutes. (Your processing time starts when the water returns to a boil after the jars have been added.) If necessary, process the jars in batches.

When the processing time is up, remove the jars from the water bath and let cool on a wire rack for 24 hours. Once the jars are cool, remove the bands and check the lids for a seal. If the lids are tight, return the bands to the jars (loosely) and store them for up to a year.
Notes
*The hot peppers and quantity you use depends on your family's heat preference. We have made this recipe using 1/3 c diced jalapenos and we have made it using 1 ½ Caribbean hot peppers.
We find that while the jalapenos created quite a spicy salsa right off the bat, it mellows considerably by the next summer. So, if you plan to make your salsa last through the year, you might want to make it a bit spicier than you prefer to allow for the peppers to mellow. Tasting (with a clean spoon) is key when you are adding your peppers to the vegetable mixture; so that you find a heat level you are comfortable with.
Nutrition
Serving:
2
Tbsp
|
Calories:
10
kcal
|
Carbohydrates:
2.1
g
|
Protein:
0.4
g
|
Fat:
0.1
g
|
Sodium:
23
mg
|
Fiber:
0.6
g
|
Sugar:
1.3
g
---
This is one of the recipes from the early days of Curious Cuisiniere. We make it every year to preserve our tomato harvest and we've updated our pictures since we first shared it. But we've left some originals here, in case you've found us in the past and are looking for that old, familiar image.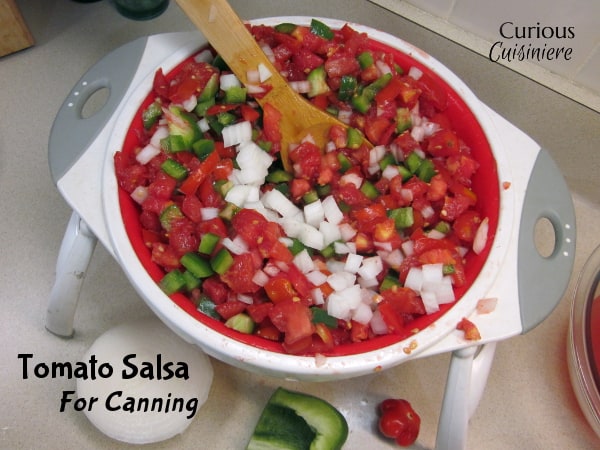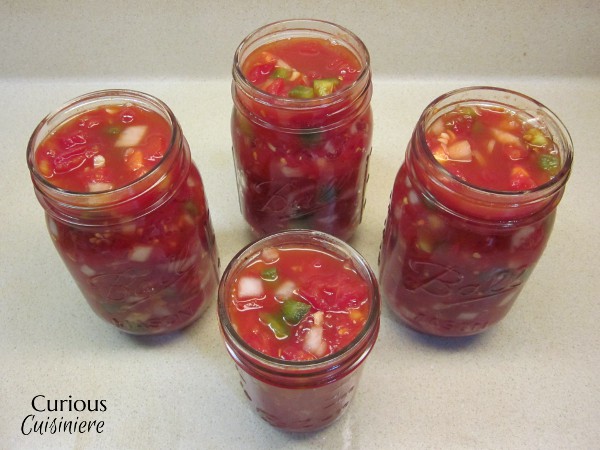 If you liked this recipe, here are some similar dishes you may enjoy!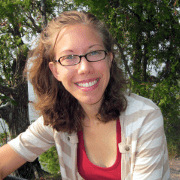 Sarah is one of Curious Cuisiniere's founding duo. Her love for cultural cuisines was instilled early by her French Canadian Grandmother. Her experience in the kitchen and in recipe development comes from years working in professional kitchens. She has traveled extensively and enjoys bringing the flavors of her travels back to create easy-to-make recipes.