Fresh Mexican chile peppers come in so many shapes, colors and sizes. They add great flavor to soups, stews, salsas, and more, and not all bring the heat! This guide to fresh Mexican chile peppers has all you need to know about six essential fresh chiles for Mexican cooking, including substitutions, and authentic recipes. 
Using Fresh Chile Peppers In Mexican Cuisine
Fresh chile peppers are used often in Mexican cooking. They are a great way to add a new dimension of flavors to dishes.
If you think that all chile peppers are hot, think again. Fresh Mexican chile peppers can be as mild as a green bell pepper. But, some can also be FIERY hot. Knowing the difference between Mexican chile peppers will help you choose the right one for your dish!
There are SO MANY types of Mexican chile peppers. If we were to talk about each of them, this article would be much longer than you'd want to read. So, we've taken some of the most common peppers that you are likely to come across in the Latin section of your grocery store or at your local Latin market.
But first…
What Is The Scoville Scale (SHU)?
Each chile in this guide is rated in Scoville Heat Units (SHU). This is a general scale to measure the heat of peppers.
The scale is very simple: the higher the number, the hotter the pepper.
Scoville ratings are always given in a range, because pepper heat can vary plant to plant and depending on ripeness when picked.
How To Choose Fresh Mexican Chile Peppers
Many fresh Mexican chiles are widely available at local grocery stores in the produce section.
When choosing a fresh chile pepper, there are a few key things to keep in mind.
Look for chiles with a glossy skin.
Feel the chiles and make sure they are firm, not soft or squishy.
Use the color as a guide. Typically chile peppers turn from green to red as they ripen. The riper the chile, the hotter and sweeter it will be.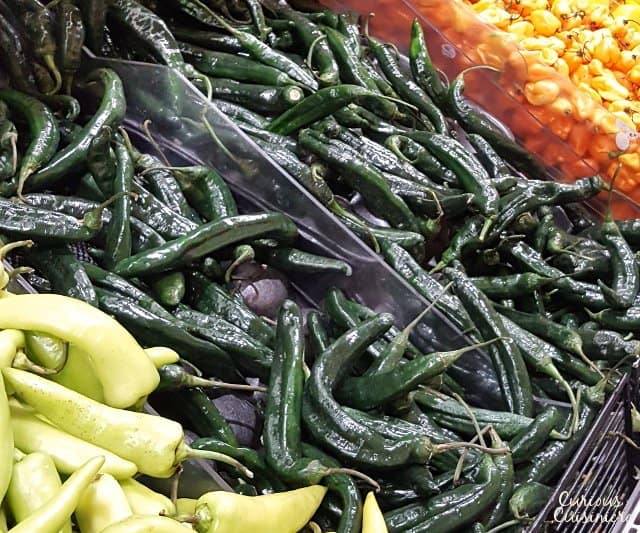 Handling Fresh Chiles
On the topic of hot chiles, PLEASE use gloves when handling even mildly hot chilies.
That fiery feeling you get in your mouth when you eat a chile comes from a compound called capsaicin. Capaicin can also get on your hands while you chop the chiles. It is hard to wash off, and will cause a burning sensation on your hands, or whatever skin it touches. (You definitely don't want to touch your face with a hand that has been handling chiles!)
So, do proceed with caution! Gloves are your friend when handling fresh chiles!
Anaheim Chile Peppers
Anaheim chiles are one of the mildest chile peppers in the Mexican repertoire. They are sometimes known as New Mexican chiles or California chiles.
SHU: 500-2,500 (mild)
Substitutions for Anaheim Chile Peppers: Canned green chiles or fresh poblano chiles are a great substitute for anaheim chiles. In a pinch, a green bell pepper would do as well.
How To Use Anaheim Chile Peppers: Anaheim chiles are often used in salsa verde and chiles rellenos. Roasting these chiles really pumps up their flavor.
Try This Recipe Using Anaheim Chile Peppers:
Poblano Chile Peppers
We think of poblano chile peppers like the Mexican green pepper. Often they are not very hot at all, but they do add a lot of great pepper flavor. (Be careful though, because some of these peppers can hide a moderate heat.) When dried, poblanos become ancho chiles and mulato chiles.
SHU: 1,000-2,000 (mild)
Substitutions for Poblano Chile Peppers: Anaheim chiles or green bell peppers are good substitutes for poblano chiles.
How To Use Poblano Chile Peppers: Poblano peppers are great grilling peppers. They are also often found stuffed with various fillings, for example in chiles rellenos.
Try These Recipes Using Poblano Chile Peppers:
Jalapeno Peppers
Jalapenos are one of the most common Mexican chiles in the US. While often used green, when allowed to ripen they turn bright red and take on a sweeter heat.
SCU: 2,500-10,000 (medium)
Substitutions for Jalapeno Chile Peppers: It's rare that you need a substation for jalapenos, since they are so common. But if you find yourself in need, a serrano chile is a good (slightly spicier) fit.
How to use Jalapeno Chile Peppers: Jalapenos are the ultimate appetizer chile. They are fantastic cored and stuffed with cream cheese. They also make great garnishes for nachos and are a classic addition to a fresh salsa.
Try These Recipes Using Jalapeno Chile Peppers:
Serrano Chile Peppers
Serrano chiles look just like jalapenos, except they are a bit thinner and longer. They're easier to tell apart if you can compare them side-by-side, but if you only see one, it can be hard to tell if you have a serrano or a jalapeno. Be careful you're choosing the correct one though, because serranos are hotter than jalapenos. Cream cheese might not cut it to cool the heat of a serrano the way it does for jalapeno!
SCU: 5,000-25,000 (medium – hot)
Substitutions for Serrano Chile Peppers: Serrano chile peppers look similar to jalapenos, and jalapenos make a good substitution if you can't find a serrano. You may need to use more jalapeno peppers to get the equivalent heat tough, since jalapenos are more mild than serranos.
How to use Serrano Chile Peppers: Serrano chiles are often used raw for their bright flavor and medium-hot heat. They are a great choice for adding heat to salsas, pickles, and relishes. You often find serrano peppers in pico de gailo. Sliced into rounds, they also make great garnishes.
Try These Recipes Using Serrano Chile Peppers:
Cayenne Chile Peppers
Cayenne peppers are long, skinny, bright red chiles. They are most often used dried and powdered. Fresh cayenne peppers can be dried to make cayenne powder, but don't be afraid to use cayenne chiles fresh! They bring a nice sweet heat to dishes they're used in. They are hot though, so if you want to dial back the heat, be sure to remove the white veins and seeds before using them!
SCU: 30,000-50,000 (hot)
Substitutes for Cayenne Chile Peppers: If your recipe calls for fresh cayenne peppers as a means of adding heat, you can substiute cayenne powder or crushed red pepper flakes for fresh cayennes. One fresh cayenne pepper is equal to about 1/8 tsp ground cayenne powder.
How to use Cayenne Chile Peppers: While cayenne peppers are often used just to add a pop of heat, they are also great pickled and used as a condiment or appetizer. They are a great chile to use if you want to make your own easy hot sauce. Cayenne peppers also make great peppers to add to a stir fry or chili.
Try This Recipe Using Cayenne Chile Peppers:
Habanero Chile Peppers
Habanero peppers are small and have a distinct, bright orange color. Let that bright orange be a warning, because these babies are very hot! That means that you REALLY want to wear gloves when handling them, so your skin doesn't get irritated by the capsaicin.
Because of their heat, we like to use habanero peppers in dishes that require a long cooking time. Long exposure to cooking heat will reduce the heat of the pepper.
Another way to tone them down a bit is by removing the inner membrane and seeds, which house a lot of the heat. The outer walls are still hot, and some dishes only require a sliver or two. It's good to remember that you can always add more, but it's hard to take the heat away once it's in your dish!
SCU: 100,000-350,000 (VERY VERY hot)
Substitutions for Habanero Chile Peppers: Habanero chile peppers are becoming pretty common to find in your grocery store produce aisle. If you can't find them, sotch bonnet chiles pack a similar heat. Otherwise, you can use another hot chile, like cayenne, and add as much as you need to get the heat level you're looking for.
How to use Habanero Chile Peppers: Habanero chiles are great in a pot of chili (with or without beans) and are the perfect heat for an authentic Jamaican jerk marinade. They also go quite well in sweet applications, like an apricot or strawberry habanero jam.
Try These Recipes Using Habanero Chile Peppers:
Now that you know what to do with these fresh Mexican chile peppers, don't be afraid to grab some from your grocery store and have a little fun.
The heat is up to you!
If you liked this recipe, here are some similar dishes you may enjoy!