If you like this dish, sign up for our newsletter to get tasty, cultural inspiration straight to your inbox. Where will you travel this week?
Spicy, smoky and slightly sweet, this Jamaican jerk marinade recipe is perfect for chicken, pork, fish and vegetables.
Jamaican Jerk Marinade
Jerk chicken or pork is probably one of the first foods that come to mind when you think of Jamaica. Even if you've never tasted real Jamaican jerk, you've probably encountered some version of a jerk sauce or at least heard stories of smoky and spicy flavors intermingled with juicy, tender, slow-cooked meat.
It is common to find a dry Jerk seasoning or rub. (You can find our go-to, homemade Jerk Seasoning Rub here.) But to transform the flavors of that dry rub into a saucy jerk chicken or jerk pork, only a wet marinade will really do the trick to penetrate the meat.
Allspice and Scotch Bonnet Peppers in Jamaica
Allspice and Scotch Bonnet peppers hold the key to authentic Jamaican jerk flavor.
Allspice berries, called pimento in Jamaica, look very similar to black peppercorns, but their flavor is quite different. Allspice imparts a sweet, slightly spicy flavor and had an aroma that reminds us of a combination of cinnamon, nutmeg, ginger, and cloves.
Scotch Bonnet peppers are incredibly spicy peppers that are native to the Caribbean. When we say incredibly spicy, we meant it. These bad boys are 40-50 times hotter than jalapenos. They are often confused with their cousin, the habanero, for good reason. Scotch Bonnet peppers have the same heat rating and coloring as a habanero, however they tend to be sweeter and have a slightly more square shape. Scotch Bonnets can also be found under the names Caribbean Red or Caribbean Hot Peppers. For our marinade, if you can't find Scotch Bonnets, we have found that habanero peppers do make a good substitute.
Adjusting The Heat Of Our Jamaican Jerk Marinade Recipe
If you like a more mild Jerk, leave the seeds of the peppers out when you are making the marinade. And PLEASE USE GLOVES when chopping these peppers, unless, of course, you want your fingers to be good and tingly for the rest of the day.
Making A Homemade Jamaican Jerk Marinade
After the crucial first two ingredients, then we add fresh thyme, green onions, and fresh ginger. That is the most basic, quintessential starting point for fabulous Jamaican jerk flavor.
Those five ingredients give jerk its herby, spicy, and slightly sweet characteristic flavor, but you will find that different recipes may add a number of other ingredients to this base to get their own unique twist on jerk.
We love the flavor that a little (ok, a lot of) garlic adds, as well as the sweet spiciness of some brown sugar and a pinch of cinnamon and nutmeg. That flavor takes us back to our first island  taste of Jamaican Jerk.
Using Your Homemade Jamaican Jerk Marinade
Our Jamaican jerk marinade recipe makes about 3/4 cup of marinade, which is enough to marinate a whole chicken. Do you meat a favor and marinate it for at least 4 hours before cooking. If you can, let it marinate overnight for best flavor.
Check our our Jamaican Jerk Chicken recipe for a wonderful way to make flavorful Jamaican Jerk Chicken on your grill!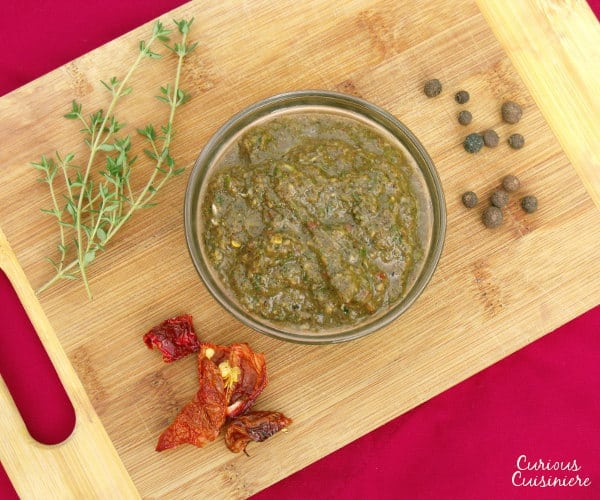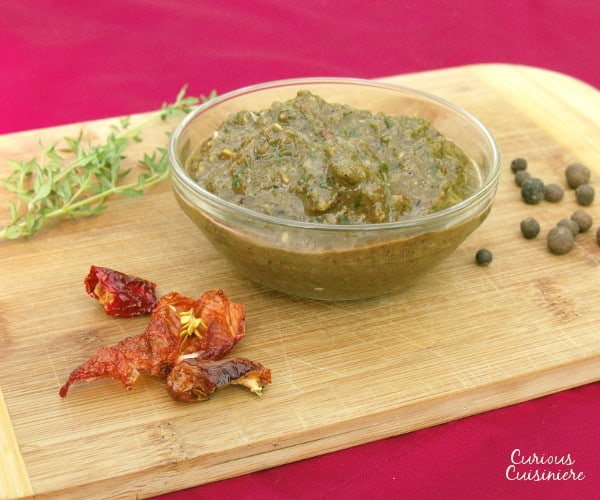 Jamaican Jerk Marinade
Spicy, smoky and slightly sweet, this Jamaican jerk marinade is perfect for chicken, pork, fish and vegetables.
Yield: 3/4 c
---
Ingredients
2

Tbsp

allspice,

ground

2

Scotch Bonnet peppers

or habaneros *

2

Tbsp

fresh thyme

or 2 tsp dry, ground

6

garlic cloves

1

inch

fresh ginger,

sliced, or 1/2 tsp ground

1 1/2

c (roughly 8)

green onions,

, chopped

2

tsp

brown sugar

1

tsp

salt

1/2

tsp

cinnamon

1/2

tsp

nutmeg
Instructions
Place all ingredients in the bowl of your food processor and process until a paste forms.

For best flavor, marinate meat overnight.

Use the marinade within a week.
---
Recipe Notes
*Remove the seeds from the peppers if you prefer a less spicy sauce. (It will still be HOT.)
If you liked this recipe, here are some similar dishes you may enjoy!