This slow cooker Vegetarian Enchilada Soup is packed full of flavorful peppers and hearty beans for a quick weeknight meal.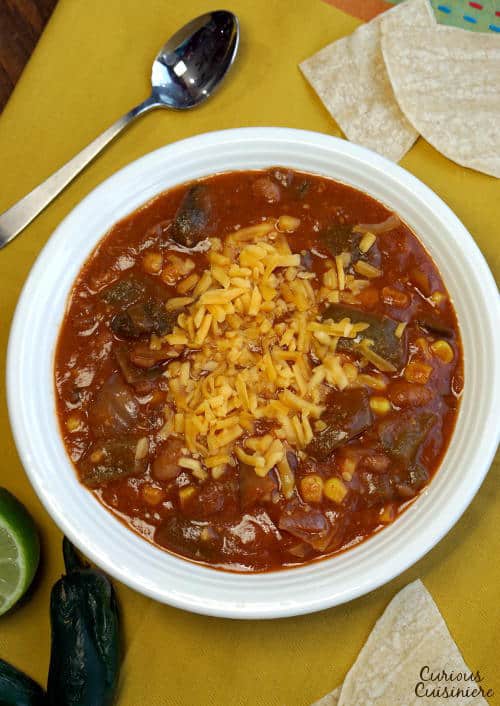 Today, we're taking a classic Mexican dish and turning it into an easy slow cooker dinner that is sure to please the whole family!
But first, we need to talk about some of the ingredients that go into this Slow Cooker Enchilada Soup!
Melting Cheese 101
Have you ever tried to melt cheese for mac and cheese or for a soup and ended up with nasty, stringy clumps? We've made the hurried mistake, more than once, of dumping the cheese into the pot and just expecting it to melt evenly.
When melting cheese, like you will in this soup, the key is to add a little, shredded, room temperature, cheese at a time, stirring to melt each addition before adding more. That way the cheese can be incorporated as it melts, and it will slowly and lovingly thicken and grab onto whatever it is supposed to be blanketing in cheesy goodness.
Our Slow Cooker CHEESY Vegetarian Enchilada Soup Recipe
This soup was inspired by a similar version containing chicken that I had recently at a restaurant.
We decided to lighten it up a bit by going vegetarian and skipping the heavy cream. The cheese really becomes the star here, adding just the right amount of saltiness and flavor to the slow simmered peppers.
Just a touch of sour cream is all you need to fill out the soup's creaminess and create a very indulgent-tasting, hearty bowl of soup.
Peppers Don't Have To Add Spice
A quick word about choosing peppers.
Poblanos and jalapenos lose most of their spicyness as they cook, so this soup doesn't carry too much heat. The poblano simmers with the soup to add flavor, and choosing a jalapeno that is free of any veins will be the most mild.
If you are still worried about the spice, or can't find poblanos, you can substitute a green pepper.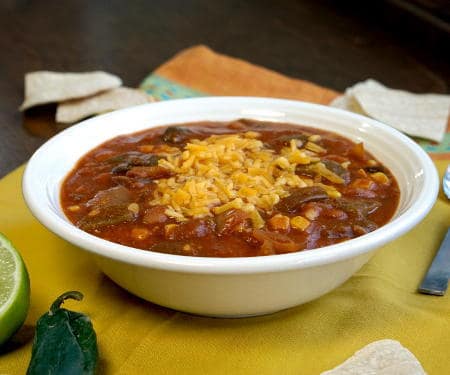 Slow Cooker Vegetarian Enchilada Soup
This slow cooker Vegetarian Enchilada Soup is packed full of flavorful peppers and hearty beans for a quick weeknight meal.
Yield: 6 cups
---
Ingredients
2

large

poblano peppers,

diced

1

green pepper,

diced

1

onion,

diced

½

c

pinto beans,

dry

4

c

water

1

(6 oz) can

tomato paste

¼

c

masa harina

or cornmeal

2

tsp

chili powder

1

tsp

garlic powder

1

tsp

cumin

1

tsp

salt

½

tsp

oregano

¼

tsp

celery seed
To Finish It Off
1 ½

c

corn

1

jalapeno

(smooth and free of veins), minced

¾

c

sharp cheddar cheese,

shredded

1

Tbsp

sour cream

2

tsp

lime juice

Extra cheese and sour cream

(for serving)
Instructions
In a 3-4 quart crock pot, mix chopped peppers, onions, and dry beans.

In a small bowl, whisk together tomato paste with 2 cups of water, masa harina and spices. Pour mixture over the vegetables and add remaining water.

Cover and cook on low for 6 hours or high for 4 hours.
Finishing It Off
Turn the crock pot to high and add the corn and jalapeno.

Slowly stir in cheese, ¼ c at a time, letting each addition melt before adding more.

Mix in sour cream and lime juice.

Taste the soup and adjust the salt and pepper to taste.

Serve topped with more cheese and sour cream if desired.
---
Recipe Notes
This can also be cooked on the stove top. Follow the steps as listed but simmer, covered, 1-2 hours before starting the finishing steps.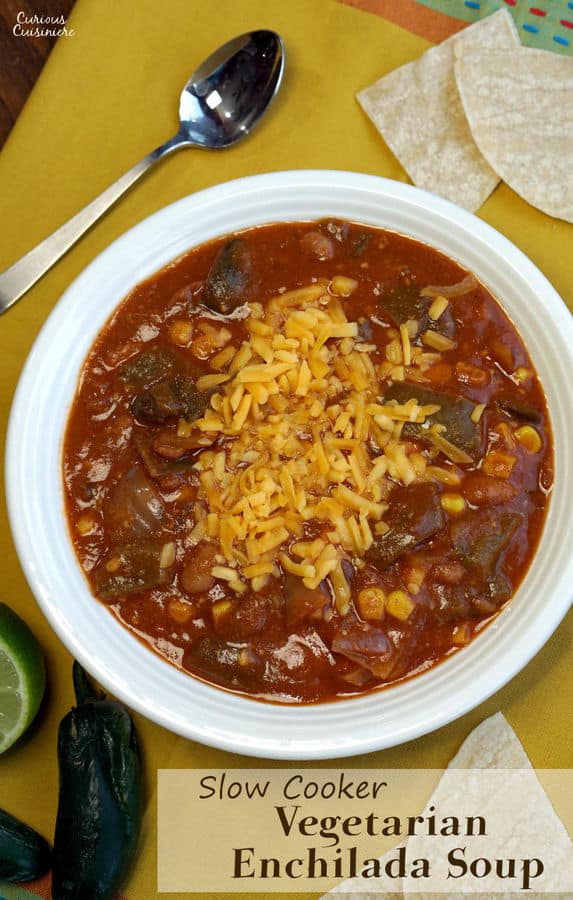 ---
This is one of the recipes from the early days of Curious Cuisiniere. We've updated our pictures since we first made it, but we've left the original images here as a fun throwback and shout out to how far we've come. Enjoy!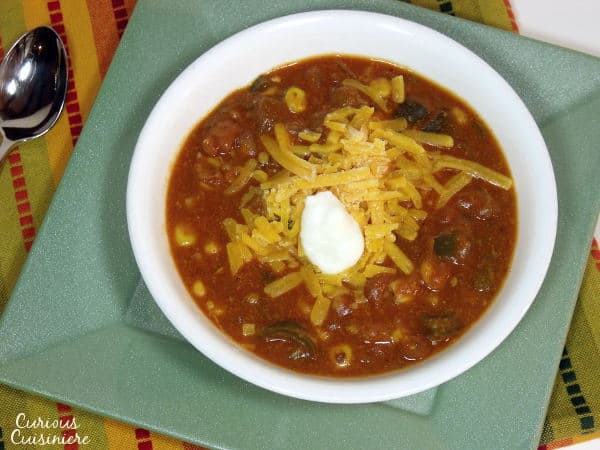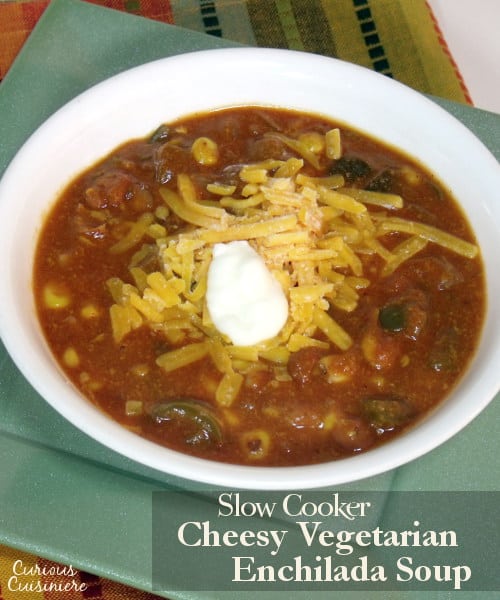 If you liked this recipe, here are some similar dishes you may enjoy!