Parmigiana di Melanzane, or Eggplant Parmesan, is a simple but elegant Italian recipe. Our version of this vegetarian dish is lighter than many and includes a Fresh Herb Tomato Sauce that is perfect for using end of season produce!
What do you think of when you hear "Eggplant Parmesan"?
I'm not going to lie. For the longest time I thought eggplant Parmesan was a super mushy dish, filled with soggy breadcrumbs and grease-laden eggplant.
It was not something I'd seek out.
But then I tasted a REAL version.
Seriously guys, eggplant Parmesan is a dish to dream about when it's made properly.
And it's not hard to make either!
So, do yourself a favor and stop wasting your time on soggy restaurant renditions.
Make your own at home!
The History of Eggplant Parmesan
Eggplant Parmigiana is a classic southern Italian dish.
In Italian, this dish is sometimes called "Melanzane alla Parmigiana," which would typically signify the city where the dish originated. (Think of "Spaghetti alla Bolognese," Bologna-style spaghetti.)
That would make this dish "Parma-style eggplants." However, this dish actually has nothing to do with the city of Parma in Northern Italy.
Rather, its name should be Parmigiana di Melazane, or "parmigiana of eggplants".
Tricky tricky.
So What Is A Parmigiana?
That becomes the real question.
Parmigiana is an Italian way of preparing food that dates back to the 14th and 15th centuries.
Both Sicily and Naples claim to have the origin of the cooking style, and no one really knows the true story.
However, Sicily seems to have the stronger claim for origin since the word "parmigiana" is very close to the Sicilian word "palmigiana," meaning "shutters," which speaks to the way the layered eggplant traditionally looks like slats on shutters. (Plus, eggplant was first introduced in the south of Italy, which is even more weight in favor of the idea that it is a Sicilian dish.)

How To Make Parmigiana di Melazane
In its most basic form, this dish is made up of eggplant that is sliced, then deep or shallow fried in olive oil, before being layered with a simple tomato sauce and cheese. After layering, the whole dish is baked until golden brown and bubbly.
As with any long-time classic dish, each version is slightly different.
The Neapolitan version gives the eggplant a flour and egg coating before deep frying, making it richer and heartier.
Sicilian versions tend to be more simple, frying just the eggplant slices.
Cooking With Eggplant
What is really important when cooking with eggplant is to salt the eggplant slices and let them set for about an hour before working with them.
Eggplant is a vegetable with LOTS of moisture. Salting the slices pulls out some of that moisture, meaning you won't end up with an overly soggy finished product.
What Cheese To Use In Eggplant Parmigiana?
The English translation of this dish to "Eggplant Parmesan," makes one think that it would be all about the Parmesan cheese.
But, we've already established that this dish has nothing to do with Parma. And, it has nothing to do with the cheese the region is known for either.
Fresh mozzarella is common in Naples, while sheep's milk Pecorino is common in Sicily.
Nowadays you'll find Parmesan being used too, but this Northern Italian cheese wouldn't have been common in this dish until much more recently in its history.
Our Eggplant Parmesan Recipe
For our eggplant Parmesan recipe, we're going with the more Sicilian style of cooking the eggplant, to make the dish a bit lighter.
Since deep frying can get messy, we just shallow fried the eggplant slices in about 1/2 inch of olive oil in a large skillet.
For the cheese, we went with easy to find mozzarella. However, if you have some Pecorino laying around, go ahead and substitute it!
Our sauce is a basic, fresh herb tomato sauce that is perfect for using up summer tomatoes and wonderfully fragrant fresh herbs.
Everything comes together into a wonderfully flavorful dish that tastes like summer, so it's perfect when you don't want those warm summer evenings to end!
Parmigiana di Melanzane (Eggplant Parmesan)
Bursting with fresh herbs and garden vegetables, this healthy Baked Eggplant Parmesan is the perfect summer weeknight dinner.
Yield: 1 (8x8) baking dish

Ingredients
2

medium

eggplants

1

Tbsp

salt

olive oil

(for frying)

3

c

tomato sauce

(see below)

8

oz

mozzarella cheese,

shredded

1/4

c

Parmesan cheese,

fresh grated
Instructions
Slice the eggplants ¼ - ½ inch thick. Sprinkle the slices with the salt and let stand in a colander for 1 hour to drain some liquid.

When you are ready to cook the eggplant, heat about ½ inch of olive oil in a skillet over medium high heat.

Pat the eggplant slices dry to remove any excess moisture. Add the slices, a few at a time, to the hot oil. Fry on both sides until lightly golden

Remove the slices from the oil and drain on paper towels. Continue until all the slices have been fried, reducing the heat (and adding oil) as necessary.

Preheat your oven to 400F.

In an 8x8 baking dish, start with a layer of sauce, then layer some eggplant slices, followed by a sprinkling of mozzarella cheese. Continue the layers until all the ingredients have been used or the dish is full, ending with sauce.

Sprinkle the Parmesan cheese over top.

Bake the dish at 400F for 25-30 minutes, until nice and bubbly

Remove the eggplant Parmesan from the oven and let the dish rest for 10 - 15 minutes for the juices to absorb before serving.
Notes
We updated this recipe from 2013 in September 2017 to make the Eggplant Parmesan more authentic. Enjoy!
Nutrition
Calories:
271
kcal
|
Carbohydrates:
42.5
g
|
Protein:
14.6
g
|
Fat:
7.1
g
|
Saturated Fat:
3.3
g
|
Cholesterol:
13
mg
|
Sodium:
1286
mg
|
Fiber:
10.5
g
|
Sugar:
17.3
g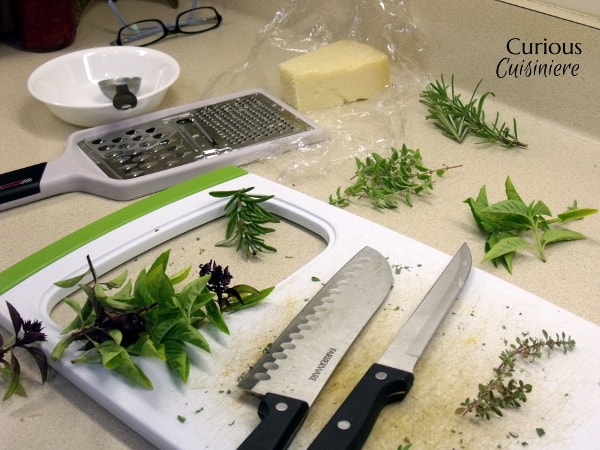 Homemade Fresh Herb Tomato Sauce
We made a Fresh Herb Tomato Sauce to use in this Eggplant Parmesan. The sauce can quite easily be made ahead, even made in large batches WAY ahead of time and frozen in portion-sized containers. (It is the perfect sauce for making over the summer, when herbs are abundant.)
But, if you don't have time to make your own sauce, then your favorite store-bought tomato sauce could easily be used for the Parmigiana.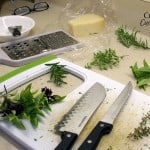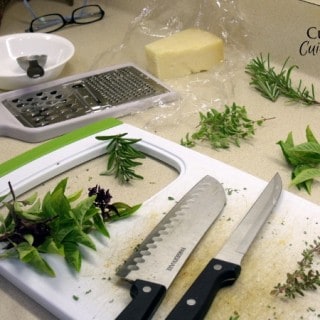 Print Recipe
Basic Fresh Herb Tomato Sauce
Bring your garden's fresh herb bounty into a delicious fresh tomato sauce.
Yield: 3 c of sauce

Ingredients
¼

onion,

diced

1

clove

garlic,

minced

½

tsp

olive oil

1

(14 oz) can

diced tomatoes,

undrained (or two large tomatoes, diced)

1

(6 oz) can

tomato paste

1

c

water

1

Tbsp

balsamic vinegar

1

Tbsp

fresh basil,

chopped (or 1 tsp dry)

1

Tbsp

fresh oregano,

chopped (or 1 tsp dry)

1 ½

tsp

fresh rosemary,

chopped (or ½ tsp dry)

1 ½

tsp

fresh thyme,

chopped (or ½ tsp dry)

1

tsp

sugar

3/4

tsp

salt

1/4

tsp

ground black pepper
Instructions
In a 1 quart saucepan, heat oil. Add onions and garlic and sauté until fragrant (3-5 min).

Add remaining ingredients and heat to a simmer. Simmer stirring often, for 5 min.


Serve immediately or let cool and refrigerate for up to a week. (Or freeze for later use.)

Notes
We updated this recipe from 2013 in September 2017. We've made the sauce even better! Enjoy!
Nutrition
Calories:
67
kcal
|
Carbohydrates:
14
g
|
Protein:
3
g
|
Fat:
101
g
|
Sodium:
335
mg
|
Fiber:
3.6
g
|
Sugar:
8.1
g
---
This is one of the recipes from the early days of Curious Cuisiniere. We've updated our pictures since we first made it, but we've left the original images here as a fun throwback and shout out to how far we've come. Enjoy!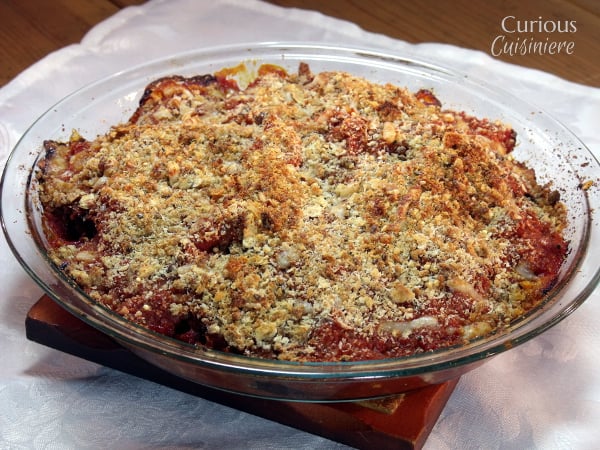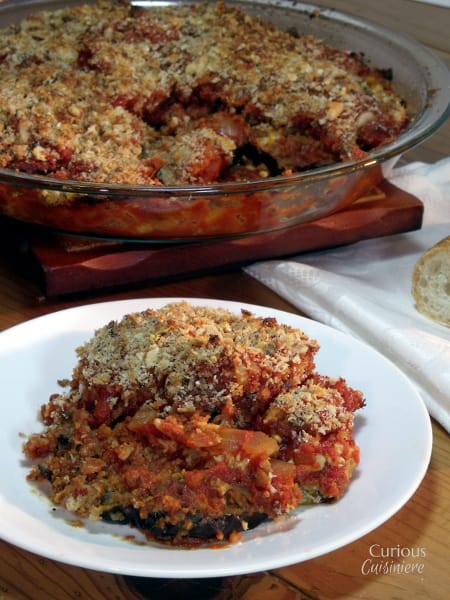 ---
Disc
Save
Save
Save
Save
Save
Save
Save
Save
Save
Save
Save
Save
If you liked this recipe, here are some similar dishes you may enjoy!