Our crock pot Minestrone is not a wimpy soup. Full of chunky vegetables and laden with herbs, this is some serious comfort food made easy in your slow cooker.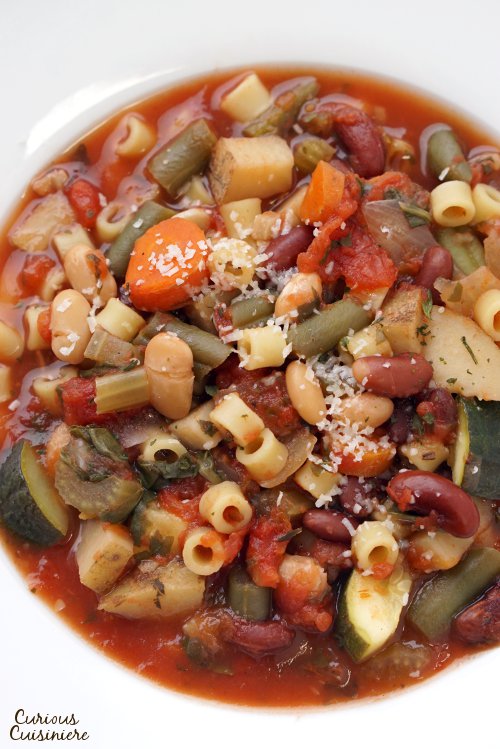 I think it's funny how some Americans have an idea that Minestrone is somehow a wimpy, broth-based soup with a handful of diced veggies and some pasta thrown in for substance.
That could't be further from the truth.
All you have to do is take a look at the name. But, unfortunately for those of us who don't know Italian, that can be a bit easier said than done.
So, let's have a look.
Hearty Italian Minestrone Soup
The Italian word for soup, minestra, comes from the Latin minestrare meaning "to serve."
Traditionally, minestra was served from a big pot placed in the center of the table. Everyone would help themselves to bowls of comfort from this one big pot.
Minestra could be any kind of soup, but they were always hearty and substantial, served as the main course of the meal. (Not a starter or after-thought to your lasagna.)
Minestrone is just one type of minestra.
In Italian, you add -one/-ona/-oni to the end of a word to signify largeness.
So, the main dish of minestra becomes minestrone! And you have a hearty soup that gets even bigger.
Minestrone is literally "big soup"!
That doesn't sound wimpy to me.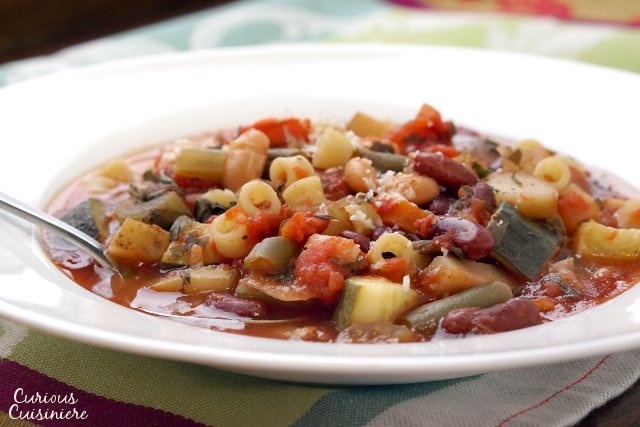 Chunky Crock Pot Minestrone
Minestrone is, in fact, a very substantial vegetable soup that is cooked slowly over a low heat to give it a deep and mellow flavor.
Beans or another 'thickening vegetable' are added to turn this broth-based soup into a thick and hearty soup.
There isn't a rigid formula for minestrone, so the soup will take on different looks, feels, and flavors depending on what vegetables are in season and what flavors the chef wants to capture.
What Kind Of Pasta For Minestrone Soup?
It is traditional to use smaller pasta in minestrone soup.
Elbows or ditalini tend to be most common because they are about the size of chopped veggies and are the perfect size for your spoon.
Feel free to use whatever small pasta you have on hand though. Or, take some longer spaghetti or fettuccine noodles and break them up to spoon-sized.
It's all about making the minestrone your own!
Our Slow Cooker Minestrone Recipe
To us, a "big soup" means bring on the chunky veggies, and load this soup up with lots of flavors and colors!
Since minestrone is traditionally cooked low and slow, it is the perfect candidate to make in the slow cooker.
Our crock pot minestrone lets the flavor of a Parmesan cheese rind and may herbs infuse the soup as it simmers all day long.
Then, a little bit before serving, we add in the softer vegetables and dry pasta. Zucchini, green beans, and spinach only need a little cooking to warm them through. (We don't want any soggy or mushy veggies in our big soup!)
Believe it or not, pasta only takes about 20-30 minutes to cook from dry in the slow cooker, so we just throw it right it dry and let it soak up those nice, slow cooked flavors!
Now that's what we call easy comfort food!
Chunky Minestrone
Our Crock Pot Minestrone is not a wimpy soup. Full of chunky vegetables and laden with herbs, this is some serious comfort food made easy in your slow cooker.
Yield: roughly 10 cups of soup
---
Ingredients
3

carrots,

diced

2

celery stalks,

diced

2

small

potatoes

1

onion,

diced

4

garlic cloves,

minced (or 1 tsp garlic powder)

½

c

dry navy beans,

soaked overnight

½

c

dry kidney beans,

soaked overnight

2

(14.3 oz) cans

diced tomatoes,

4

c

water

or vegetable broth

2

Tbsp

tomato paste

2

bay leaves

1

tsp

oregano

1

tsp

parsley

½

tsp

thyme

½

tsp

rosemary

½

tsp

ground black pepper

1

oz

Parmesan cheese rind

(optional)

1

small

zucchini,

diced

1

c

green beans

(thawed if frozen)

1

c dry, small

pasta

(elbows or ditalini are traditional)

1 ½

c

fresh spinach,

chopped

1

tsp

salt
Instructions
Place chopped vegetables in the bowl of a 3-4 qt slow cooker. Add the soaked beans, tomatoes, water (or broth), tomato paste, spices, and Parmesan rind.

Cook on low for 8-10 hours, or on the high for 5-6 hours.

Add the zucchini, green beans, dry pasta, spinach, and salt.

Turn the heat to high, and cook for 20-30 minutes, until the pasta is done to your liking.

Remove bay leaves and Parmesan rind before serving. Sprinkle with extra Parmesan cheese to serve, if desired.
---
Recipe Notes
This recipe from 2015 was updated in February 2018. We made the minestrone soup even more authentic! Enjoy!
---
This is one of the recipes from the early days of Curious Cuisiniere. We've updated our pictures since we first shared it, but we've left some originals here, in case you've found us in the past and are looking for that old, familiar image.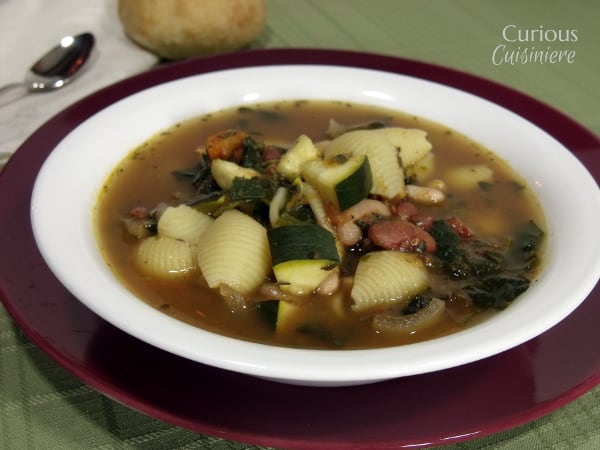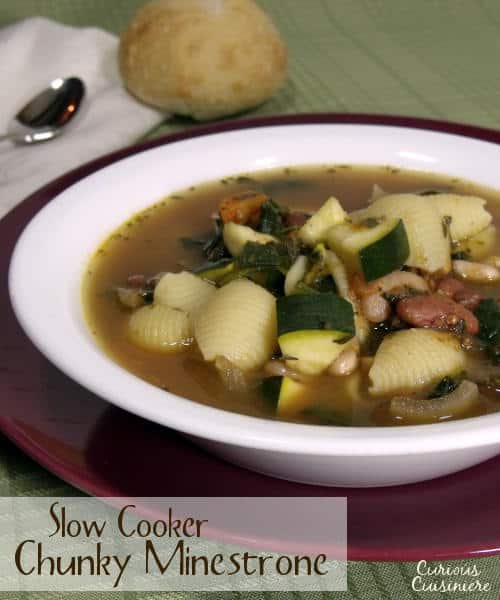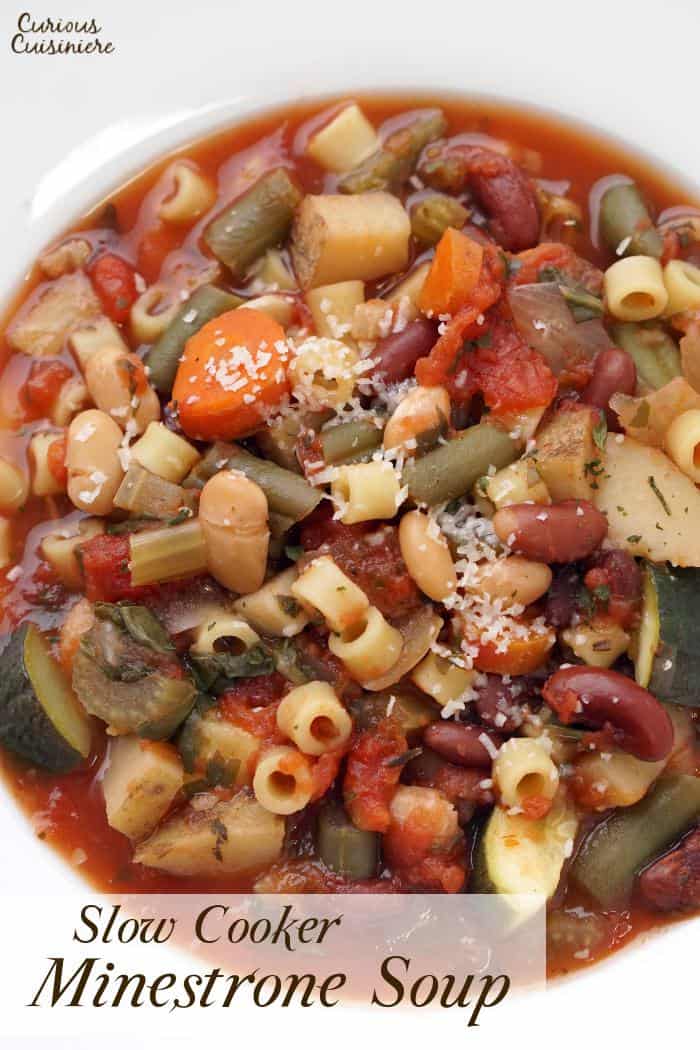 ---
If you liked this recipe, here are some similar dishes you may enjoy!