Creamy risotto studded with spring green peas and bursting with lemon, herbs, and savory richness. This recipe for Spring Pea Risotto is the perfect way to greet the changing seasons.
What is Piquepoul?
Today we're learning about a new kind of wine grape. Piquepoul (Picpoul) is a grape variety grown primarily in the Languedoc region in the south of France.
The grapes can be white or dark skinned, but the white variety is the most common.
Piquepoul wine will most often be found as a part of a blend, but we were lucky to find a version that highlighted this unique grape: Picpoul de Pinet.
Picpoul de Pinet is a special wine made exclusively from white Piquepoul grapes from a select number of growers. We were lucky to find a bottle from the winery La Chenille Picarela.
The caterpillar on the label does make this bottle stand out. But, it's not just for marketing purposes. She is called Lo Porquet (the "seductress caterpillar').
The vineyards used to have a big problem with invasion by this caterpillar, and the only way the villagers found to combat this enemy was to celebrate it as a totem and drive it out of the vineyards by dancing and singing.
To this day the villagers dance and sing every July at the Lo Porquet Celebration to keep the caterpillar away from their crops. (Information from CoolVines and Ville Montagnac.)

Pairing Picpoul de Pinet Wine
The Picpoul de Pinet has a crisp and clean flavor, with a bit of dryness that gave the wine a nice weight and balance. It is a perfect sipping wine with a light acidity.
Being from a region near the Mediterranean, it pairs well with seafood, shellfish, and other Mediterranean-style dishes.
Even though it is bright and crisp, it does have enough weight to make it pair surprisingly well with cheeses. And, we found it to be the perfect complement to our creamy and bright Spring Pea Risotto.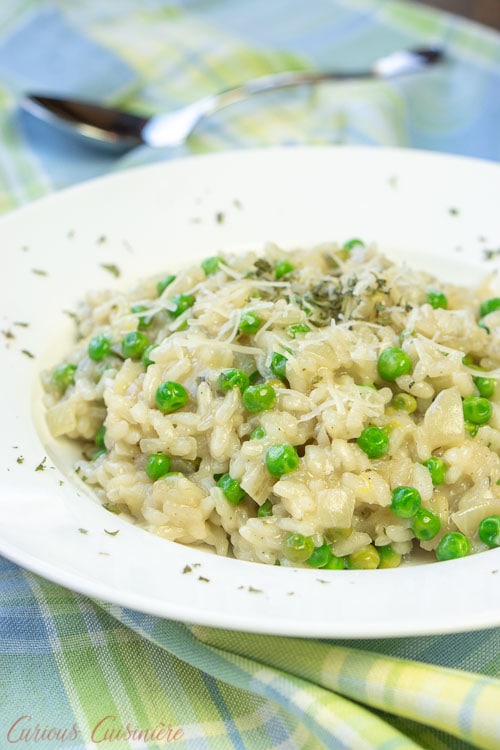 Our Spring Pea Risotto Recipe
This risotto brings on the spring flavor with a lemony overtone.
The cheese and herbs give it a savory richness that complement the brightness of the lemon.
Peas add a nice color pop and bring a fresh and slightly earthy element to the dish.
We found that the brightness of the Picpoul balanced perfectly with the acidity of the lemon in the risotto, while the wine's dryness complemented the creamy richness of the cheese and starches.
It was a beautiful pairing, perfect for spring.
Spring Pea Risotto
Creamy risotto studded with spring green peas and bursting with lemon, herbs, and savory richness.
Yield: 5 cups of risotto
Ingredients
1

Tbsp

salted butter

1

onion,

minced

½

tsp

salt

¼

tsp

bround black pepper

2

garlic cloves,

minced

1

c

Arborio rice

½

c

semi-dry white wine

(Pinot grigio works well)

3 - 3 ½

c

vegetable broth,

(low sodium), warmed

¼

c (1 oz)

Asiago cheese,

fresh grated

1

c

peas

(fresh or thawed from frozen)

½

lemon,

zested and juiced (roughly 1 Tbsp juice)

¼

tsp

mint,

dry, or 3/4 tsp fresh, chopped, dry

¼

tsp

parsley,

dry, or 3/4 tsp fresh, chopped
Instructions
Heat butter in a large skillet with high sides. Add onions, salt, and pepper. Saute over medium heat until the onions begin to soften, 5 min. Add the garlic and saute for an additional 1-2 minutes.

Add the rice and toast for 1-2 minutes.

Add the white wine and simmer over medium low heat until absorbed, stirring frequently, 5-7 minutes.

Add the vegetable broth, a ½ cup at a time, simmering and stirring often until each addition is absorbed before adding more, until the rice is tender and creamy. 20-30 min.

Once the risotto is tender and creamy, add the cheese, peas, lemon zest and juice, mint, and parsley. Stir to incorporate and heat until the cheese is melted and the peas are heated through, 3-5 min.
Notes
Risotto can be made ahead of time by cooking the rice using only 2/3 of the liquid called for (it will still be firm). Set your par-cooked risotto aside until you are ready to finish the cooking. (Or refrigerate, covered, in a large, flat container overnight. Remove the par-cooked risotto from the refrigerator 2-3 hours before finishing cooking, to bring to room temperature.) To finish cooking, heat the remaining liquid in a wide saucepan. Add the par-cooked risotto and continue cooking until your desired consistency is reached. Then, add the peas and other flavorings.
This recipe from 2015 was updated in April 2019.
Nutrition
Serving:
2
g
|
Calories:
395
kcal
|
Carbohydrates:
63.4
g
|
Protein:
13.8
g
|
Fat:
5.7
g
|
Saturated Fat:
2.9
g
|
Cholesterol:
12
mg
|
Sodium:
1158
mg
|
Fiber:
5.1
g
|
Sugar:
5.2
g
---
Take a look at these tasty spring inspired food and wine pairings!
David of Cooking Chat started #WinePW in June of 2014, and every month since then this group of wine and food lovers have had a great time! For more background, check out the original post announcing Wine Pairing Weekend. You can see the full list of past and upcoming #winePW events here.
---
This is one of the recipes from the early days of Curious Cuisiniere. We've updated our pictures since we first shared it, but we've left some originals here, in case you've found us in the past and are looking for that old, familiar image.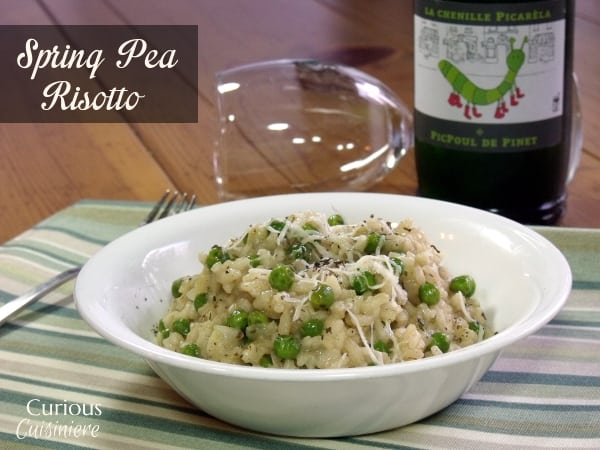 If you liked this recipe, here are some similar dishes you may enjoy!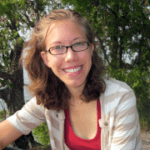 Sarah is one of Curious Cuisiniere's founding duo. Her love for cultural cuisines was instilled early by her French Canadian Grandmother. Her experience in the kitchen and in recipe development comes from years working in professional kitchens. She has traveled extensively and enjoys bringing the flavors of her travels back to create easy-to-make recipes.