You don't have to wait until summer's harvest to enjoy fresh basil pesto! This basic pesto recipe is perfect for freezing so you can enjoy it all year long.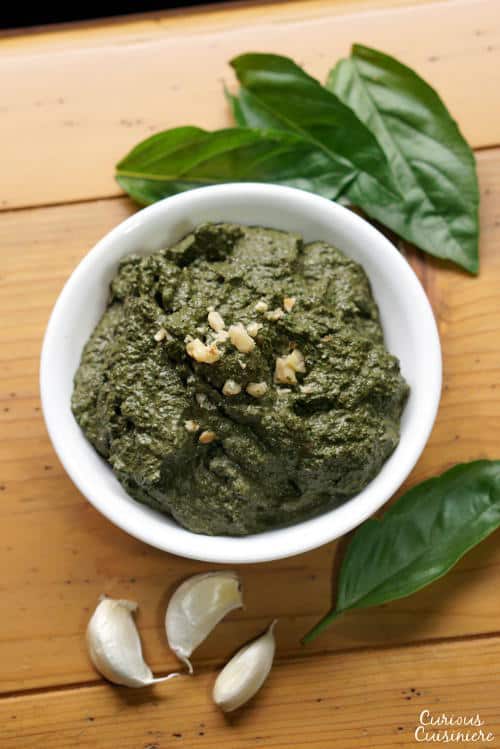 What to do with all the fresh basil from this year's garden plants that are growing out of control?
Make pesto!
Pesto makes a wonderful sandwich spread, dip, and, let's not forget, pasta sauce. And, you can freeze pesto to have a taste of summer all year round.
There are MANY varieties of pesto. We've made Broccoli Pesto, Avocado Sunflower Pesto, Classic Pesto, and a Lemony Avocado Pesto.
What is traditional pesto?
The name pesto is derived from an Italian word which means "to pound." So, when it comes right down to it, you can pound (or in our case blend) nearly anything together and still call it a pesto.
But traditionally, Italian pesto is made with basil, pine nuts, Parmesan cheese, garlic and olive oil.
This is, and will always be, the classic sauce.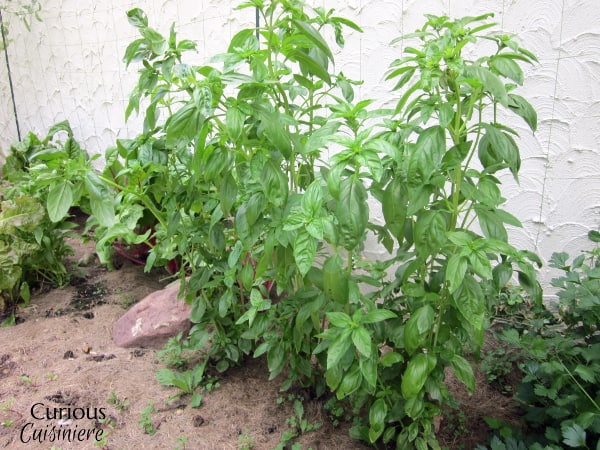 Pesto was originally created by pounding the ingredients together to form a paste. And, contrary to the oily American versions, olive oil was just added by a drizzle or two in the final steps to give the mixture that final push to come together nicely.
Now that we have food processors, a bit of the art to pesto-making has been lost, along with the texture that only hand-creation can achieve. But, in many cases, the trade off for easy pesto is worth it.
I couldn't imagine hand grinding or chopping the overflowing armfuls of basil that our plants are kicking out right now.
But, I would have some serious arm muscles when I was done.
Fresh basil pesto in the food processor
The food processor is our weapon of choice when making big batches of pesto to freeze for the winter. We always think that all those leaves will never fit. And, I still maintain that there is a bit of magic in there somewhere to get 9 cups of leaves to become just under 2 cups of pesto.
Where did it all go!?
Mmm. Concentrated deliciousness.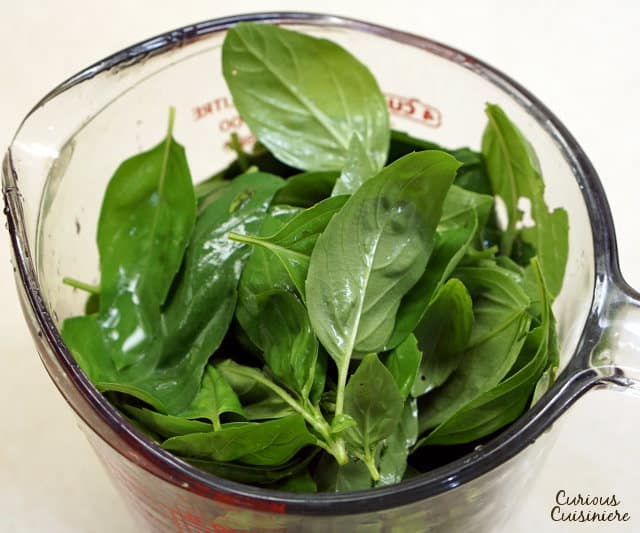 Freezing homemade pesto
Freezing the pesto by the tablespoon in ice cube trays gives you a bag of pre-portioned cubes that can be popped into any sauce or even straight into a steaming bowl of pasta.
If a tablespoon of pesto is way to little for your needs, you can freeze pesto in larger quantities too. We keep a couple of plastic sour cream or cottage cheese containers just for this purpose.
To freeze the pesto in larger batches, freeze 1-2 cups of pesto in the containers for 24 hours, then take them out of the freezer and warm the containers in some warm water just enough that the frozen pesto will pop out. Then, you can store all the pesto blocks in a Ziploc bag in the freezer for later use.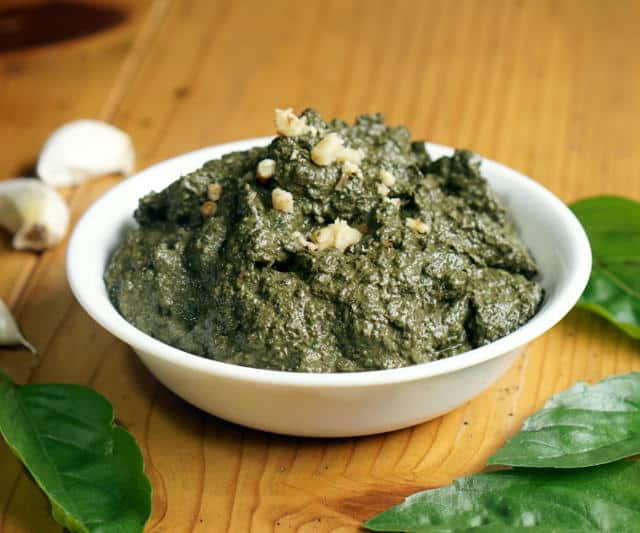 A basic pesto recipe
We like to keep our pesto cubes very basic, so that we can have the flexibility to add other flavors when we pull them out to cook.
Our pesto is so basic, in fact, that we don't even add the cheese. The fact is, we've frozen pesto with cheese and without, and we find that the flavor and texture of the cheese is more profound when we add it to the sauce or dish right before serving. And, we're all about getting the most flavor pop out of our cheese!
Freezing pesto without the cheese also lets us enjoy a lighter pesto if we're feeling the bright basil flavor without the heaviness of the cheese.
One other adjustment to traditional pesto that you will notice in our recipe is that instead of pine nuts, we use walnuts. Walnuts are a bit easier on the pocketbook when you're making big batches of pesto, and honestly,  flavor-wise, we can't tell too much of a difference.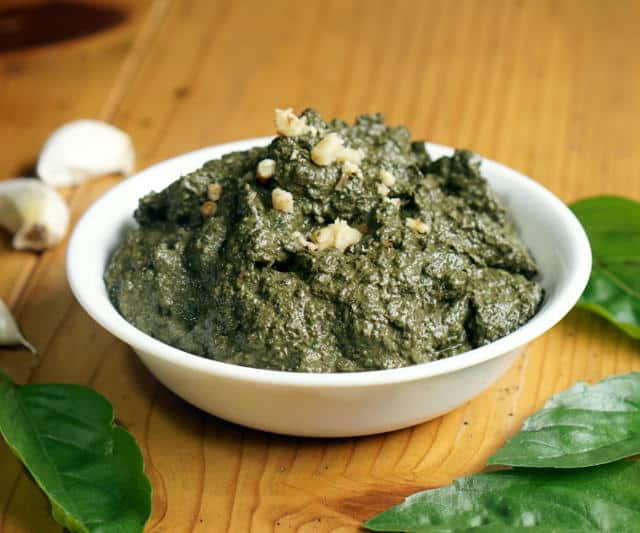 Basic Basil Pesto
You don't have to wait until summer's harvest to enjoy fresh basil pesto! This basic pesto recipe is perfect for freezing so you can enjoy it all year long.
Yield: Roughly 2 c
---
Ingredients
6

garlic cloves,

peeled

1

c

pine nuts

or walnuts

1

tsp

salt

9

c (9 oz)

fresh basil leaves,

washed and dried

2

oz

Parmesan cheese,

fresh grated (roughly 1 cup)*

1/2

c

extra virgin olive oil
Instructions
Place the garlic cloves and nuts in the bowl of a food processor. Process until a smooth paste forms. (Add a little of the olive oil if necessary to get the paste to form.)

Add the salt and basil leaves, a few at a time, being careful not to over-pack the processor. Pulse the processor to chop the leaves down, and continue until all the leaves have been added and chopped fine.

Add your grated Parmesan cheese and process until incorporated.

Add the olive oil, slowly, as needed for the mixture to form a smooth pesto with the consistency you desire.

Once the pesto has been made, it can be frozen the tablespoonful in ice cube trays. After 3-4 hours, the cubes can be removed from the trays and placed in a freezer bag for later use.
---
Recipe Notes
*We don't add the Parmesan cheese if we are going to freeze the pesto. We will simply add the cheese to whatever dish we are making with our frozen pesto. 
This recipe from 2014 was updated in May 2017. We made the pesto even better! Enjoy!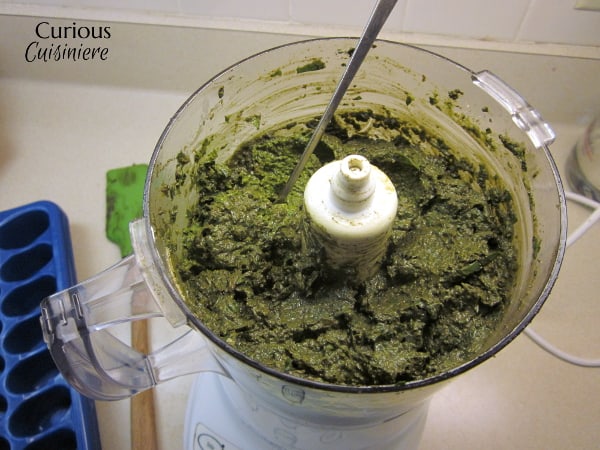 If you liked this recipe, here are some similar dishes you may enjoy!