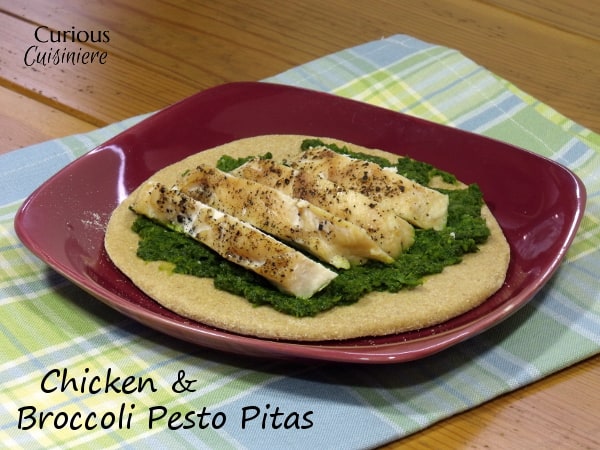 Summer gardening is a great way to get the family outside together. As kids watch the plants grow, they gain an appreciation of where their food comes from, and they may even try new (healthy) foods!
A basil plant is a great plant for kids to start with growing their own food. It can take quite a beating, but still produce tons of basil that can be used in all sorts of dishes and sauces.
I recently met a family with a mother who is very committed to getting her kids outdoors and into the garden as a way to stay active in the summer and teach her kids about the food they eat. Her seven year old boy proudly exclaimed to me "We have TONS of basil. But that's great, because that means we can have pesto ALL THE TIME!"
What seven year old loves pesto? Apparently starting your kids learning about their food really does help develop their palates to appreciate good, quality food.
We love pesto too, but sometimes we just don't want all the oil and nuts that give this spread its wonderful, creamy texture. Sometimes, we just want something a bit lighter. A pesto we don't have to feel the least bit guilty about SLATHERING on!
So, we grabbed our basic pesto recipe, but instead of nuts and extra oil, we steamed up some broccoli from our garden. The broccoli's earthy flavor blended right in to the pesto and the color was perfect!
This pesto could become a quick dinner in a number of different ways, but we decided to add some leftover chicken and whole wheat pita bread. And, this healthy, highly nutritious meal comes together so quickly!  (If you have 45 minutes to spare, try making the Pita Bread yourself!)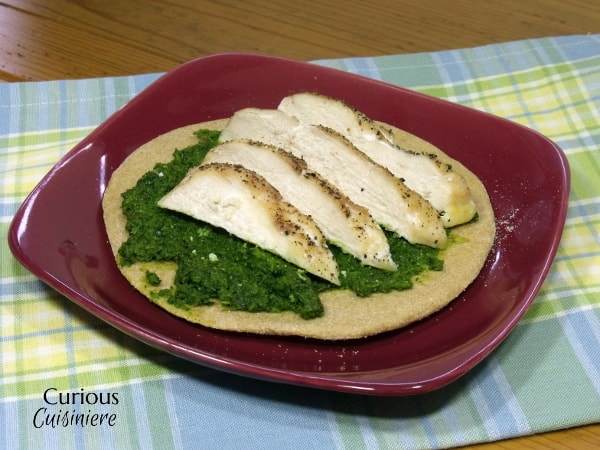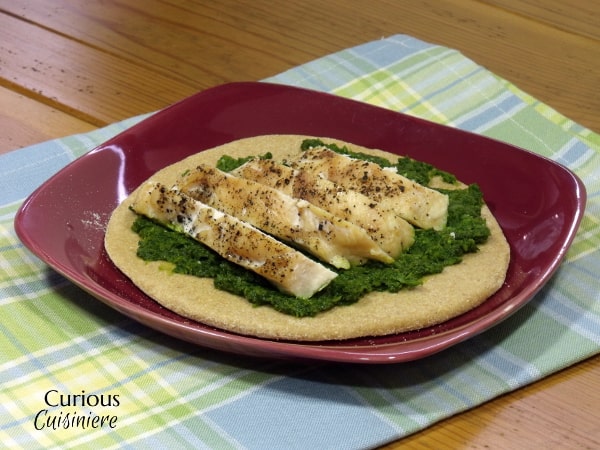 Chicken and Broccoli Pesto Pitas
Yield: roughly 2 c of Broccoli Pesto
---
Ingredients
For the Pesto
1

lb

fresh broccoli,

stem and all

1

tsp

garlic powder

1

Tbsp

olive oil

1

oz

Parmesan cheese,

grated

1

c

fresh basil,

packed

½

tsp

salt

¼

tsp

ground black pepper
For the Pitas
1

lb

cooked chicken breast*
Instructions
For the Pesto
Chop the broccoli into 1" pieces and place in a medium saucepan with ½ c of water. Cover and bring to a simmer. Steam the broccoli for 4-5 minutes, until bright green and tender. Remove from the heat and let cool slightly.

Place the cooked broccoli, garlic, olive oil, parmesan cheese, basil, salt and pepper in the bowl of your food processor. Blend until smooth, adding as much of the broccoli steaming liquid as needed to create a smooth paste (2 Tbsp – ¼ c).
For the Pitas
Smear some broccoli pesto on (or in) your pita bread and top with slices of leftover chicken.
---
Recipe Notes
*Feel free to use any leftover chicken you have on hand: roasted, shredded, grilled, etc.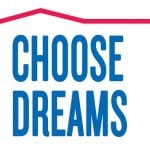 As part of the #ChooseDreams initiative from American Family Insurance #WeekdaySupper is bringing you healthy recipes for a fit and active family lifestyle.
Be sure to visit American Family Insurance for more information and follow the Family Healthy Fit Lifestyle #ChooseDreams Pinterest board for healthy recipe inspiration.
You can also connect with American Family Insurance on Facebook, Twitter, Pinterest, Google +, Youtube, and LinkedIn.
Take a look at this week's Weekday Supper menu for more recipes for your family's healthy and fit lifestyle!
Monday – Turkey and Barley Casserole by Cindy's Recipes and Writings
Tuesday – Warm Shrimp and Avocado Salad by Family Foodie
Wednesday – Caprese Chicken Panzanella Salad by Peanut Butter and Peppers
Thursday – Pizza Margherita by That Skinny Chick Can Bake
Friday – Chicken and Broccoli Pesto Pitas by Curious Cuisiniere
This post is sponsored by American Family Insurance. All opinions are my own.
If you liked this recipe, here are some similar dishes you may enjoy!