Pumpkin infused homemade pasta makes the perfect vessel for a creamy tarragon cheese filling in this fall Pumpkin Ravioli Recipe.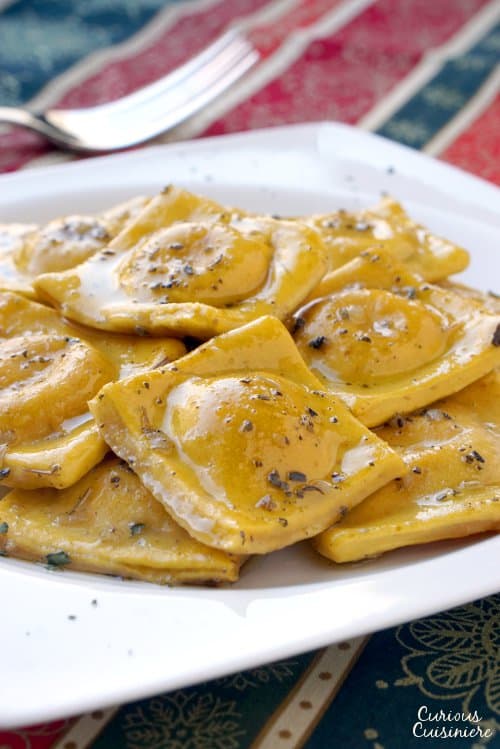 We all have them. That spice or herb that we bought (or were given) that we just don't know how to use. So it stays, tucked away, out of sight and out of mind. Maybe every now and again you'll pull it forward thinking "If I see it, I'll use it."
But, alas, eventually, it just gets pushed to the back again. And, the cycle continues.
For us, one of those herbs is tarragon.
What Is Tarragon?
Tarragon is a French herb. It is savory, but it has a a unique flavor that blends sweet anise and vanilla.
I think this sweet and savory combo in an herb is a bit foreign to us in the States, so we tend to steer away from it unless a recipe specifically calls it out.
However, in Mediterranean and French cooking, it is incredibly common.
Tarragon is actually quite a neat herb. It has the highest antioxidant content of any of the more common herbs. It works to stimulate the appetite and lower blood sugar levels. And, it's a good source of vitamins and minerals.
All the reason to get a bit more tarragon into your diet.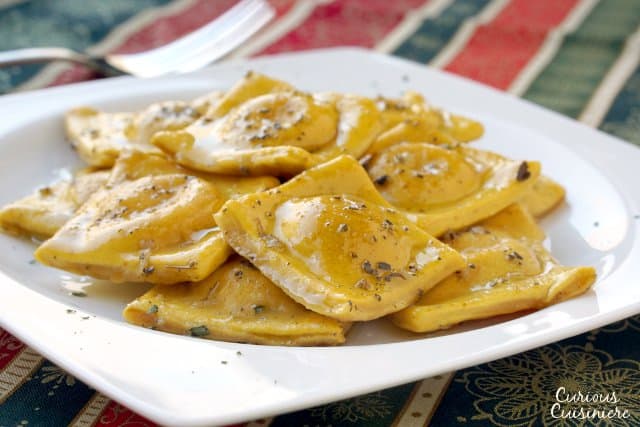 How To Use Tarragon
So how on earth do we use this powerhouse French herb?
Tarragon is more commonly used in French and Mediterranean cooking, where it is very often used with fish, lamb, poultry and eggs.
It is also a common ingredient to find blended sauces, seasoned butters, dressings, and flavored vinegars.
The most well-known use for tarragon is a French Béarnaise sauce, which is a type of Hollandaise sauce that is typically found gracing grilled steaks.
If you've eaten at a fancy French restaurant, you've probably had tarragon and didn't even realize you were eating it!
Tarragon Paired With Pumpkin
What we found is that the sweet and savory flavors of tarragon also lend themselves incredibly well to pairing with another ingredient that tends to be a bit sweet and savory: pumpkin.
While not a traditional use of the herb, the combo of pumpkin and tarragon is a fun change from the classic fall herbs that we typically see paired with pumpkin.
Our Pumpkin Ravioli Recipe
For our pumpkin ravioli, we didn't just stick some pumpkin in the filling of traditional ravioli.
Nope. We wanted to go all out.
So pumpkin puree finds its way into our ravioli dough, giving these ravioli a fun orange color and light pumpkin-y flavor.
(If you've never made homemade ravioli before, don't worry. Just check out our tutorial on homemade ravioli. Soon, you'll be showing off your mad ravioli making skills!)
As for the tarragon, it since it naturally pairs well with creamy elements, it's no surprise that it is a perfect match for the creamy ricotta cheese in the filling of these pumpkin ravioli.
We used the tarragon again in the butter sauce that we serve the pumpkin ravioli with. This light sauce is the perfect way to accent the flavors of the ravioli and give your taste buds an extra experience of this unique herb.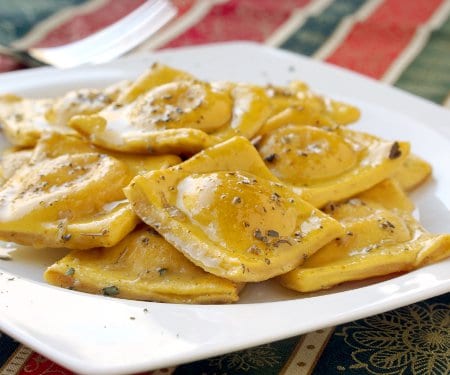 Pumpkin Ravioli with Tarragon
Pumpkin infused pasta makes the perfect vessel for a creamy tarragon-spiced cheese filling.
Yield: 50 ravioli
---
Ingredients
For the Filling
1

c

ricotta cheese

2

tsp

tarragon,

dry*

½

tsp

salt
Finishing It Off
1

tsp

salt

Extra virgin olive oil

(to drizzle)

Tarragon

(to top)*
Instructions
Making the Ravioli Dough
Place 2 c of flour on a clean, dry kneading surface. Make a well in the center and crack the egg into the well. Scramble the egg in the well lightly with a fork.

Add the pumpkin puree, salt and nutmeg. Continue mixing with the fork until the dough is too stiff for the fork. Switch to your hands and begin kneading the dough.

Knead the dough for 5-7 minutes until a soft, but not sticky dough forms. Add the additional ½ cup of flour, as needed to keep the dough from sticking. (You know you have the right consistency when you can knead the dough about 10 turns without it sticking to your hands.)

Wrap the dough in plastic wrap and refrigerate for 30 minutes to allow the gluten to soften.
For the Filling
While the dough is resting, mix the filling ingredients together in a medium bowl. Cover and refrigerate until you are ready to use. (Letting the filling set, mixed, allows the flavors of the tarragon to begin penetrating through the filling. This can be done up to a day ahead of time.)
Constructing the Ravioli
When you are ready to make your ravioli, remove the dough from the refrigerator and roll it out into a 20x20" square on a lightly floured surface. (We found that occasionally flipping the dough and adding a bit more flour to the surface kept it from sticking to the counter and made rolling easier.)

Once the dough has been rolled out, cut the dough in half.

On one rectangle, place a ½ tsp of filling roughly 2 inches apart. (You should have 10 columns and 5 rows of filling dollops, for 50 ravioli total.)

Moisten the dough between the filling with a bit of water. (This will help the pasta to stick together better.) Place the other half of the pasta dough over the filling.

Cut the dough into squares around each filling dollop and press the edges firmly together.
To Cook The Ravioli **
Bring a large pot of water to a boil and add 1 tsp of salt. Add the pasta, a few at a time so the pot is not too crowded. Keep the water at a gentle simmer and cook the pasta for 1-2 minutes, until it is tender. (Pasta is done when it remains floating at the top of the water.)

Remove cooked ravioli from the boiling water and place into a bowl. Drizzle with a little olive oil to keep them from sticking to each other.

Repeat as needed until all the ravioli have been cooked.

Top the ravioli with additional tarragon to serve. (If desired.)
---
Recipe Notes
*Don't have tarragon? This recipe works just as well using sage! 
**To Freeze Ravioli For Later: Place the shaped (un-cooked) ravioli on a baking tray lined with parchment paper. Place the tray in the freezer and freeze the ravioli for 3-4 hours, until firm. Then, transfer the frozen ravioli to an air-tight container and store in the freezer for up to 2 months. To cook, simply pop the frozen ravioli into boiling water and cook for 3-4 minutes.
---
This is one of the recipes from the early days of Curious Cuisiniere. We've updated our pictures since we first shared it, but we've left some originals here, in case you've found us in the past and are looking for that old, familiar image.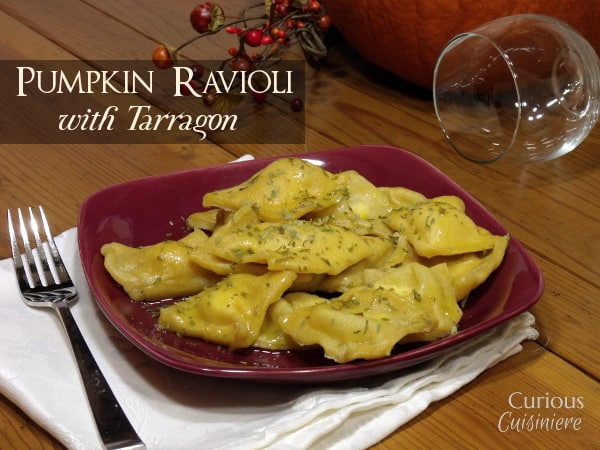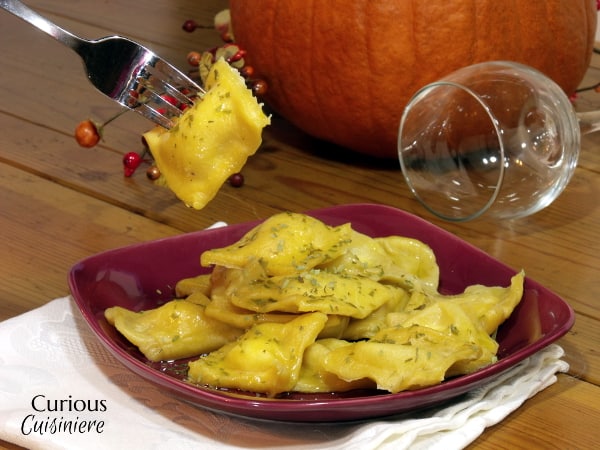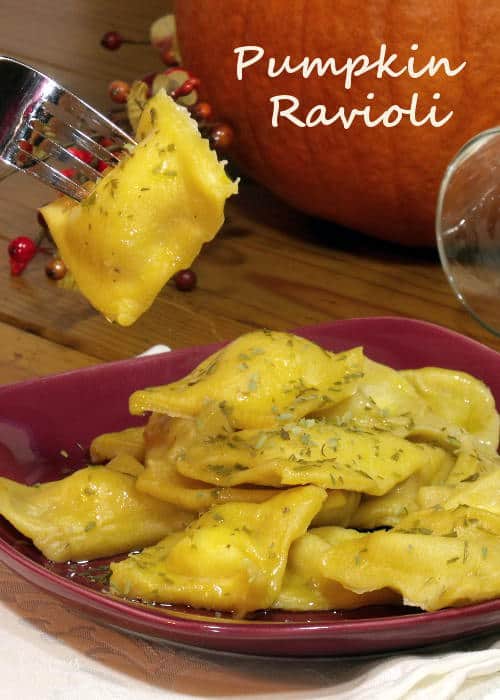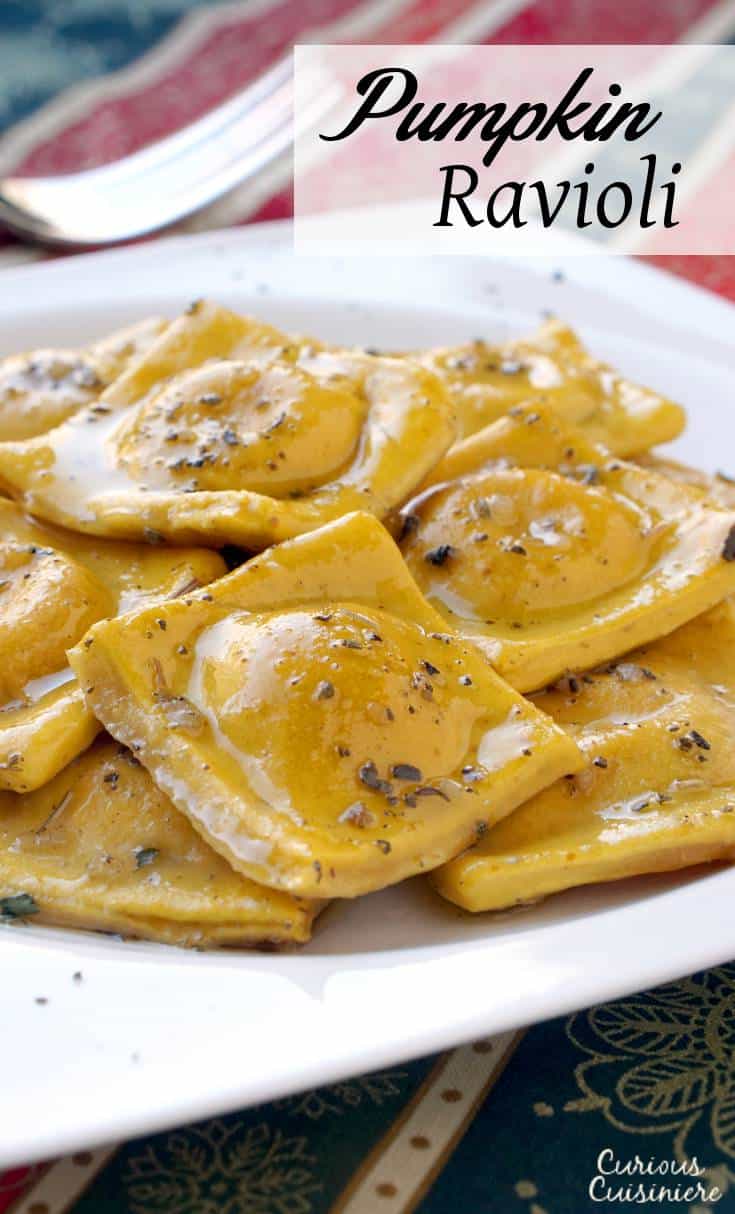 ---
If you liked this recipe, here are some similar dishes you may enjoy!