We all know Chianti wine and pasta sauce are a perfect pairing, but now you can infuse the wine into your sauce with our Chianti Pasta Sauce recipe! 
"Everyone is searching for a Brigadoon"
That little piece of heaven, right here on earth, which brings you the peace of knowing you are right where you should be.
That is Brigadoon.
And, any visitor to Brigadoon Winery in Tripoli, Wisconsin can tell that using their talents to create beautiful, unique wines is Brigadoon for this family.
Brigadoon Winery
During a recent trip to Northern Wisconsin, we found ourselves with a dreary day. The Lake Minoqua was grey and moody, the sky couldn't decide if it wanted to rain or just sulk, and everything was damp.
We had our fill of board games and puzzles, and we were looking for something different to do for the afternoon.
Flipping through some brochures, we came across one for Brigadoon Winery, and even though Tripoli was nearly an hour drive, we decided it could be a fun adventure.
After all, good wine is worth the drive. Am I right?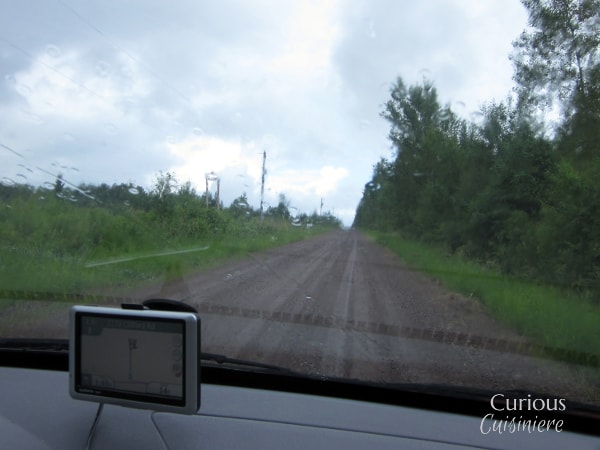 Now, to be completely honest, as we turned off the two lane country highway onto a long dirt road, we started to wonder what was in store for our impromptu adventure. Would it be a great off-the-beaten-trail find, or would it be a bit… interesting?
Another mile down the road we saw an unmistakable sign and turned in to a small gravel parking lot. The grape vines to our left and inviting wooden porch to our right confirmed we were in the right place.
A bell rang as we entered into a cozy retail shop with a wine-tasting bar nestled to one side. There was a rustling down the hall, and a woman (who we later learned to be Linda, of the husband/wife team that owned and created the wines) emerged greeting us kindly.
Since 2004 when the winery was founded, David and Linda Welbes have greatly expanded their production and vineyards on their 80 acres. Each year they look to grow more of their own fruit and develop new and exciting flavor profiles for their wines.
Their growth was incredibly evident as we toured facilities that seemed to be bursting at the seams. Their passion and innovation were evident throughout the tour as Linda described the process and yearly workings of the winery.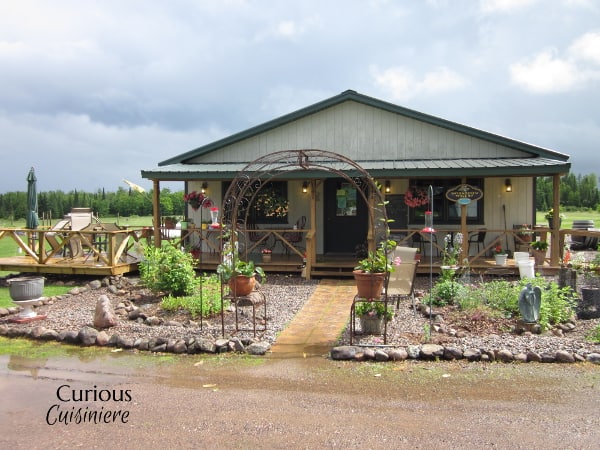 Among the three of us on the trip, we sampled a good number of their offerings. From their bold Pinot Noir to their fruity, but not overly sweet, Blueberry Wine, the tasting was a delight of flavors that had been masterfully crafted and aged to perfection. Each wine was unique in its profile and created a beautiful flavor experience from initial sip to lingering back-end.
With so many varying flavors, we had an incredibly difficult time deciding which wine to take home. Their prices were so reasonable for the exquisite quality that we were tempted to load up, but we decided to leave some as incentive to return.
Our choices? Chianti and White Merlot.
These two really highlighted one of the characteristics of the Brigadoon wines that we were most impressed by: their ability to create dryer wines that burst with fruit flavor and leave no harsh, dry finish. The White Merlot is a perfect summer afternoon sipping wine that greets you with a strong raspberry juiciness and leaves a lightness on your tongue.
A Unique Chianti, Perfect for Chianti Pasta Sauce
The Chianti is a world all on its own.
Forget what you know about traditional Italian Chianti, this wine is crafted in the same style, but Brigadoon has taken it to a new level. The wine itself bursts with the flavor of juicy, sweet cherries and finishes with a smooth dryness that doesn't contain a trace of harsh bite. When describing this wine, Linda told us about her grandson who loves the pasta sauce she makes with it. We both loved the wine so much, we knew we had to try a sauce with it as well.
Maybe it had to do with the sleepy afternoon we chose to visit, so we had Linda and her cheerful daughter Katie nearly all to ourselves, but our conversations were marked by such kindness and familiarity that as we headed down the steps to our car, we were already thinking about when we would be able to return to this off-the-beaten-path gem.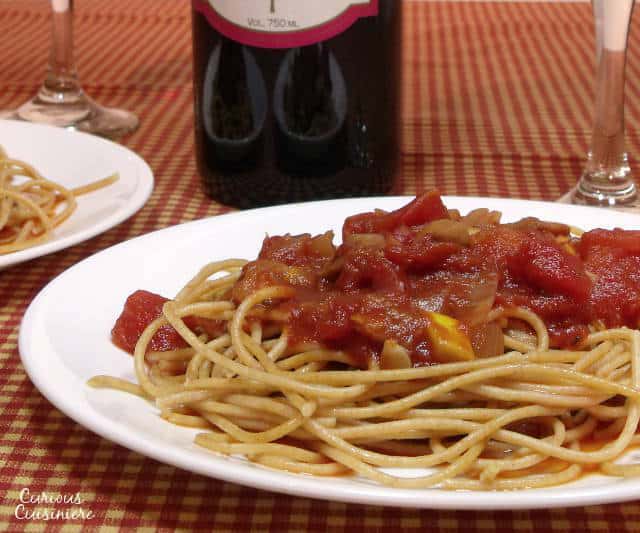 Chianti Pasta Sauce
We all know Chianti wine and pasta sauce are a perfect pairing, but now you can infuse the wine into your sauce with our Chianti Pasta Sauce recipe!
Yield: 8 cups of sauce
---
Ingredients
½

tsp

olive oil

1

onion,

diced

1

small

summer squash,

diced

¾

c

Chianti wine

½

c

water

½

tsp

oregano

½

tsp

salt

¼

tsp

ground black pepper

1

lb

spaghetti,

dry
Instructions
In a 4 quart saucepan heat oil. Add onions and sauté over medium-high heat until they begin to soften (3-5 min).

Add squash and cook until they begin to soften (3-5 min).

Add tomato paste, diced tomatoes with juice, and drained mushrooms. Stir to combine.

Add remaining ingredients and simmer, uncovered, over medium-high heat, 30 min.

While the sauce is simmering, boil pasta according to the directions on the box. Cook to desired consistency and drain. Add a drizzle of olive oil to the drained pasta to keep it from sticking while the sauce finishes.

Remove from heat and serve over drained pasta. With a glass of wine.
---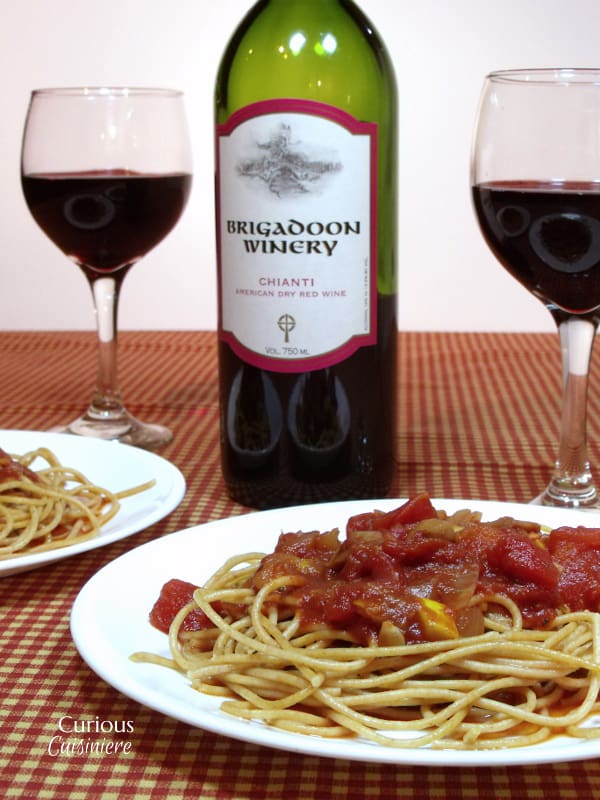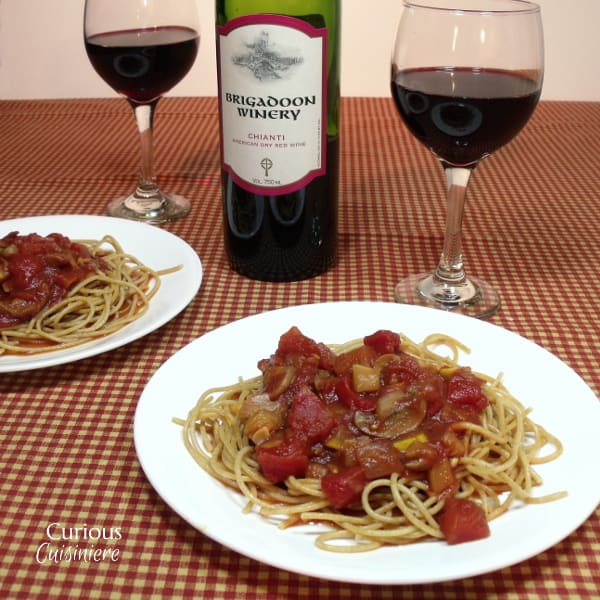 If you liked this recipe, here are some similar dishes you may enjoy!