Swiss cheese creates a creamy sauce for this Kasespatzle recipe. Serve it topped with sweet, caramelized onions for a real treat.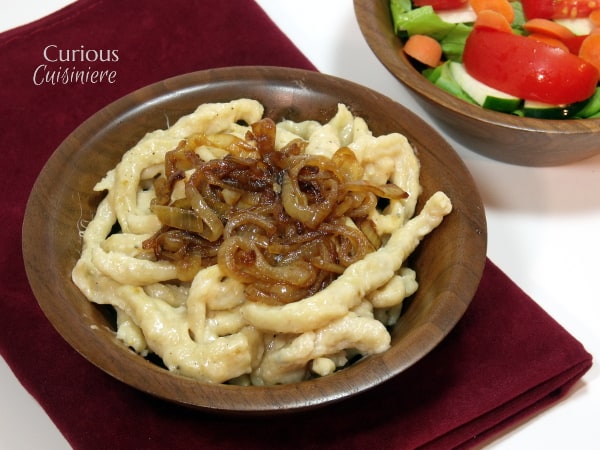 If you're like me and you just wonder about things, maybe you're asking, like I was, how did such a huge festival, like Oktoberfest come about? And, how did it become such a big celebration of beer?
The History of Oktoberfest
When Tim and I were in Munich, one of our tour guides did a great job explaining the history of Oktoberfest, and for what it has become, the origins are slightly romantic, but highly economic.
In the early 1800s Prince Ludwig (later to become King Ludwig I) married Princess Therese. All of Munich was invited to celebrate the wedding with a big party that was held in front of the city gates. The field where the festivities were held came to be known as Theresienwiese ("Theresa's meadow") in honor of the Princess. (It is still called that today, but locals have since begun to refer to the field simply as "Wies'n".)
The party was such a huge success that the following year Ludwig decided to throw another one. Since there was no wedding to celebrate, they added an agricultural show to promote the Bavarian farmers.
It was such a big hit, and such a great promotion for Bavarian agriculture (and business in Munich) that a tradition was born.
Over the past 200 years, Oktoberfest was only canceled 24 times due to cholera and war. (Seven instances were due to WWI, and nine were because of to WWII.)
That's a pretty impressive history.
While agriculture has remained a prominent feature in the Oktoberfest celebrations over the years, the focus has shifted to a celebration of the finest of German beer, which gives Oktoberfest the reputation it has world-wide today.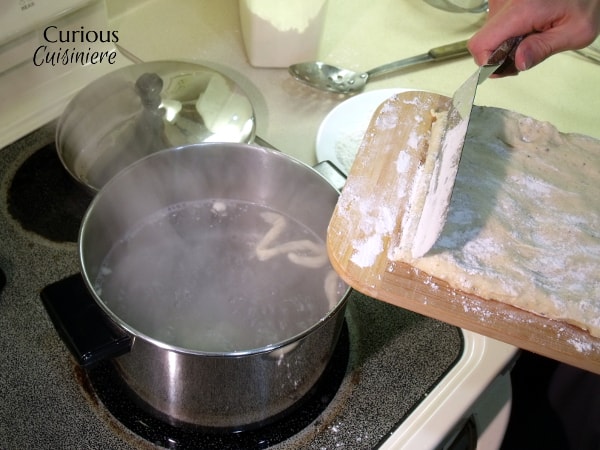 And now, how about some food?
German Spatzle
Spatzle (or spaetzle) is basically the German version of pasta, really being a cross between an egg noodle and a skinny dumpling.
There are many ways to give spatzle its shape, but we have found that the traditional (and most basic) cutting board and knife method works best for us. It is simple, if a bit sticky, and it doesn't require any fancy equipment.
Sure, our spatzle turns out a bit rustic. But, we feel like rustic fits the German theme quite well.
Kasespatzle: Austrian 'Mac and Cheese'
Kasespatzle (pronounced KAY-ze-SPAY-ts-le) is technically an Austrian take on German spatzle that uses an Alpine cheese, such as Emmentaler, to create a cheesy, creamy spatzle dish. The caramelized onion topping just takes the salty, sweet, creamy flavor combo to a whole new level!
While Austrian in origin, the dish is widely popular in Southern Germany as well. (Really, who doesn't love a little extra cheese?)
In place of Emmentaler cheese, we're using a good quality Swiss cheese today, which makes an acceptable substitute when Emmentaler is unavailable.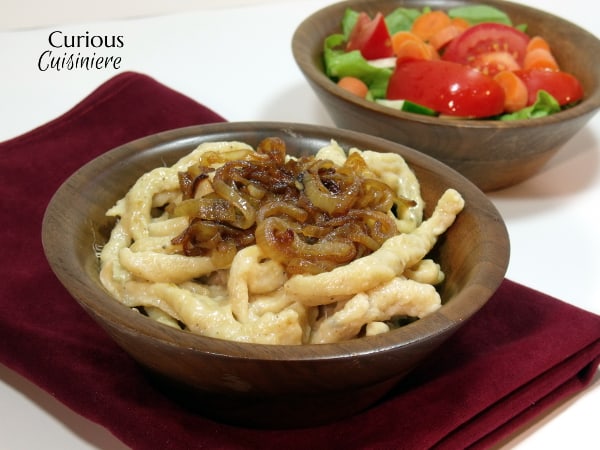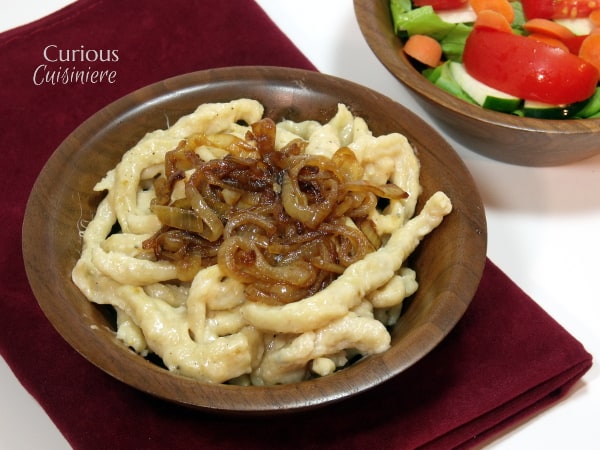 Kasespatzle (Cheese Spatzle)
Swiss cheese creates a creamy sauce for this Kasespatzle recipe. Serve it topped with sweet, caramelized onions for a real treat.
---
Ingredients
½

tsp

salt

¼

tsp

nutmeg

1/8

tsp

ground pepper

1

egg

½

c

milk

1

Tbsp

salted butter

1

onion,

sliced

3

oz

Swiss cheese,

shredded (roughly 1 c)
Instructions
For The Spatzle Dough
In a medium bowl mix together flour, salt, nutmeg, and pepper.

In a separate bowl, beat together egg and milk. Add egg mixture to flour mixture and stir until combined. (The dough will be the consistency of drop biscuit dough.)

Cover the bowl and let the dough rest on the counter for 30 min - 1 hour.
For The Caramelized Onion Topping
While the dough is resting, caramelize your onions. Melt butter in a large, non-stick frying pan. Once butter is good and hot, add sliced onions. Stir well and cover. Heat over medium-high heat, stirring every 3-5 minutes. When you notice the onions starting to darken, reduce the heat to just above medium, and continue cooking and stirring every 2-4 minutes. The onions are done when they are deep golden brown and sweet smelling (15-20 min). (This is a slow process, but the end result is worth it.)

Remove onions from the pan to a small bowl for serving. (Keep you pan here, we'll be using it later.)
Finishing off the Spatzle
Near the end of the dough's resting time heat 4 qts of water to boiling in a soup pot. Once the water is boiling, add a teaspoon of salt to the water.

Lightly flour a flat board for cutting your spatzle. (We find a small wooden cutting board works well.)

Spread the dough onto the board in an even layer. Flour the top of the dough.

Using a knife, spatula, or similar flat surface, scrape small strands from the edge of the dough into the boiling salt water. (This takes a bit of practice and, at times, quite a bit of flour, but don't get discouraged. These are more rustic looking spatzle than you will find in the store, so whatever shape you get will work.)

The spatzle is done when it floats to the surface. Spoon it out with a slotted spoon into the empty onion pan. Continue with the remaining spatzle until all is cooked and in the pan.
Making Kasespatzle
Heat the spatzle over medium-high heat in the frying pan.

Add 1 c cheese and ¼ c of the boiling liquid. Mix and heat until the cheese has melted and coated the spatzle.

Serve topped with onions.
---
If you liked this recipe, here are some similar dishes you may enjoy!