If you like this dish, sign up for our newsletter for tasty, cultural inspiration in your inbox!
Tangy and slightly sweet, this Bavarian Potato Salad brings bacon and a warm vinegar dressing together for one tasty side dish!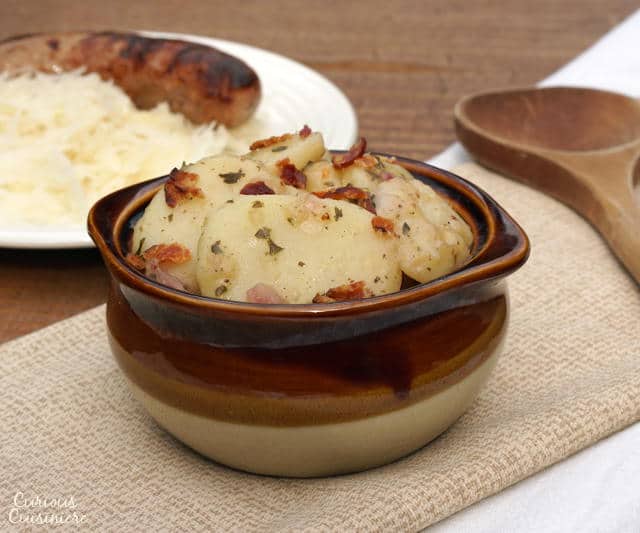 I had no idea there were so many versions of potato salad. And, for every general type of potato salad, each family has their tried and true variation.
Forget what you thought you knew about potato salad only being the creamy, mayonnaise-based American potato salad that your grandma used to make. All that regional variation makes for A LOT of different takes on potato salad.
Do you remember the French Potato Salad we posted about last month? The French like their potato salad simple and warm, with large chunks of potatoes, in a wine vinegar and Dijon mustard sauce.
Bavarian Potato Salad
The southern German version of potato salad, or Kartoffelsalat, is warm and vinegar based, much the French version. However, in southern Germany, there is still a division between how potato salad is traditionally served. In Swabia, to the west of Bavaria, you find Schwabischer Kartoffelsalat, a simple, tangy salad, with just enough ingredients to bring a fun flavor.
In Bavaria, in the southeast, they like their meat, and chunks of bacon or ham find their way into the salad that is then tossed with a vinegar-based dressing. This is the salad that we most often think of in the States when we hear "German Potato Salad."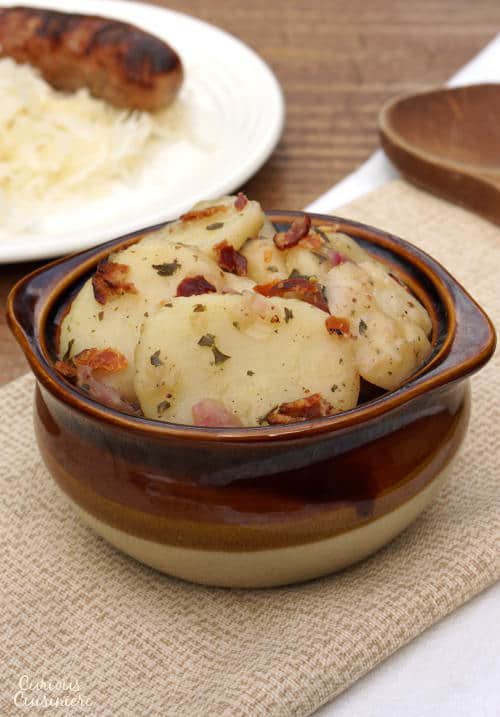 Traditional Bavarian potato salad is lightly tangy from the vinegar but predominately savory from the bacon and parsley. While you will find versions of "German Potato Salad" served in the States that are quite sweet and tangy, the potato salads that we ate while in Munich were much less sweet and more on the savory side, so that is the version that we have recreated here for you.
It's the perfect complement to a Munich beer!
Bavarian Potato Salad
Tangy and slightly sweet, this Bavarian Potato Salad brings bacon and a warm vinegar dressing together for one tasty side dish!
For best flavor, let this German potato salad rest for at least 1 hour before serving.
Ingredients
3

lb

Yukon Gold potatoes,

peeled

½

lb

bacon

(approximately 8 slices)

1

small

red onion,

diced

½

c

white vinegar

½

c

beef broth

(we prefer low sodium)

1

Tbsp

prepared yellow mustard

1

Tbsp

sugar

½

tsp

salt

2

Tbsp

fresh parsley,

chopped (plus more for garnish, if desired)
Instructions
Place whole potatoes in a pot and cover with water. Bring to a boil and simmer until just barely fork-tender, 15-20 minutes. When the potatoes are tender enough to easily slide a fork into with a little resistance (you don't want to overcook the potatoes here or they will turn mushy in the salad), remove them from water and let them cool slightly.

While potatoes are cooking, heat a large nonstick frying pan over medium heat and fry the bacon until crisp. Remove the bacon from the pan and let it cool on paper towels. Once cool, crumble the bacon into small chunks. Set aside.

Drain all but enough bacon grease to coat the bottom of your skillet. Add the diced red onion to the bacon grease and sauté for 1-2 min. Add the vinegar, beef broth, mustard, broth, sugar, and salt. Bring the mixture to a simmer. Turn off the heat and set the hot mixture aside.

When potatoes are cool enough to handle, slice them into ¼ inch slices and place the slices into a large bowl.

Pour the hot onion and broth mixture from the sauté pan over the potatoes. Add the chopped parsley and mix the potato salad until everything is well coated.

Cover the potato salad and let it rest for at least 1 hour, up to overnight, to let the flavors come together. (You can leave it on the counter if only resting for 1 hour. Refrigerate the salad if resting overnight.*)

Mix the crumbled bacon into the German potato salad just before serving. Serve hot, warm, or chilled, as you desire.
Notes
*If refrigerating this potato salad before serving, remove the potato salad from the refrigerator for at least 1 hour before serving to allow it to come to room temperature.
---
This recipe was updated September 2016. We made a few tweaks to make the potato salad even more authentic and tasty. We've left our original images here as a testament to how far our photography has come. Enjoy the throwback!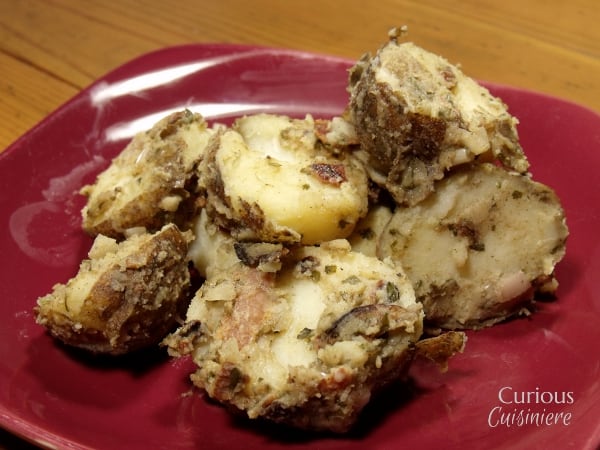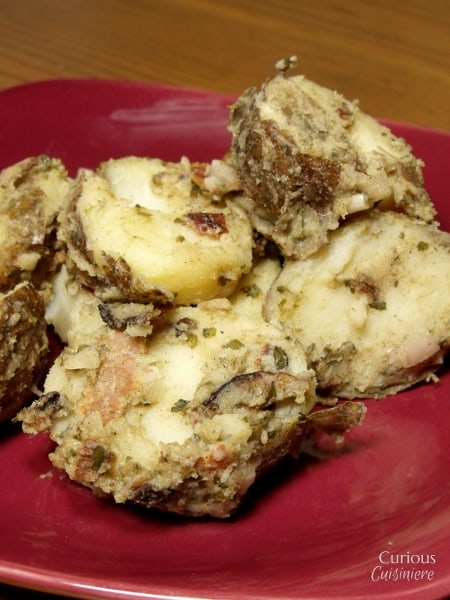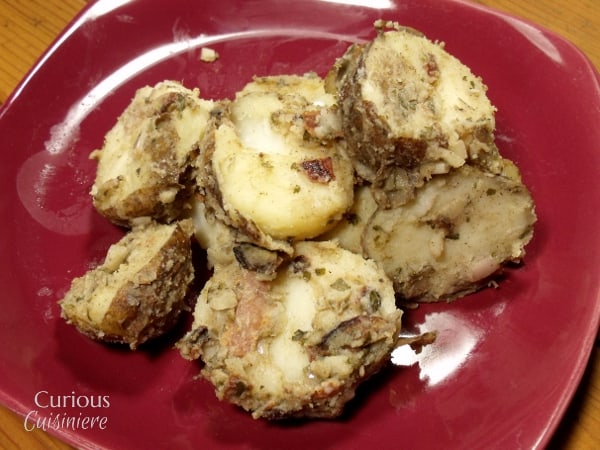 If you liked this recipe, here are some similar dishes you may enjoy!