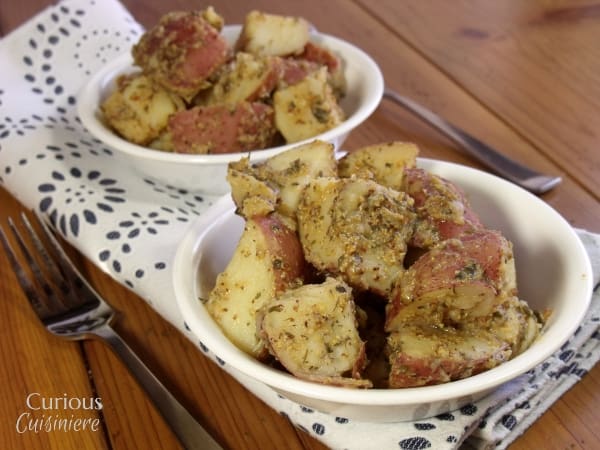 Looking for non-cream/mayo based potato salads, I came across multiple recipes for French Potato Salad, and they mostly fell into two camps. The Julia Child version with rice vinegar and parsley, and another version that was more of a mustard base with wine vinegar or white wine.
Wanting to go for a more robust flavor, we decided to try out the mustard version.
Every recipe seems to vary by the cook's personal tastes, so after some searching we had a base line and hit the kitchen.
Our version is slightly different too.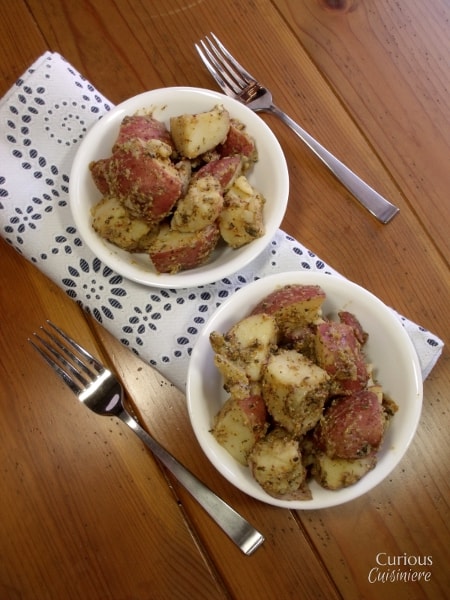 We used red wine vinegar because we were out of white wine vinegar and didn't have a bottle of white wine open. This would have deepened the flavor a bit, and I'm excited to try this recipe again using white wine to see the difference.
It is a slightly sweet potato salad, where the herbs cut the tanginess to the perfect level. We have eaten it warm and cold, and agree that it is definitely better when warm.
This would be a great potato salad for your Easter dinner table, particularly if you're like my family who puts out a buffet-type spread for people to munch all afternoon. No worries about mayo setting out here!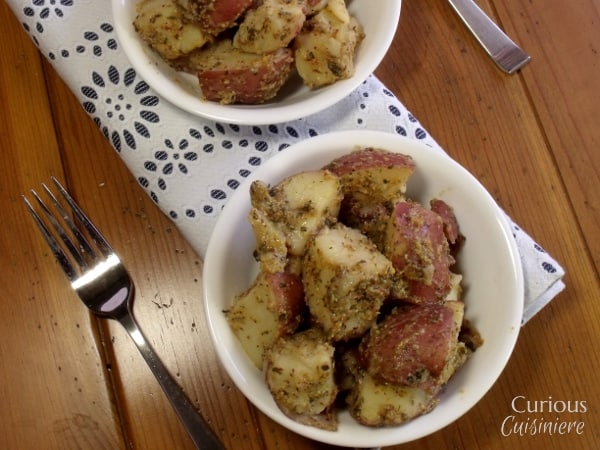 French Potato Salad
Author:
Sarah | Curious Cuisiniere
Ingredients
3 medium potatoes
2 Tbsp red wine vinegar
1 Tbsp reserved potato boiling water
1 Tbsp parsley
4 Tbsp dijon mustard
2 tsp dill
2 tsp basil
Instructions
Wash potatoes and cut into 1-1½" chunks. Place in a medium saucepan and cover with water. Heat water to boiling. Reduce heat to medium and boil the potatoes until tender, but still firm.
Drain water, leaving about 1 Tbsp of the water in the pot.
Add remaining ingredients and mix, gently, with a rubber spatula (so you don't massacre the potatoes while mixing).
Serve warm.
If you liked this recipe, here are some similar dishes you may enjoy!