Vanilice are bite-sized Serbian Vanilla Cookies that are seriously addicting. With a nutty sweetness and a soft jam filling, they're the perfect recipe to add to your next cookie platter!
Christmas Traditions In Serbia
In Serbia, Christmas doesn't fall on December 25th.
The Eastern Orthodox Church uses the Julian Calendar, which is shifted just slightly from the Roman Calendar, putting Christmas Day on January 7th.
Advent starts November 28th and lasts for 6 weeks, during which time many people fast from meat and dairy as a way to remind themselves that they are heading into a holy time of year.
While Christmas trees are not common in Serbia, on Christmas Eve (Badnji Dan), a young oak tree (or oak log), called a "badnjak", is brought home and burned in large bonfires (or in the fireplace), like a Yule Log, and kept burning through Christmas Day. Tradition has it that the shepherd's brought a young oak tree for Many and Joseph to use to start a fire to keep themselves and baby Jesus warm.
On Christmas Day, a special lunch meal is eaten with a special bread called kolach, roast pork, cabbage rolls, and cake. Often there will be straw strewn under the dinner table in an effort to make the home reminiscent of the manger where Jesus was born.
Vanilice: Little Vanilla Cookies
Vanilice means "little vanillas," and these bite-sized Vanilla Cookies are a type of Serbian Sitni Kolaci, or "tiny cookie". This delicate class of cookie is most commonly served around the Christmas season.
Vanilice (pronounced VAH-ny-ly-TSEH) are a sandwich of two nutty, vanilla and walnut cookies together with a dollop of jam. It is most traditional to use apricot or rose hip jam, but any of your favorite flavors would work too!
Our recipe makes a lot of little sandwiches, but you'll need them. We're always left with nothing but a little powdered sugar when we serve these!
Our Serbian Vanilice Recipe
These little vanilla cookies traditionally use two ingredients that are not very common in the States: leaf lard and vanilla sugar.
We've adapted our recipe to use vegetable shortening in place of lard. While we've heard that the flavor and texture of these cookies made "properly" with lard can't be beat, we just can't seem to find it near us. The cookies are still delicious using shortening, so until we find ourselves some leaf lard, we'll be sticking with the shortening.
Hey, it's the holidays!
The other adjustment that we had to make was for vanilla sugar, this incredibly common ingredient in Germanic cooking is pretty hard to find in the States.
But, lucky for us, it's easy to make. (Much easier to make than leaf lard, I'd bet!)
What is Vanilla Sugar?
Vanilla Sugar is an incredibly common ingredient in German, Austrian, Slovenian, and Danish baking. However, here in the States, we tend to prefer our vanilla extract. When you can find a packet of vanilla sugar, it's expensive. And, to us, that's just silly.
What's silly about it is that vanilla sugar is SO easy to make.
How To Make Vanilla Sugar The Long Way
To make vanilla sugar the "long" way, you simply take a jar of sugar (powdered or granulated, depending on your intended uses) and place a split vanilla bean in it.
That's it!
Shake the jar every day or so and wait for a week or two. When you open the jar and it smells like heavenly vanilla angels are singing back at you, you know your sugar is ready to use.
How To Make Vanilla Sugar The Short Way
Sometimes you need vanilla sugar in less than a week, and sometimes you just don't have a vanilla bean at your disposal.
We know the feeling.
Luckily, most kitchens have vanilla extract. And, that's where our "short" way to make vanilla sugar comes in.
All you need is 1 tsp of vanilla extract and 2 cups of granulated sugar. Mix the two together with a fork or a small whisk until the vanilla extract is evenly distributed. Then, spread the sugar out on a parchment paper lined baking sheet. Set the sugar aside to dry for 1 hour. Then, stir the sugar (breaking up any clumps), spread it out again, and let it dry for another hour.
After the sugar is dry, you can store your vanilla sugar in an airtight container in the pantry. If you need vanilla powdered sugar, just whir this granulated vanilla sugar in your food processor until it is finely powdered.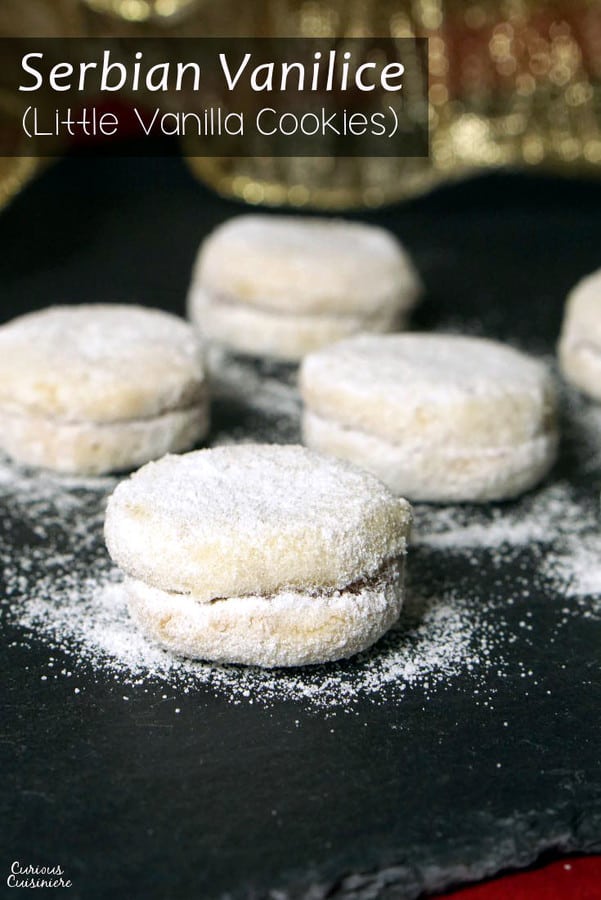 Storing Vanilice Cookies
Vanilice are a wonderful combination of crumbly cookie and sweet, sticky jam when they're first made, and the combo makes you want to start popping them right away. But, resist eating them all right away if you can!
Traditionally, these cookies are made 1-2 days ahead of time. Do you want to know why?
After a few days, the crispy cookie softens from the moisture of the jam, turning the whole thing into a bite that LITERALLY MELTS in your mouth!
Trust us, it's worth the wait!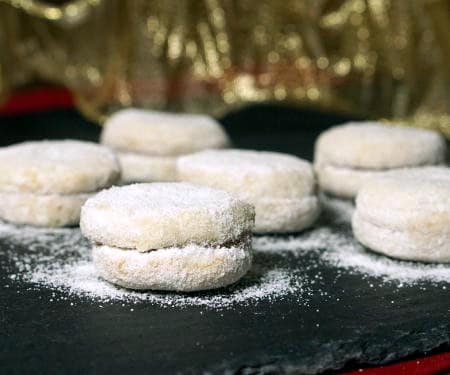 Print Recipe
Pin Recipe
Vanilice (Serbian Little Vanilla Cookies)
For best results, this dough needs to be chilled for 2-3 hours before cutting and baking.
These cookies are traditionally made 1-2 days before serving, to allow the flavors to meld together and the cookies to soften.

Yield: 45 (1 inch diameter) sandwich cookies
Cuisine:
Eastern European
Author:
Sarah | Curious Cuisiniere
Ingredients
For the Topping
1 ½

c

powdered vanilla sugar*
For the Cookies
2

c

walnut halves

½

c

vegetable shortening

1

stick

salted butter,

softened

3/4

c

sugar

2

egg yolks

2

tsp

pure vanilla extract

1

tsp

fresh lemon zest
For the Filling
½

c

jam

(apricot or rosehip are traditional)
Instructions
For the Dough
Place the walnut halves in the bowl of your food processor. Grind them until they are evenly and finely ground. Set aside.

In a large bowl, beat the shortening and butter together with an electric hand mixer. Add the sugar and continue to beat until creamy.

Beat in the egg yolks, vanilla extract, and lemon zest, until evenly mixed.

While beating on a low speed, add the ground walnuts and all purpose flour, mixing until an even dough forms. (The dough should be soft, but not sticky.)

Divide the dough in half. Shape each half into a ball and wrap each separately in plastic wrap. Refrigerate the wrapped dough for at least 2- 3 hours (up to overnight).
Rolling and Baking
Preheat your oven to 325F, and line a baking sheet with parchment paper.

Working with half of the dough at a time, dust your counter top with flour and roll out the dough to ¼ inch thick.

Using a 1 inch, round cookie cutter, cut out the cookies and place them one inch apart on your baking sheet. (You may have to get creative here. We used the lid to a spice jar as our cookie cutter!)

Bake the cookies for 11-12 minutes, until just before they start to turn golden around the edges. (You want the cookies to stay that nice white color.)

Remove the cookies from the oven and let them cool on the baking sheet for 5 minutes. Then, transfer them to a wire rack to cool completely.
Filling and Powdering
Once the cookies are completely cool, make sandwiches out of them with the jam. Take one cookie at a time, spread about ½ tsp of jam on it, and top it with another cookie.

Once all the cookies are sandwiched, place your powdered vanilla sugar in a medium bowl or gallon bag. Roll each sandwich in the powdered vanilla sugar, until nicely coated.

Store the cookies in an airtight container on the counter. The cookies will be good now, but traditionally they are stored for one to two days before eating. Something magical happens in these two days, so do wait, if you can!
Notes
* To make Vanilla Sugar, mix 2 c granulated sugar with 1 tsp vanilla. Mix well using a whisk or fork, until the vanilla is evenly distributed. Spread the sugar out onto a baking sheet that has been lined with parchment paper. Let the sugar dry for 1 hour. Stir the sugar and spread it out again. Let it dry for another hour. Pour the dried, flavored sugar into the bowl of your food processor. Process the sugar until it is finely powdered. (Yield roughly 1 ½ c powdered vanilla sugar. Store it in a sealed container in a dry place.)
OR
You can also make vanilla sugar by sticking ½ of a vanilla bean into a jar with 3 cups of powdered sugar. The flavor of this sugar will grow more intense over time, and you can continue adding more powdered sugar to the jar as you use your vanilla sugar. For best flavor, let this sugar develop flavor over 1-2 weeks before using.
---
This year, once again, we're hosing an International Cookie Exchange with our friend Camilla from Culinary Adventures with Camilla!
Today a group of cookie-loving food bloggers is sharing recipes for cookies from around the globe. Get ready to break out your
mixing bowl, because these recipes are sure to inspire you to fill your cookie jar with cultural treats!
You can follow along on Twitter with the hashtag
#IntnlCookies, and you can find these great recipes and more cookies from
around the world on the International Cookie Exchange Pinterest Board.
Here's the #IntnlCookies Tray…
listed in alphabetical order of the cookies' country of origin
If you liked this recipe, here are some similar dishes you may enjoy!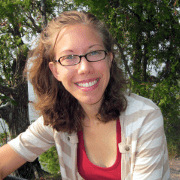 Sarah is one of Curious Cuisiniere's founding duo. Her love for cultural cuisines was instilled early by her French Canadian Grandmother. Her experience in the kitchen and in recipe development comes from years working in professional kitchens. She has traveled extensively and enjoys bringing the flavors of her travels back to create easy-to-make recipes.
Love it? Share it!