Chilenitos are traditional Chilean sandwich cookies filled with dulce de leche or jam and rolled in coconut, cookie crumbs, or meringue. They are similar to Argentinian alfajores, although simpler in ingredients and often different in size.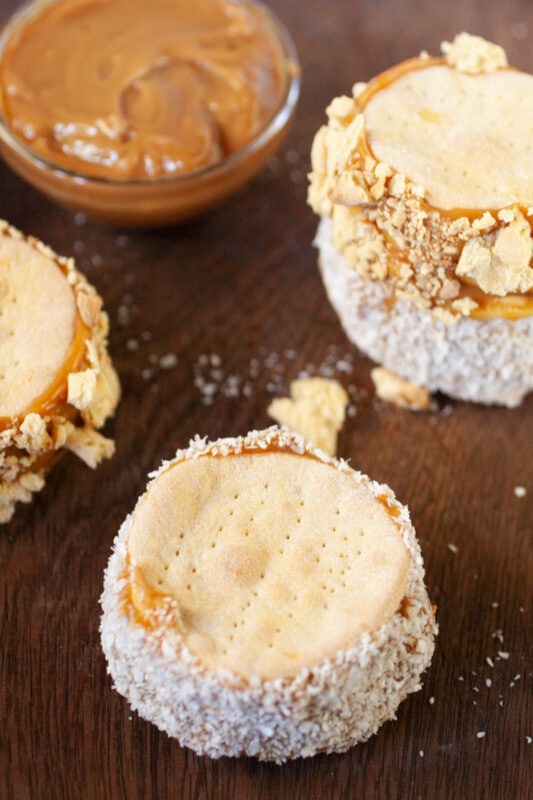 The origin of chilenitos
Its origin is found in Curacaví and in the Ligua (metropolitan region).
Curacaví was an obligatory stop for the travelers between Santiago, the capital of Chile and Valparaíso, its main port. It is said that the inns of the time, which received the travelers, used to shower their guests with sweets.
To make them last longer at room temperature, they began to cover the cookies with meringue and baked them until dry.
Chilenitos were made for popular festivals too, to give as presents.
Currently, you can buy them in Chilean shops, but they are easy to prepare at home.
How to make traditional chilenitos
The recipe for traditional Chilentios is very simple. Flour, eggs, and liqueur are the ingredients for the cookies.
The dough, once rolled, is pricked with a fork to let the air escape while baking and form a crispy cookie.
These cookies then come together with a thick layer of dulce de leche. They can be made with only 2 cookies or into a 3 layer sandwich cookie.
There are 3 traditional ways of finishing up these Chilenitos. They can be rolled in shredded coconut, into cookie crumbs (leftover Chilenitos cookies), or covered with a layer of meringue and then baked.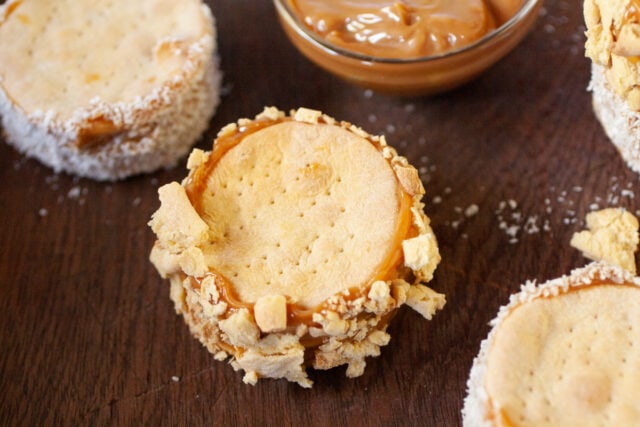 Our chilenitos recipe
Many of the recipes for these cookies nowadays flavor the dough with vanilla and orange zest. Some add butter and milk as well.
Our recipe is made with the simple ingredients of the traditional Chilenitos, plus vanilla and touch of orange zest.
The dough is made in one single bowl. I suggest that you start with 1 cup of flour, add the rest of the ingredients, and start to knead it. If the dough is too sticky, add 1 to 2 tablespoons of flour. It should be soft, but not sticky.
This dough needs to rest for at least 20 minutes. If you start to roll the dough out and notice that it keeps shrinking, let it rest for another 10 minutes.
Roll it out only 2 times. But bake the scraps, crush them, and use them to roll the Chilenitos in.
I used a 3-inch round cookie cutter, but you can make them smaller or bigger then that.
Once baked, these cookies are golden brown, and crispy. As they cool down, they won't be as crispy, but it makes every bite less messy.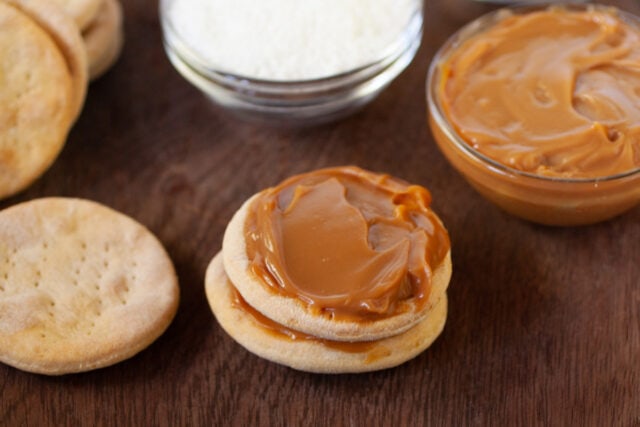 The filling for chilenitos
Dulce de leche or manjar is the traditional filling for these cookies. This thick, boiled down milk and sugar mixture, makes the perfect filling.
There are a variety of brands for dulce de leche. If you have a large Latino community in your town, you'll find them at any grocery store near the sweetened condensed milk. Other wise, you can get them on Amazon. You can also easily make your own dulce de leche from sweetened condensed milk at home.
But that is not the only option. You can also fill these cookies with strawberry jam, pear jam, or just your favorite jam in general.
To finish up these cookies, spread more dulce de leche or jam around it, and roll them in shredded coconut or cookie crumbs.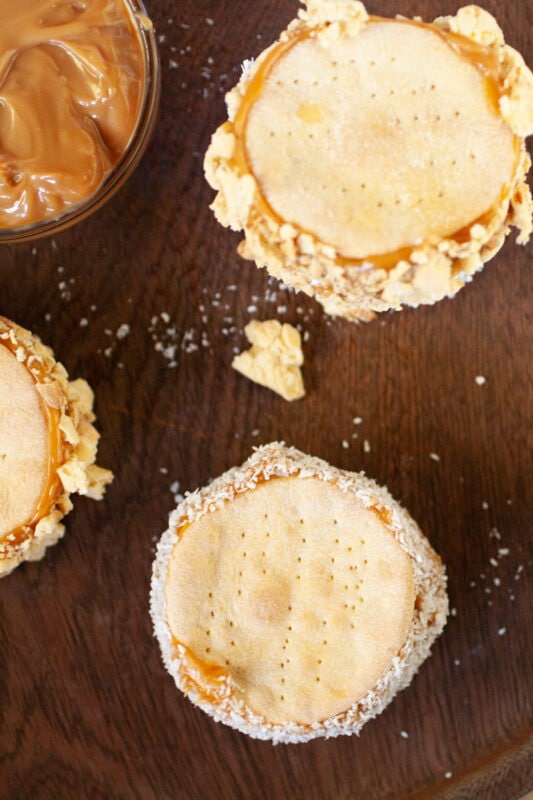 Yield: 8 chilenitos
Chilenitos (Chilean Dulce de Leche Sandwich Cookies)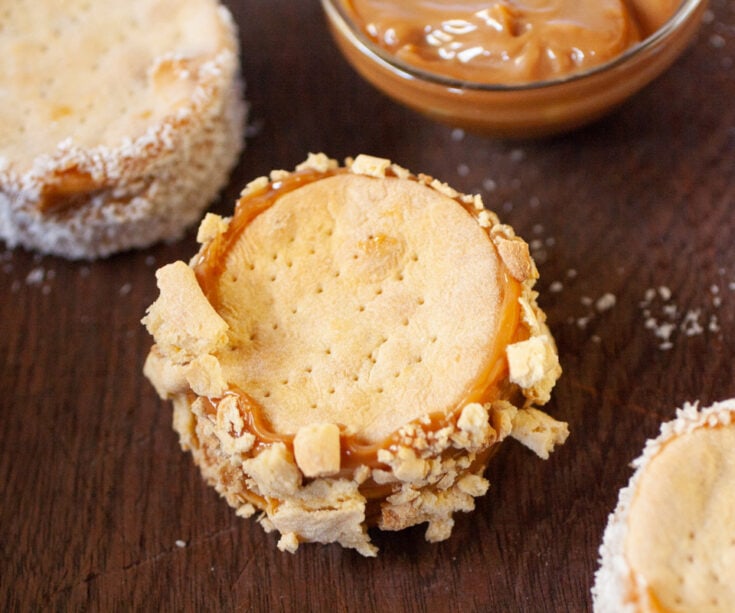 Chilenitos are traditional Chilean sandwich cookies filled with dulce de leche or jam and rolled in coconut, cookie crumbs, or meringue.
Ingredients
1 1/4 cup flour, divided
1 egg
4 egg yolks
1 Tablespoon rum
1 Tablespoon vanilla extract
1/2 teaspoon orange zest
1 (13.4 ounces) can dulce de leche*
1/2 cup shredded coconut
Instructions
To a large mixing bowl, add 1 cup flour, egg, egg yolks, rum, vanilla extract, and orange zest. Mix with a spatula until it comes together.
Sprinkle 2 Tablespoons of flour on the counter. Turn the dough out onto the floured counter and knead until the dough is soft, adding more flour as needed.
Cover the dough with plastic wrap, and let it rest for 20 minutes.
Preheat your oven to 355 F. Line 2 cookie sheets with parchment paper.
Lightly flour a flat surface and roll the dough to 1/8-inch thickness. Using a 3 inch round cookie cutter, cut the cookies. Poke each cookie with a fork and place them on the prepared baking sheets.
Once you have cut all you can from the rolled dough, bring together the rest of the dough. Knead it until it comes together again. Then, let it rest for at least 10 minutes, before rolling out and cutting again. (Only roll this dough out twice, or the cookies will become tough. The leftover dough from this second cutting can be baked, crumbled, and used in the final step.)
Bake the cookies for 12 minutes, or until golden and crispy. Remove from the oven and let them cool completely on the pan before assembling.

To assemble, spread about 1 teaspoon dulce de leche on a cookie, top with another cookie, spread more dulce de leche and top with one more cookie, making it a 3-layer sandwich. Continue with the remaining cookies.
Once all your 3-tier sandwiches have been assembled, spread more dulce de leche around the sides of each chilenito. Then roll the cookie in shredded coconut or the crumbs from your baked scraps.
Un-assembled, the cookies can be store in an airtight container on the counter for up to 5 days. Assemble before serving.
Assembled chilenitos can be store in an airtight container in the refrigerator for up to a week. The cookies won't be crispy by the next day, but they won't become soggy either.

Nutrition Information:
Yield:
8
Serving Size:
1 cookie
Amount Per Serving:
Calories:

147
If you liked this recipe, here are some similar dishes you may enjoy!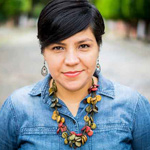 Lizet is Bolivian and lives in Paraguay. Through friends and travel she has developed her love of food. From Africa to Asia, Europe to the Americas, there is always something new to try when you come to dinner. You can find more of Lizet's tasty creations on her website ChipaByTheDozen.com. You can also find her on Instagram and Facebook.
Love it? Share it!