Picarones are Chilean style donuts. These soft, squash or pumpkin donuts are soaked in an orange infused syrup made with panela.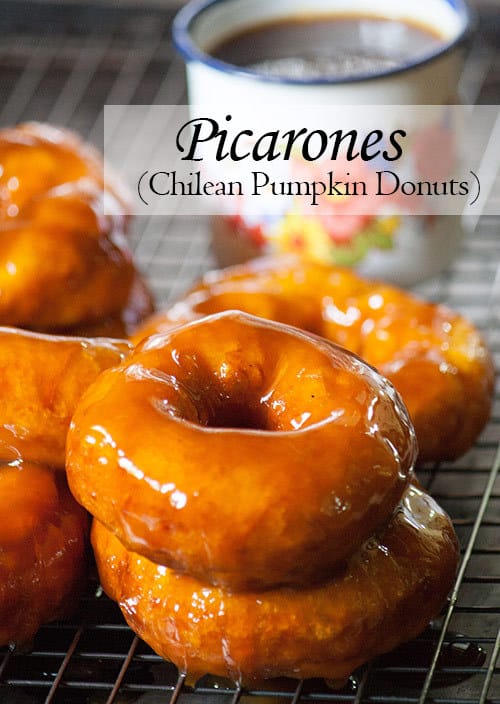 DISCLOSURE: This article contains Amazon affiliate links. These links are provided to help you find some of the more specialty products we mention in the recipe. If you make any purchase after clicking through one of our links, we receive a small commission from Amazon, at no extra cost to you. Thank you for supporting Curious Cuisiniere!
The History Of Picarones
It is said that buñuelos (fried dough) came to South America with the Spaniards. Each country then made their own version with their most common ingredients and changed their names too.
'Picarones', which means 'rascals' or 'naughty', was the name the Peruvians gave them.
In Perú, picarones are made with sweet potatoes, squash, flour, anise seeds, sugar, and water. This dough is then cooked, cooled and fried. Picarones are then drizzled with panela syrup.
The Chilean troops of the Liberating Expedition of Peru (1820-1824), after occupying Lima, would hang out near a church in the neighborhood of Malambo where Rosalía sold picarones. These became a very popular snack amongst the soldiers.
Years later, Rosalía married Pedro Olivos, a Chilean soldier, and went back with him to live in Santiago, Chile where she continued selling picarones.
Once in Chile, the recipe changed again.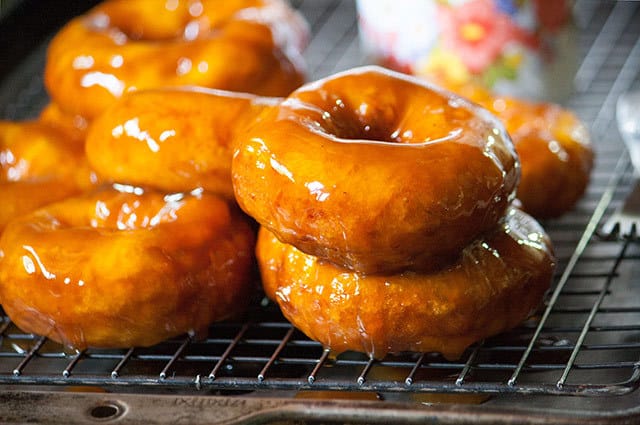 This time the sweet potatoes and anise seeds were omitted and instead of adding a drizzle of syrup, the syrup became a thick, orange-infused syrup/sauce for soaking the donut.
Chilean picarones are very popular during the winter or rainy days, a great snack that you can find on the street next to sopaipillas (round, fried dough) and churros.
They are served with a cup of coffee in the afternoons.
Making A Puree For Squash Or Pumpkin Donuts
Chileans use squash to make these donuts, as it is more common than pumpkin. Butternut squash is slightly sweeter than other squashes and is very often used to make picarones.
How to make pumpkin or squash puree, three ways.
In the microwave: Wrap a piece of squash with plastic wrap, poke it with a fork a few times and microwave it for about 5 to 8 minutes, stopping after 4 minutes to check if it's done. Let it cool down completely, scoop out the flesh and mash it with a fork.
Baked: Pre-heat the oven to 400F. Brush a few pieces of squash with vegetable oil and bake on a try for about 30 minutes or until soft. Scoop out the flesh and mash it with a fork.
Stovetop: To a big saucepan add squash pieces and cook until tender. About 15 minutes. Set squash on the counter and scoop out the flesh. Mash it with a fork.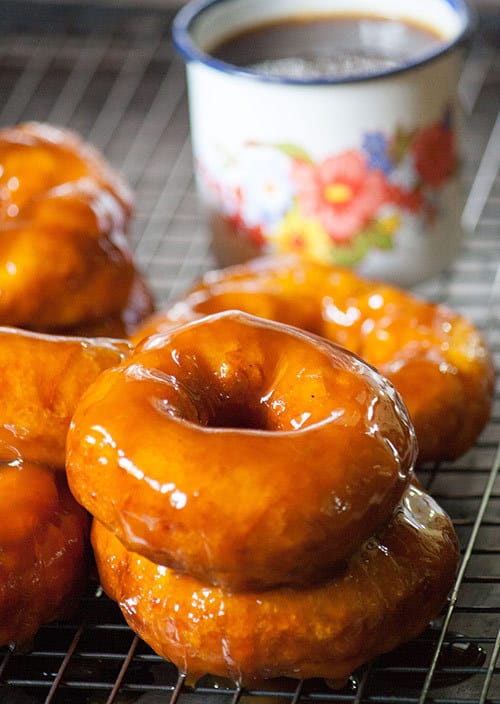 How To Make Picarones
There are 2 ways of making picarones.
One, the dough uses baking powder as a leavening agent, and the other way is by adding yeast.
For our recipe today, I'm using yeast.
It's important that all your ingredients are at room temperature before you begin making your dough, and that you use a big bowl to mix it.
The dough is very sticky, so you'll need to mix it with a wooden spoon. After mixing, let it rest at room temperature until it doubles in size.
This dough can be made a day before. Make the dough and keep it in the refrigerator until ready to use. The dough will rise in the fridge.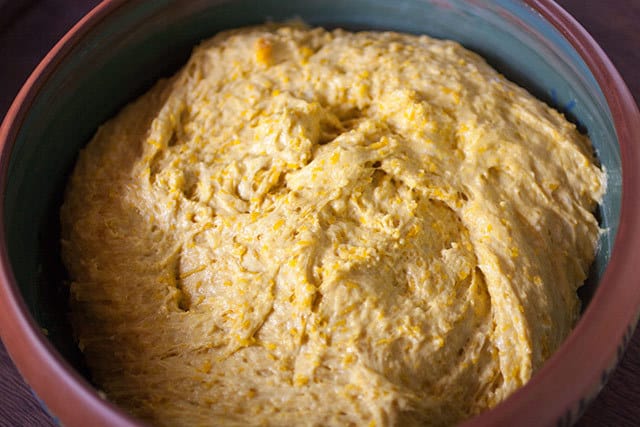 How To Shape And Fry Picarones Donuts
Once your dough is ready. Get out a big frying pan and heat some oil on medium/low.
As you see, two donuts don't have the same shape or size, this is because you are shaping each one by hand.
To make them almost the same size, use an ice cream scoop or a 1/4  measuring cup.
Get a small bowl with flour and flour the measuring cup or the ice cream scoop and scoop some dough.
Flour your hands and try to roll the dough into a ball between your palms, as much as you can. Flour your thumbs and poke a hole in the middle creating a donut.
Place the shaped donut carefully into the hot oil and repeat with the rest of the dough.
The Orange Glaze For Picarones
The glaze, or syrup, for picarones uses panela (or dark brown sugar), orange zest, and cloves to give it a bright and deep flavor.
After frying, picarones are then soaked in the thick syrup and served warm with lots more syrup.
Grab a cup of coffee and enjoy!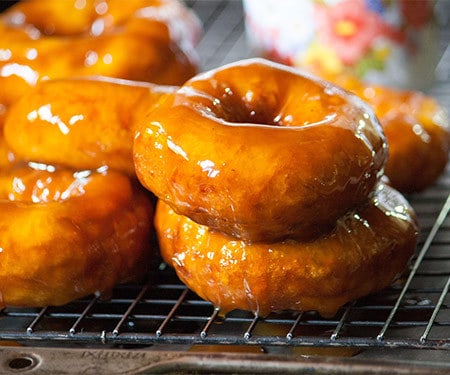 Picarones (Chilean Pumpkin Donuts)
Picarones are Chilean style donuts. These soft, squash or pumpkin donuts are soaked in an orange infused syrup made with panela.
Yield: 19 donuts
Cuisine:
Chilean, South American
---
Ingredients
For The Syrup
3

cups

water

2

cups shredded

panela,

dark muscovado sugar, or dark brown sugar

Zest of one

orange

4

whole

cloves

3

tablespoons

cornstarch
Instructions
For The Dough
In a big bowl, mix squash or pumpkin puree, sugar, milk and yeast.

Add flour and mix well. The dough is very sticky. Cover the bowl and leave it to rise for an hour and a half at room temperature.
For The Syrup
In a medium saucepan, add all the ingredients for the syrup. Cook over low heat, whisking constantly, for about 5 minutes. Keep warm.
To Make The Donuts
Heat 3-4 inches of oil in a deep saucepan over medium/low heat.

Flour a ¼ measuring cup and scoop out some dough. Flour your hands, shape the dough into a ball. Using your thumbs, poke a hole through the center of the ball to create a donut shape.

Place donut on hot oil and fry for about 3 minutes on each side.

Remove the donut from the hot oil and drain on paper towels. Continue with the remaining dough.

Soak the fried donuts in the hot syrup.

Serve them while they are still warm.
---
If you liked this recipe, here are some similar dishes you may enjoy!