This Slow Cooker Chicken and Dumplings recipe is a hearty and slightly creamy stew made completely from scratch without canned cream of chicken soup! 
What Are American Dumplings?
Dumplings are found in many cultures: Chinese and Japanese, German, Polish, and more! And in each case, "dumpling" means something a bit different. Different shapes, different sizes. Some a stuffed with a filling, others are simply dough. Some are bread-y, others are like noodles, and still others go the potato route.
So many different dishes under one name!
There's nowhere that exemplifies the fact that "dumpling" can have so may different meanings than when you talk about Chicken and Dumplings.
In the United States, "dumplings" refer to a type of dough that is boiled in a broth. But there is a HUGE debate over that those dumplings are.
Are you in the rolled dumpling or dropped dumpling camp? 
What Are Rolled Dumplings?
Rolled dumplings are made from a pastry, kind of like a pie crust, that is rolled thin and then cut into wide, noodle-like shapes. These rolled dumplings are more commonly found in the Southern States.
To make a Southern Chicken and Dumplings, the noodles are boiled in the chicken broth (like you would pasta), after the chicken has been cooked with a few aromatic vegetables and removed from the broth to shred. Once the dumplings are cooked, the shredded chicken is added back to the pot for serving.
What Are Dropped Dumplings?
Dropped dumplings, on the other hand, are more common in the Northern states.
These dumplings are made from a biscuit-like dough that is dropped over top of your simmering stew which (in the case of Northern Chicken and Dumplings) includes chicken and lots of veggies.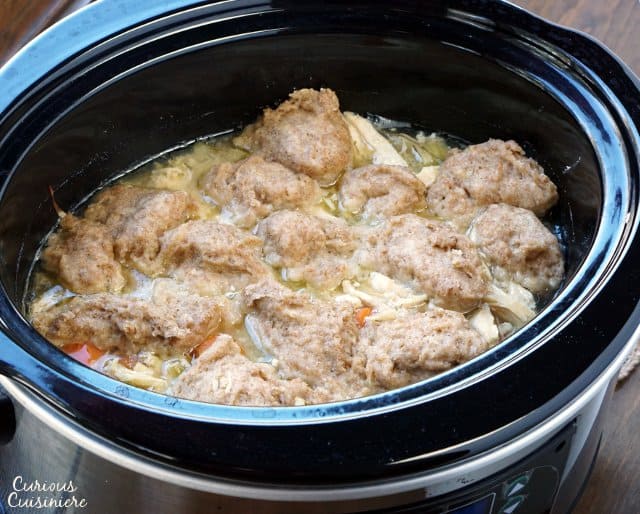 Chicken And Dumplings In The Crock Pot
Having family from New England, I grew up on the Northern version of chicken and dumplings.
Aka: the biscuit topped version.
Nothing beats chicken and biscuit dumplings when it comes to some serious winter comfort food.
But there's one problem.
In my opinion, a GOOD version of chicken and dumplings has to simmer until the chicken is so tender it falls apart. This makes for a deliciously comforting dish and an amazing smelling house.
But, most of the time, we just don't have the time to watch a simmering pot of chicken for 2-3 hours.
Enter the beloved slow cooker.
Not only does making chicken and dumplings in the slow cooker make the prep work super easy. (Just dump and go!) But, the low and slow cooking, while you do your thing, means you will get that tender, slow cooked chicken goodness.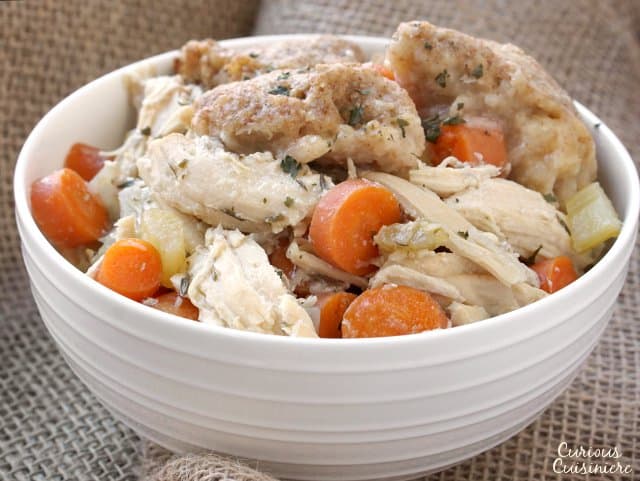 Dumplings In A Crock Pot?
Why yes!
Once your slow cooker is simmering away nicely, it only takes 30 minutes for the dropped dumplings to steam when popped on top of your bubbling stew.
It's practically magic.
A Chicken and Dumplings Recipe Without Canned Soup
When we first went in search of a crock pot chicken and dumplings recipe, we were sad to find that most of them used canned 'cream of something' soups, which we like to avoid.
Those that omitted the canned soup looked purely brothy; more soup-esque than we wanted for our chicken and dumpling stew.
So, we took matters into our own hands.
Our Slow Cooker Chicken And Dumplings Stew Recipe
Our version of slow cooker  chicken and dumplings stew has a base that is still more brothy than creamy, but the flour that we add to the crock pot helps to thicken the stew as it cooks and adds a creaminess that brings it a step above the clear broth you would find in a chicken noodle soup.
The dumplings we make are your true Northern dumplings, more similar to a biscuit but a bit more dense because they're steamed and boiled. They absorb some of the broth as they cook, thickening the stew even further and creating fluffy pillows, with a moist exterior.
The idea when cooking these dumplings is to steam them. So, it is very important that the stew be hot and simmering slightly around the edges before you drop your dough in.
Then, quickly back on with the cover of the slow cooker, and they're puff up to Northern dumpling perfection.
Crock Pot Chicken and Dumplings Stew
This Slow Cooker Chicken and Dumplings recipe is a hearty and slightly creamy stew made completely from scratch. (No cream of chicken soup here!)
Ingredients
2

onion,

chopped

6

carrots,

chopped

3

celery stalks,

chopped

4

garlic cloves,

minced, or 1/2 tsp garlic powder

2

bay leaves

1

Tbsp

parsley

1 ½

tsp

thyme

½

tsp

salt

¼

tsp

ground black pepper

2

lb boneless, skinless

chicken breast

(frozen or fresh)

3

c

chicken broth

(we prefer low sodium)
For the Basic Dumplings
1

Tbsp

baking powder

1

tsp

salt

1

c

milk

¼

c

olive oil
Instructions
In a lightly greased, 4 qt crock pot, combine vegetables, flour, and seasonings. Mix until well combined.

Place chicken breast over vegetable and seasoning mixture.

Pour broth or water over ingredients in the crock pot to nearly cover vegetables. Cook on low for 7-8 hours or high for 4 hours.

When you are ready to finish the dish, about a half hour before you would like to eat, turn the crock pot to high.

Remove the chicken to a plate and shred it with two forks. Return shredded meat to the crock pot.

Remove the bay leaves. Taste your stew and adjust the salt and pepper as desired.
For The Dumplings
Combine the flours, baking powder, and salt in a medium bowl.

Add the milk and olive oil, and mix until a soft dough comes together.
Cook The Dumplings
When you see little bubbles coming up from around the edges of the stew in the crock pot, it is hot enough to cook the dumplings. Drop rounded spoonfuls of the dough onto the top of the stew in the crock pot.

Cover the pot and continue cooking on high for 25-30 minutes, until dumplings are puffy and firm.
Notes
This recipe can be made on the stove-top. Simply combine all ingredients as they would go into the crock pot, in a large soup pot. Simmer 2-3 hours, until the chicken is fall-apart tender. Then, continue with the recipe at step 5. To steam the dumplings, the stew should be simmering.
This recipe from 2013 was updated in February 2018. Our original version contained peas, but we took them out in favor of a more traditional route. If you'd like to add the peas, feel free to put a cup or so of thawed peas in the slow cooker when you shred the chicken. 
Nutrition
Calories:
407
kcal
|
Carbohydrates:
38.8
g
|
Protein:
38.6
g
|
Fat:
10.8
g
|
Saturated Fat:
1.5
g
|
Cholesterol:
80
mg
|
Sodium:
1090
mg
|
Fiber:
4.8
g
|
Sugar:
6.7
g
---
This is one of the recipes from the early days of Curious Cuisiniere. We've updated our pictures since we first shared it, but we've left some originals here, in case you've found us in the past and are looking for that old, familiar image.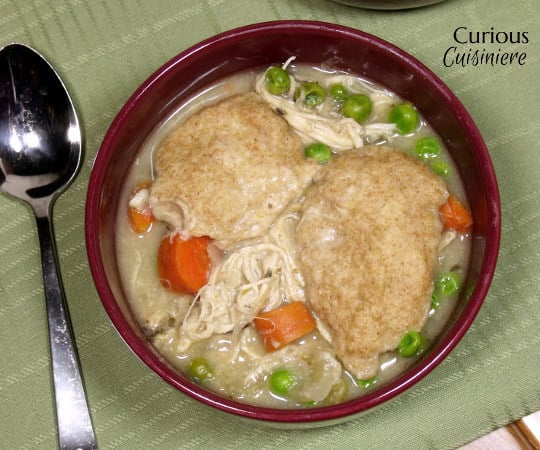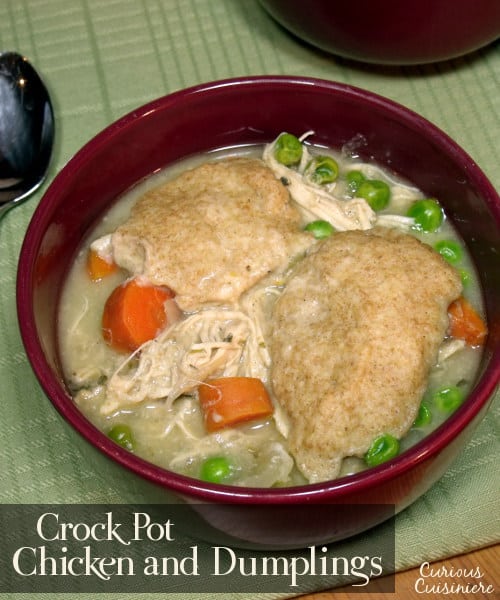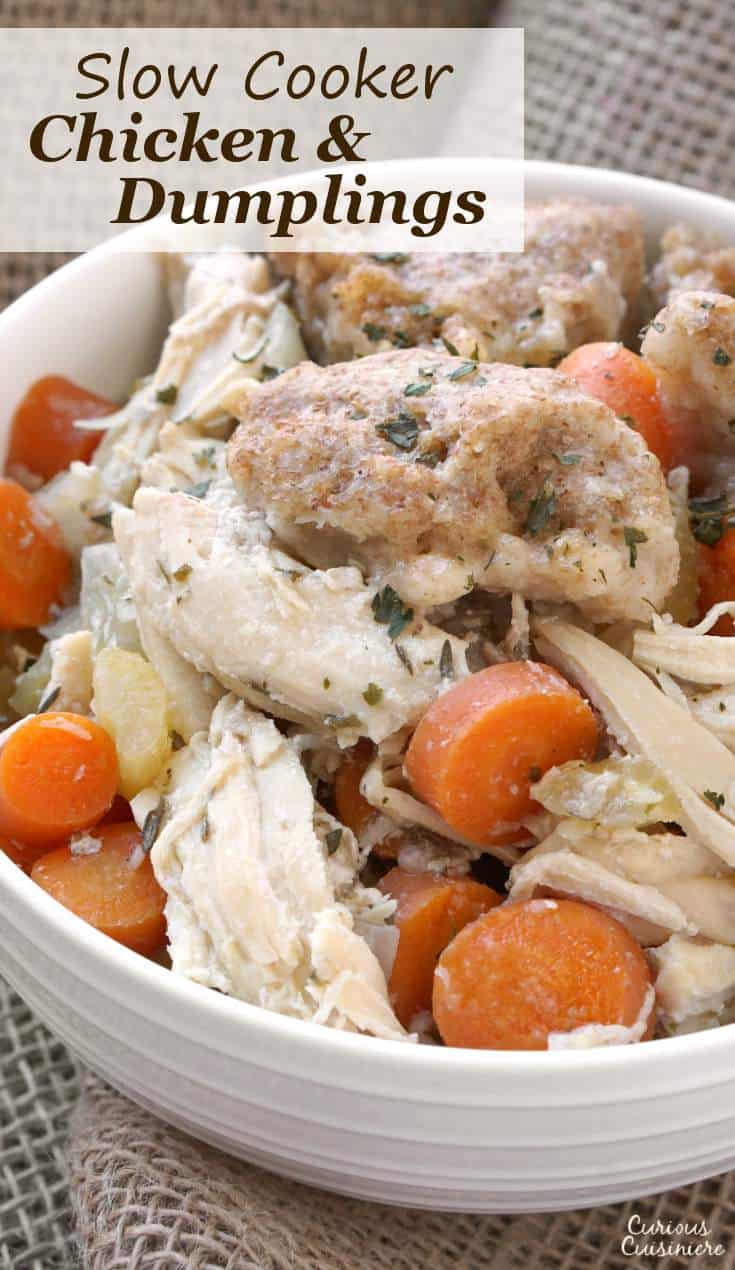 ---
Save
If you liked this recipe, here are some similar dishes you may enjoy!