Kopytka are potato dumplings that could be called the Polish version of Italian Gnocchi. The two dishes are very similar in all ways except the toppings.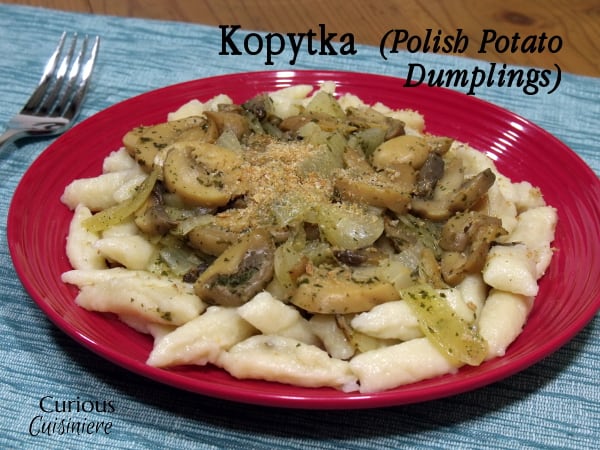 We started the week in Russia with some Russian Stuffed Rolls, and we're ending the week by hopping just a little ways West and heading into Poland with a dish that has an incredibly Italian resemblance.
Polish Kopytka: Little Hooves
The Polish word Kopytka literally translates to "little hooves". The name supposedly comes from the shape of the dumplings, which resembles a cloven hoof.
Ok, now I kind of get it.
The Polish Version of Gnocchi
If you are familiar with Italian Gnocchi, you are actually familiar with Kopytka too, because the ingredients and method for making them are the same. (Basically, a potato, egg, and flour boiled dumpling.)
The only differences we could find are the shape and the traditional toppings.
Serving Kopytka
Kopytka dumplings are often served with buttered and sautéed breadcrumbs, in a fashion that is known of as Polonaise-style. It is also common to see them served as a side dish coated in juices or gravy from a roasted meat or baked with cheese.
We went a bit healthier, but stuck in a Polish vein with simmered mushrooms and onions in beef broth.
Topping the dish with a sprinkling of bread crumbs adds some nice texture as a finishing touch.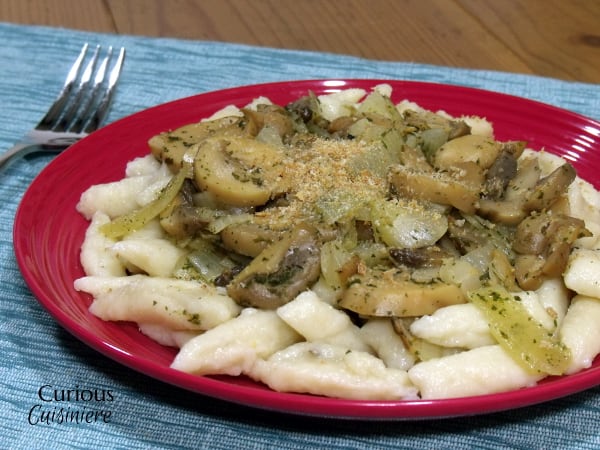 Kopytka (Polish Potato Dumplings)
Author:
Sarah | Curious Cuisiniere
Ingredients
For the Kopytka
2 lbs potatoes, peeled and cubed
1 egg
1 tsp salt
2-3 c flour
For the Sauce
2 (4oz) can sliced mushrooms, drained
2 onions, diced
1 c beef broth
2 Tbsp parsley
Bread crumbs for topping (optional)
Instructions
For the Kopytka
Place peeled potato cubes in a medium pot. Cover with water and bring to a boil. Simmer potatoes 20 minutes, until tender. Remove from heat and drain any excess water.
Using an electric mixer, mash potatoes until creamy. Add egg and salt, mix well.
Mix in flour ½ c at a time until a smooth dough forms. (The amount of flour needed will depend on how moist your potatoes are.
Bring 2 qts of water to a boil in a medium pot. Add 1 tsp of salt to the water when it begins to boil.
Pinch off a portion of the dough and roll it into a 1" thick snake on a cutting board. Cut the dough on an angle into ½" pieces.
Drop dumplings into boiling salt water a few at a time, so they are not over crowded. Boil for 3-5 minutes, until firm. Remove from water and place on a paper towel to drain. *
For the Sauce
Combine all sauce ingredients in a large, non-stick sauté pan. Bring to a boil and reduce heat to medium. Simmer mixture until liquid has reduced, 10-15 min.
Serve boiled Kopytka topped with mushroom mixture. Sprinkle with breadcrumbs if desired.
Notes
*If you would like, instead of boiling all the Kopytka right away, you can make a big batch and freeze some for a quick meal later. Just toss the cut dumplings in flour and freeze them in a single layer on a cookie sheet. Once frozen, they can be placed in a zip-lock bag and stored for 3-4 months. Drop frozen dumplings in boiling water and cook for 5-7 minutes.
Nutrition Information
Serving size:
5 SERVINGS
Calories:
448
Fat:
2.2g
Saturated fat:
.5g
Carbohydrates:
91.7g
Sugar:
5.2g
Sodium:
646mg
Fiber:
7.8g
Protein:
14.7g
Cholesterol:
33mg
If you liked this recipe, here are some similar dishes you may enjoy!