Once we learned how to make gnocchi, we couldn't stop! For the spring, we love to serve our homemade gnocchi with pesto and peas. It's the perfect light and flavorful spring dinner recipe!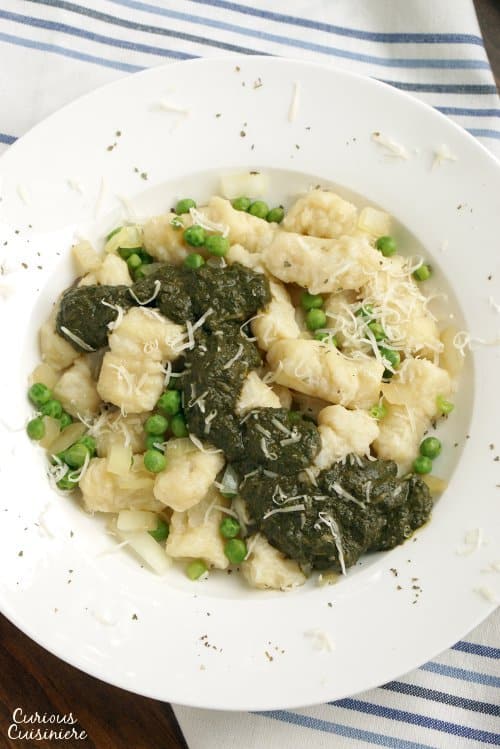 If you've ever wanted to start making your own pasta, gnocchi is the place to start!
Homemade Gnocchi
There's something incredibly freeing about making pasta from scratch, and while gnocchi isn't pasta in the traditional sense, it's close enough to get the first time pasta-making jitters out.
And, it's incredibly forgiving.
How to Make Gnocchi
Traditional pasta is made with only flour and eggs.
Gnocchi adds potatoes to the mix.
And, what we like best, is that this 'pasta' doesn't require a pasta roller (or some serious arm work with a rolling pin)!
Gnocchi Starts with Potatoes.
First things first, you have to get yourself some soft, mashed potatoes.
For this recipe, we boiled the potatoes with their skins on. Once the potatoes are cooked, the skins slip right off. But, you could peel your potatoes first, if you like.
Then, the potatoes are mashed. They should be boiled enough that they mash easily and don't want to keep any hard clumps.
You'll end up with a pile of potato 'crumbs.'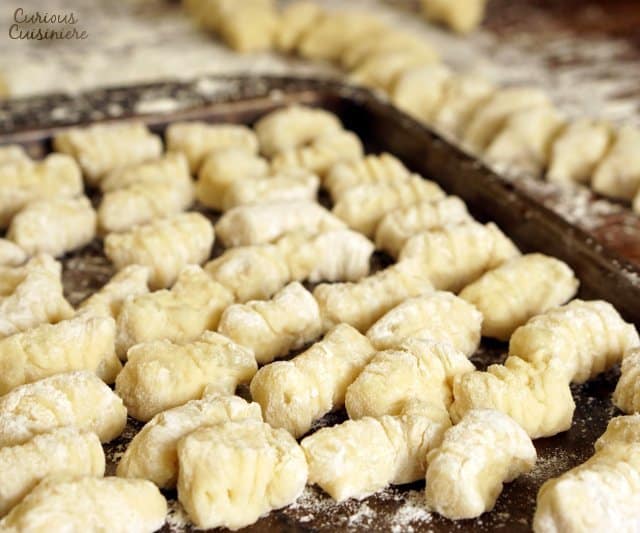 Creating the Gnocchi Batter
If you're going to make pasta, you can't be worried about getting everything dirty.
Clean off your counter and pile those potato bits on it. You want your potatoes to be warm at this point, because they are easier to work with, but not so hot they are going to cook the egg that comes next. If they are cool enough, pour the egg over the pile. (This is probably the one time you'll intentionally pour egg all over your counter. Enjoy it!)
We used a bench scraper to incorporate the egg into the potatoes, and once the eggs in well mixed in, then comes the flour.
Add the flour a little at a time, mixing after each 1/4 cup or so. That way you'll be able to stop adding when the dough comes together. Tough gnocchi (or any pasta or dumpling) comes from adding too much flour.
Your goal is a smooth ball of dough that is soft to the touch, but doesn't stick to your hands.

Rolling Gnocchi
Divide the dough into eight roughly even sections and roll each section into a 1″ diameter snake. Then, cut the snake every 3/4 – 1″ to make your gnocchi.
If you're pressed on time, you could stop here. But, to get the characteristic, gnocchi ridges, press each gnocchi into the tines of a fork. Those ridges do help hold the sauce!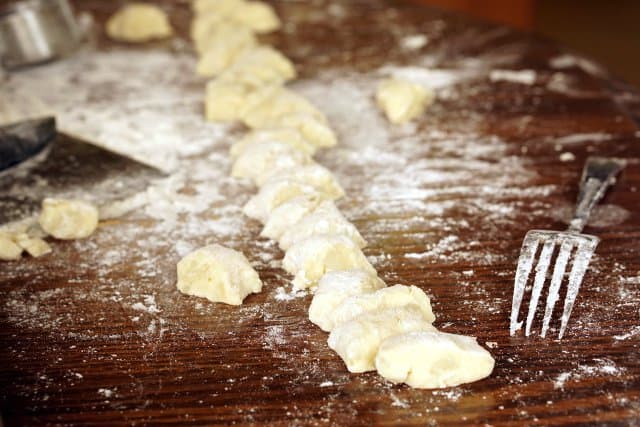 Freezing Homemade Gnocchi For Later
If we're going to make gnocchi, we're going to make a big batch. The little bit of extra time a bigger batch takes is well worth having gnocchi stashed in the freezer.
Gnocchi takes only a few seconds to cook in a pot of boiling water, and even from frozen, it cooks up beautifully, making that frozen gnocchi the perfect dinner for a busy weeknight.
Our Gnocchi with Pesto and Peas
Gnocchi, like any pasta, is incredibly versatile and takes on the flavors of whatever it is cooked with.
In the spring and summer, we love to make a bright and fresh sauce out of homemade pesto and peas. It's the perfect combo of light, springy flavors!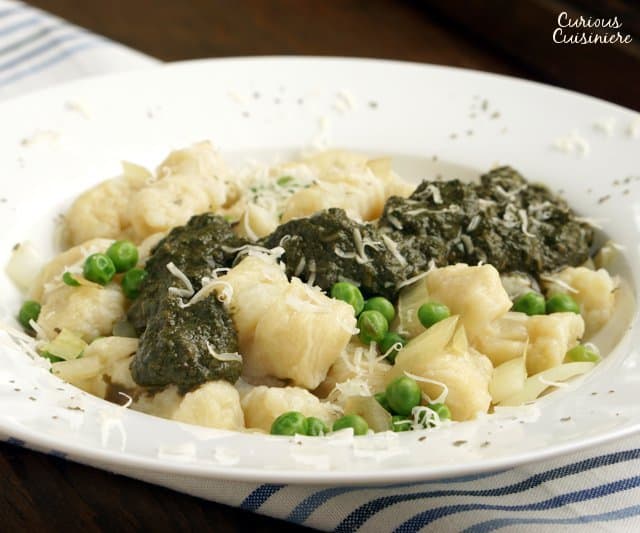 Homemade Gnocchi with Peas and Pesto
Once we learned how to make gnocchi, we couldn't stop! For the spring, we love to serve our homemade gnocchi with pesto and peas.
Yield: 2 lbs of gnocchi
Ingredients
For the Dish
1

tsp

olive oil

1

onion,

diced

2

c

peas,

thawed if frozen

1

c

basil pesto
Instructions
For the Gnocchi
Place the whole, cleaned potatoes in a soup pot and cover with water. Cover and bring the potatoes to a boil. Boil the potatoes for 30-40 minutes, until very tender.

Remove the potatoes from the boiling water. Once the potatoes are cool enough to handle (but still warm) remove the skins with your fingers or a small paring knife. (They should just slide right off.)

If you have a food mill or potato ricer, run the skinned potatoes through that, or just mash the potatoes roughly with two forks or a wire whisk. (The idea is the potatoes will be so soft they will mash without much effort.)

Create a mound of mashed potatoes on your work surface. Once the potatoes are cool enough that they won't cook the egg, pour the beaten egg over the potatoes. Using a bench scraper, two spatulas, or your hands, work the egg into the potatoes until well incorporated.

Add the flour, ½ c at a time, mixing with your hands after each addition, until the dough comes together. (You are looking for a soft dough that is not sticky.)

Once you have a smooth ball of dough, divide it into 8 pieces and roll each piece into a snake roughly 1" in diameter.

Cut the snake into ¾" or 1" pieces.

Take each gnocchi and roll it along the tines of the back of a fork to create ridges in the gnocchi. (If desired.)

To Eat Now – Bring a pot of fresh water to a boil and add 1 tsp salt. Toss the rolled gnocchi into the boiling water and cook for 30 seconds, until they begin to float. Remove them from the water and toss them with your sauce.

To Freeze for Later – Place the gnocchi in a single layer on a lined and lightly floured baking sheet. Place in the freezer for 2-4 hours, until the gnocchi are frozen solid. Transfer the frozen gnocchi into an air-tight freezer bag or container and store in the freezer. When you are ready to use the gnocchi, simply pop the frozen gnocchi into a pot of boiling, salted water and cook until they float.
For the Dish
Heat the olive oil in a large sauté pan and add the onions. Sauté 3-5 minutes over medium heat until the onions begin to soften.

Add peas and sauté for an additional 3-5 minutes, until the onions begin to brown.

Remove the pan from the heat and stir in the pesto and cooked gnocchi. If necessary, add a little of the gnocchi cooking water to the pan to thin out the sauce to your desired consistency.
Notes
This recipe from 2014 was updated in May 2017. We made the dish even better and more authentic! Enjoy!
Nutrition
Calories:
232
kcal
|
Carbohydrates:
33.4
g
|
Protein:
8.5
g
|
Fat:
8.1
g
|
Saturated Fat:
1.7
g
|
Cholesterol:
24
mg
|
Sodium:
200
mg
|
Fiber:
6.5
g
|
Sugar:
4.6
g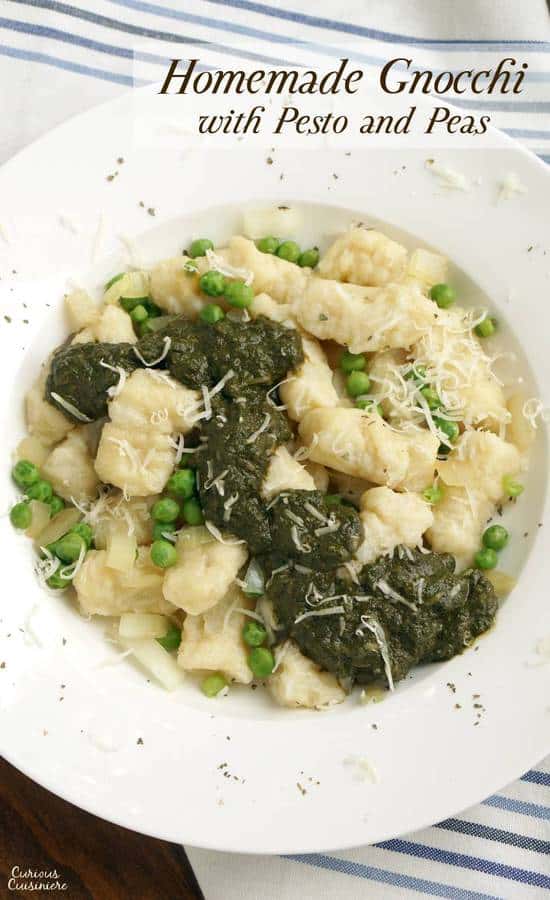 ---
This is one of the recipes from the early days of Curious Cuisiniere. We've updated our pictures since we first made it, but we've left the original images here as a fun throwback and shout out to how far we've come. Enjoy!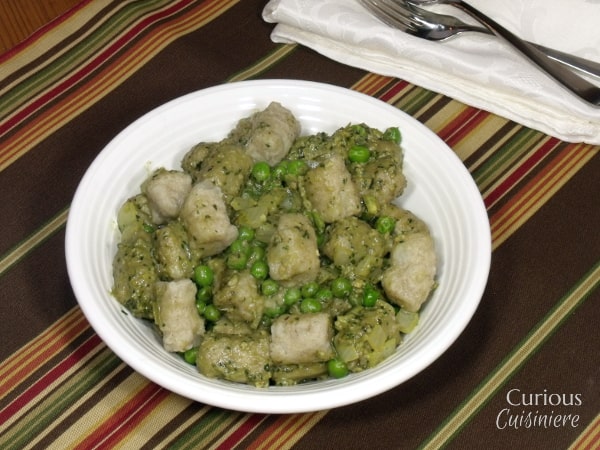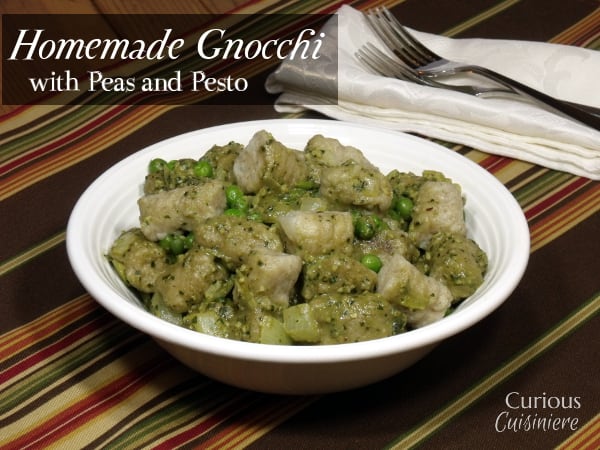 ---
In light of October #Unprocessed, this week the Sunday Supper crew is sharing tasty dishes using unprocessed ingredients. Take a look at how tasty unprocessed can be! Thanks to DB aka Foodie Stuntman of Crazy Foodie Stunts for hosting this week!
Alluring Appetizers and Stunning Sides
Enticing Entreés
Decadent Desserts
Join the #SundaySupper conversation on twitter on Sunday! We tweet throughout the day and share recipes from all over the world. Our weekly chat starts at 7:00 pm ET. Follow the #SundaySupper hashtag and remember to include it in your tweets to join in the chat. To get more great Sunday Supper Recipes, visit our website or check out our Pinterest board.
Would you like to join the Sunday Supper Movement? It's easy. You can sign up by clicking here: Sunday Supper Movement.
If you liked this recipe, here are some similar dishes you may enjoy!